What Are the Biggest Wastes of Money?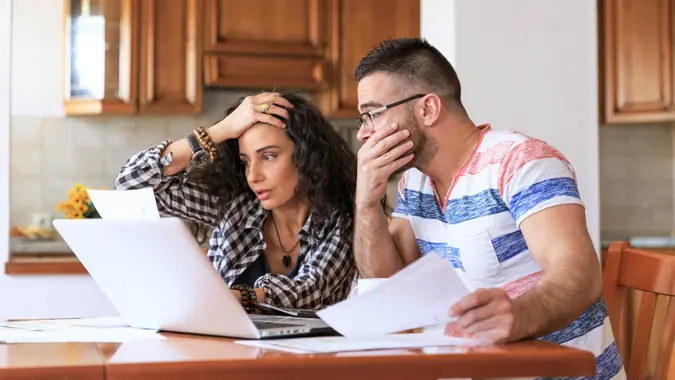 valentinrussanov / iStock.com
Unless you run an extremely tight ship when it comes to accounting for your personal finances, you're likely guilty of wasting money — even if it's just once in a while. The problem is that while most people don't intentionally spend wastefully, it's not uncommon. A Mint survey found that three in five Americans have no idea what they spent last month, which often means careless spending.
To help you identify where you might need to shore up your budget, here are some of the biggest wastes of your money. 
Not Canceling Free Trials
"Any trial that asks you to provide billing info when you sign up is probably run by a company hoping you'll forget to cancel afterward," said consumer analyst Julie Ramhold with DealNews. "And many consumers do, which is why these are such a waste of money."
Here's a tip: If you sign up for a free trial, set a reminder on your phone to cancel it when it's over if you no longer wish to use the service.
Keeping Subscription Boxes You No Longer Enjoy
"Subscription boxes can be a lot of fun to receive whether they're for books, beauty items, crafting, lifestyle, cooking — or one of a hundred other categories," said Ramhold. "But if you're not getting excited about them anymore, or they're creating more clutter than anything, it's time to consider canceling." 
Paying for Subscriptions You Don't Use
Subscriptions for gym memberships, streaming apps and magazines are all easy to forget. "We've all signed up for subscriptions and stopped using them, and continued to fork over the monthly fee because we're just not paying attention," said Tana Williams, a personal finance blogger at Debt Free Forties. 
Make Your Money Work for You
Only Buying Name-Brand Items 
"Shoppers have their loyalties and it's easy to become stuck in the routine of only buying a particular brand, but it can really cost more than it has to over time," Ramhold said. "Store brands are often just as good (and in some cases, better) than the name brands and cost a fraction of the price."
Paying Unnecessary Interest on Purchases
Gary Grewal, certified financial planner and author of Financial Fives, said that a big waste of money is not shopping around for 0% interest cards or offers when you need to pay over time for things like appliances or medical costs.
Buying Duplicates of Items You Don't Need
Grewal also pointed out that forgetting that you already bought something and buying it again can waste money — especially for perishable items that you end up throwing out.
Not Using an Available Discount Code or Coupon
"One of the biggest ways people waste money is by paying full price instead of looking for discounts or ways to lower the price of an item before purchasing," said Rebecca Gramuglia, consumer expert at TopCashback. "By skipping this step, you may be spending more money than needed and that extra money could have gone towards another purchase or your savings fund."
Paying for Insurance You Don't Need
"It is a common belief that the more insurance you have, the more 'covered' you are," said Lyle Solomon, principal attorney at Oak View Law Group. "But this is not always true. You may not need many insurances, such as rental car insurance, theft identity insurance, children's life insurance, collision insurance, and many more."
Make Your Money Work for You
Making Only the Minimum Payment
"By making minimum payments and carrying the balance every month, you are adding up your debt balance," said Solomon. "This means you are paying higher interest on your credit for a more extended period. You are wasting money by piling up your bills and balances."
Paying Additional Fees
Solomon said that additional fees, like late or overdraft fees, can range anywhere from a few dollars to about $30. "While this may not seem like much monthly, when you look at these over a year, you will begin to understand the amount of money you might be wasting without realizing it," he said.
Living Beyond Your Means
"Living beyond your means or mirroring others' lifestyles is another way you often waste a lot of money," said Solomon. "Feeling pressured to buy certain products or services is natural because others have them too. This could be a way to fit in or gain equal status. These are not always necessary items but what you want to buy."
Always Opting for Extended Warranties
"You may think getting warranties for your products is a smart way of staying protected in case of damages," Solomon said. "But what if the warranty does not cover your issue, the cost of it is way above your damage cost or if you don't need to avail the warranty plan at all?"
Too Much Bulk Buying
"It is a common belief that buying in bulk is always a profitable option," said Solomon. "While it may be if you have a big family, it is not the case every time. There can be products you may not be able to use for a long time because of the expiry date, or you may not need them later."
Make Your Money Work for You
Routinely Choosing Convenience Over Savings
Solomon said that while it's harmless to choose convenience over savings once in a while, it can really waste money if you make it a habit. He said that examples of money wasters are choosing cab rides over public transport, eating out instead of cooking and paying someone to do something you could do yourself — like basic car or home maintenance.
Impulsive Buying
"Often attractive discounts and occasional sales can be tempting," Solomon said. "But it is often a waste of money when you spend it on something you don't need or wouldn't have purchased otherwise."
Failing To Budget Your Money
"This means not tracking your spending and not knowing where your money is going," said Samantha Hawrylack, personal finance expert and co-founder of How To FIRE. "This can lead to overspending and wasting money on unnecessary items."
Not Comparing Prices Before Buying
"In my experience, the biggest way to waste money is to not compare the prices of items before buying," said Chhavi Agarwal, a work-from-home expert on Mrs. Daaku Studio. "If you're in the market to shop anything, it is best to first compare the prices of the items on multiple websites or stores."
More From GOBankingRates