9 Amazon Prime Perks That will Save You Money in 2023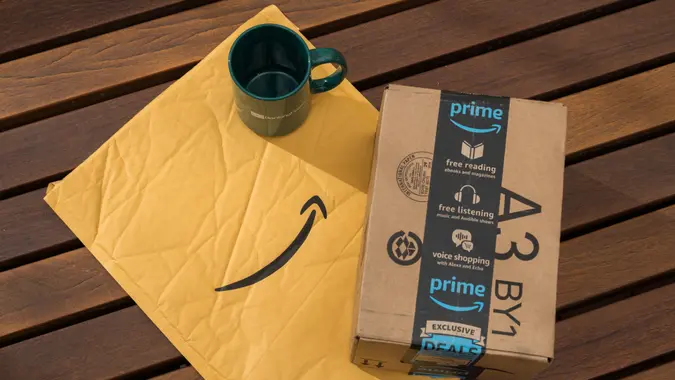 ©GOBankingRates
Most people subscribe to Amazon Prime for the free shipping, but the membership comes with a number of other perks that you may not be taking advantage of — or that you may not even know about. Many of these perks can help save you money, further justifying the $139 annual membership fee.
Here are some Amazon Prime perks you may not even know about.
Free Games
With Prime Gaming, you can get free games, in-game items, a free Twitch channel subscription every month and more. The Twitch subscription alone saves you $4.99 per month.
Prime Reading
Prime members can access thousands of books, magazines, comics and audiobooks completely for free with Prime Reading. You also have access to one free pre-release e-book per month, chosen by Amazon editors as top new releases.
Whole Foods Discounts
Prime members get exclusive discounts at Whole Foods. You can browse deals at your local store or shop deals online.
Discounts on Prescriptions
You can save up to 80% on drug prescriptions with your Prime membership. Here's how the Prime Rx discount works: "When ordering from Amazon Pharmacy, the Prime prescription savings benefit is automatically applied. You will be able to view your price with and without insurance before ordering and checking out. To use your Prime prescription savings benefit at other retail pharmacies, just present your digital Prime prescription savings card at the pharmacy when filling your prescription."
Make Your Money Work for You
Prime-Exclusive Coupons
Did you know that Amazon has coupons exclusively for Prime members? These coupons can help you save on thousands of products across Amazon.com. There are also thousands of Prime-exclusive deals available every day.
Free Grocery Delivery
Depending on where you live, you may qualify for free two-hour delivery on a wide selection of groceries, including meat, seafood, produce, snacks and household essentials.
Amazon Music
Although you need to pay extra to access Amazon's full music library, Prime members have access to 2 million songs for free. Take advantage of this perk instead of paying extra for other music streaming subscriptions.
Amazon Video
No need to pay extra for video streaming services either. Your Prime membership comes with access to Amazon Video, which includes thousands of popular movies and TV shows as well as Amazon Originals that are free for you to stream.
Free Shipping at Shopbop
Amazon Prime members get free shipping at Shopbop.com. You also get free expedited shipping at Zappos.com.
More From GOBankingRates