'Aldi Anxiety' Hurting Your Wallet? 5 Ways I've Learned To Conquer it and Save More Money Grocery Shopping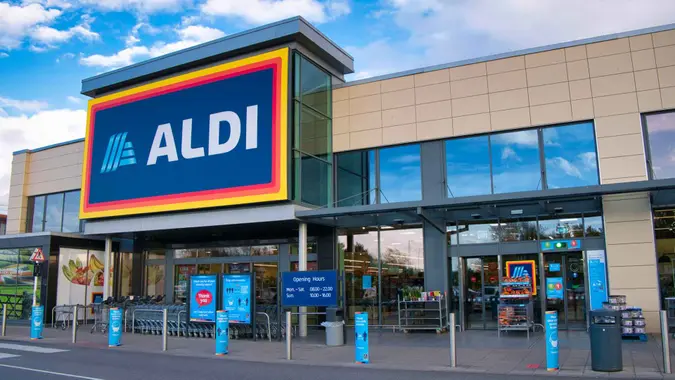 Alan Morris / Getty Images
Prior to the pandemic, I never thought about shopping anxiety. As a self-proclaimed shopaholic, I'm always up for a trip to the mall or grocery store.
At the height of the pandemic in April 2020, roughly 60% of shoppers said they felt anxiety surrounding a trip to the grocery store. Today, shopping anxiety — especially in unfamiliar stores — persists.
According to PsychCentral, you won't find "shopping anxiety" as a formal diagnosis, but it often co-exists with agoraphobia or generalized anxiety disorder (GAD). PsychCentral pointed out that it's not surprising shopping can evoke anxiety. It's filled with "unpredictability, sensory overload, and interactions with strangers."
But many people who don't have issues in conventional grocery stores suffer when they set foot in Aldi. The factors that cause shopping anxiety may be magnified by the store's unusual layout, off-brand merchandise, lack of bags, and the need for a quarter to access a shopping cart.
After reading Jaime Milan's account of "Aldi anxiety" at EatingWell.com, I decided to explore some of the common causes of "Aldi anxiety," along with tips on how to overcome them. Everyone deserves to save money on their groceries and to discover the wonder of Aldi's cheese section!
Aldi Quarter Anxiety
When it comes to the "great cart exchange" at Aldi, I often worry about the right thing to do. Here's what I mean:
Make Your Money Work for You
I'm approaching the cart corral and someone waves a quarter at me, gesturing for my shopping cart. Do I accept the quarter? Should I give them the cart and decline the quarter?
Apparently, I'm not the only one who wonders about the etiquette of this situation. When I posed the question a year ago in a Facebook group of Aldi fans, it got 224 comments. Several members confessed to feeling anxiety over the interaction with a stranger.
The vast majority, however, like to hand off their cart without expecting, or accepting, a quarter in return.
Solution: It's a short interaction that's not worth overthinking. If someone judges you for accepting — or refusing — their quarter, you're unlikely to ever see them again.
Aldi Organization / Layout Anxiety
Aldi is not laid out like other grocery stores. It's more like a smaller version of a warehouse club like Costco or BJ's. But because all the merchandise is consolidated into a much smaller space, the store can feel cramped and disorganized.
"Most supermarkets have straight rows. Aldi does not," Christine Naccarato, a bargain shopper and owner of the Facebook free exchange community Hand-Me-Overs, pointed out. "The aisles are offset so it's not so easy to go up and down."
Solution: Once you recognize the store is divided into two sections across the middle, you can tackle each section separately, which may be less overwhelming.
Make Your Money Work for You
And, as with other grocery stores, the healthier fresh foods and better deals line the perimeter. Once you realize that, shopping at Aldi isn't much different than visiting any other grocery store with national brands. Stick to the perimeter for fresh produce, meats, dairy products and — of course — that famous cheese section. You'll save money and won't feel as overwhelmed.
Off-brand Anxiety at Aldi's
People don't necessarily have anxiety regarding Aldi's off-brand selection, but many shoppers expressed frustration over it. "For me, they sell off-brands that I don't know or trust. It's also inconvenient where I live to go there, so we just don't," said Chris Kennedy of Long Island, New York.
Solution: It's true that Aldi mostly offers off-brand items, but you can find gems in those aisles if you are willing to be adventurous. Consider these 10 Aldi brand products that are even better than the name brands.
Checkout Anxiety at Aldi's
Naccarato also doesn't like how the rows of merchandise end so close to the register line, leaving no room for the queue without people standing in the aisles.
And the checkouts, she said, are too cramped. "My husband is big and tall," she said, adding that he refuses to shop at Aldi — in spite of his love of cheese.
"The only good thing about Aldi is the cheese section," Naccarato said. "It's good for putting together a charcuterie on a budget."
The checkout lanes also create cause for concern for shoppers who forget their bags. "I hate that there's no bags — only boxes," said Sabrina Studioso, a mom-of-one and owner of boutique craft company ForeverCreationsX3. Studioso said that she does like the selection of cheap baking products, but it's not worth navigating the other frustrations of the store.
Solution: A level-headed approach and some pre-planning can alleviate checkout anxiety so you can relax and enjoy those low prices. "I have lots of bags in my car," said Aldi shopper Maryann Eccleston of North Babylon, New York. "Plus, if I need more I'll just pay for a bag or put the items in my trunk without bagging."
"Aisle of Shame" Anxiety
One thing that sets Aldi apart from other grocery stores is the discounted merchandise in the center of the store. You'll find everything from cat beds to inflatable water slides, bathing suits, household appliances, and bags that mimic the look of designer totes.
A walk down the aisle — dubbed "the Aisle of Shame" in a Facebook group of the same name — can quickly negate the savings you enjoyed from buying Happy Farms cheese or Burman's ketchup. And whether you're proud of your purchase or, indeed, feel shame over blowing your budget, the aisle is fraught with emotion.
Shopaholic that I am, walking past the temptations of scented candles and seasonal furniture gives me anxiety.
Solution: This one's easy. Avoid those center aisles unless you're in search of a specific item or have extra money burning a hole in your pocket. Your cats don't need another bed and you don't need any more wine glasses for the bottle of Winking Owl in your cart, I promise.
More From GOBankingRates