Aldi: Best Sale Items for November 2023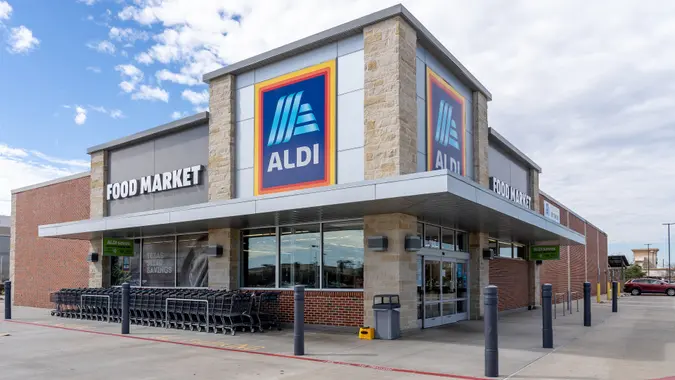 JHVEPhoto / iStock.com
Are you looking to enhance your home's comfort and style without breaking the bank? Aldi has an affordable collection of home essentials that promise to do just that. From cozy throws that you can cuddle up with on a cold evening to festive decorations that brighten up your space, there are plenty of items that combine functionality with appeal. Here are some of Aldi's best sale items this month.
Huntington Home Chunky Knit Throw
Price: $19.99
The Huntington Home Chunky Knit Throw is a cozy, oversized blanket perfect for snuggling up on the couch or adding a touch of warmth and style to any room. Made with thick, soft yarn, it has a hand-knitted look that gives it a homey, artisanal feel. Its substantial size makes it ideal for wrapping up in comfort, and it comes in various colors to match any decor. Easy to care for, this throw is as practical as it is charming, making it a must-have for chilly evenings.
Merry Moments LED Flocked Alpine Trees
Price: $39.99
The Merry Moments LED Flocked Alpine Trees are festive, artificial Christmas trees designed to add a wintry touch to your holiday decor. They have a snowy appearance, as if lightly dusted with fresh snowfall, giving them a realistic and cozy feel. Each tree is pre-lit with built-in LED lights that give off a warm glow, making them easy to set up. These trees typically come in various sizes so you can choose the perfect one to fit your space. They're a fuss-free option for bringing the holiday spirit into your home without the mess of real tree needles.
Crofton Mini Ceramic Baking Dishes
Price: $2.99
The Crofton Mini Ceramic Baking Dishes are small, oven-safe dishes perfect for individual servings or dips. Made from durable ceramic, they can handle the heat of the oven and are great for baking everything from personal-sized casseroles to decadent desserts. Their compact size makes them a cute and practical addition to any kitchen, and they often come in a variety of colors to match your style or table setting. Easy to clean, they can typically go right into the dishwasher after use. These dishes are a convenient choice for single servings or for serving multiple dips and salsas during gatherings.
Make Your Money Work for You
Huntington Home 6-Piece Comforter & Coverlet Set
Price: $39.99
The Huntington Home 6-Piece Comforter & Coverlet Set is a complete bedding ensemble that's designed to give your bedroom a quick and stylish makeover. This set typically includes a comforter, a coverlet, coordinating pillow shams, and decorative cushions. It comes in a variety of patterns and colors to match a range of decor styles, from modern to classic. The pieces are made from soft, easy-to-care-for materials for a comfortable night's sleep. This set is great for those who want a coordinated, polished bedroom appearance with the convenience of a single purchase.
Easy Home Large Room Humidifier
Price: $19.99
The Easy Home Large Room Humidifier is a device designed to add moisture to the air in big rooms, helping to prevent dryness that can cause irritation in many parts of the body. It's a sizable unit with a large water tank, which means it can run for several hours without needing a refill. This humidifier is easy to use with simple controls to adjust the humidity level to your comfort. It's also quiet, making it suitable for use in areas like bedrooms or living rooms. The humidifier can be particularly useful in the winter months or in dry climates where indoor air can become uncomfortably dry.
Editor's note: This article was produced via automated technology and then fine-tuned and verified for accuracy by a member of GOBankingRates' editorial team.
More From GOBankingRates