I Work at Aldi: Here Are 9 Insider Secrets You Should Know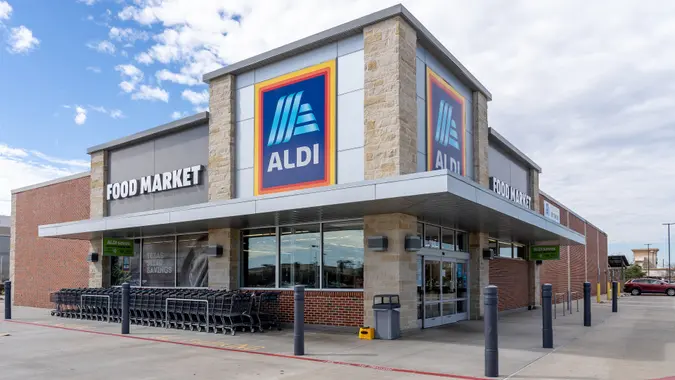 JHVEPhoto / iStock.com
Aldi, the beloved and budget-friendly grocery store, has captured the hearts (but not the wallets!) of thrifty shoppers and bargain hunters alike. With its clean displays and competitively-priced offerings, Aldi has become a one-stop shop for countless families, individuals and even small-business owners. But behind the simple, unassuming facade of Aldi stores lies a treasure trove of insider secrets that can revolutionize your shopping experience.
Curious to unveil these hidden gems and optimize your Aldi adventures? Well, you're in luck because we've managed to connect with an Aldi employee who's eager to spill all the secrets. From lesser-known gems nestled among the aisles to strategic shopping tips for maximizing your savings, get ready for a behind-the-scenes journey into the world of Aldi shopping. Prepare to master the art of navigating Aldi's aisles and discover the ultimate shopping hacks for a wallet-friendly experience like never before.
On Wednesdays, We Shop at Aldi
If you want to snag the best deals on Aldi's products, plan your visit mid-week, our Aldi insider said. Wednesdays are the golden days when new products hit the shelves and fresh produce goes on sale. But here's the catch — you must make sure to arrive in the morning to beat the rush and get your hands on all your grocery essentials before anyone else. So go to bed early on Tuesday and set your alarm for savings. 
Be on the Lookout for These Deals
According to our insider source, you should look for items with yellow markdown stickers — these are the coveted "Manager Specials." These special discounts can lead to even more significant savings on a variety of products, making them a must-add to your shopping cart. As you wander through the aisles, stay vigilant for these deals and seize the opportunity to snag fantastic bargains on your favorite items.
Make Your Money Work for You
And if you're looking for the best deals on bread or other baked goods at Aldi, keep an eye out for big stickers on the packaging. And here's a pro tip: If you pop the bread in the oven, it'll taste nearly as good as fresh, ensuring you enjoy every last bite.
The Return Policy Is Fantastic
According to our source, Aldi's return policy is a hidden gem that many people aren't aware of. The best part is, it can't be beaten! If you're not satisfied with a purchase, not only does Aldi provide a refund, but it also offers a replacement item to ensure your happiness with the quality. It's a win-win situation, and this little-known policy makes shopping at Aldi even more reassuring and customer-friendly.
Aldi Finds Are Where It's At — But You Gotta Act Fast
Aldi Finds are the equivalent of weekly coupons and it's where mega-deals are shared for a short period of time. "We update the Aldi Finds section on Wednesdays, with usually about 50 items, so that's the time to be on hand to get big deals," our Aldi insider said. 
However, there's no need to worry if you miss it the first time around. "Some of the most popular items have a tendency to return. So, if you happen to miss something, just keep checking back," the insider said.
Girl Scout Cookies Year-Round? Yes, Please!
The Benton's brand Caramel Coconut Fudge Cookies are practically identical to one of the most iconic Girl Scout cookies, and the best part is, you can enjoy them year-round! So, if you have a craving for that classic flavor (and, let's be honest, you probably do!), head to Aldi and indulge in these delightful cookies any time you like. 
Make Your Money Work for You
Multiple Barcodes Make Lines Move Faster
According to our insider, Aldi has a clever trick up its sleeve when it comes to product barcodes. You'll often find multiple barcodes on the items, making it a breeze for cashiers to swiftly scan the product without having to check each side of the package continuously. This efficient barcode placement ensures a seamless and speedy checkout process, saving both the cashiers' time and the customers' patience. So, next time you're at Aldi, take note of this nifty detail that enhances the overall shopping experience.
The Booze Is a Bargain
"Aldi has got your back when it comes to booze," our insider said. Although alcohol may not be available in every store, when you can get your hands on it, you're in for a treat. Aldi's in-house brands offer an impressive and affordable selection of products, including wine, beer and unique hard beverages like spiked sodas. 
Aldi Brand Dupes Are Just as Good — If Not Better — Than Name Brand
Prepare to be pleasantly surprised by Aldi's brand products, as they serve as impressive alternatives to some of your beloved favorites: Barissimo Iced Coffee stands tall next to Starbucks, Choceur offers a taste reminiscent of Hershey's and Clancy's snacks rival Lay's. These are just a few examples of the hidden gems you can uncover at Aldi. Take the time to explore and become acquainted with all of Aldi's brands, as you'll discover favorites that are just as good — if not better — than your go-to name-brand items. And the best part? You'll enjoy significant price savings along the way.
Ask an Employee — They Know A LOT
Want to stay in the loop with all the latest and greatest at Aldi? Just ask the friendly employees! Since Aldi doesn't heavily rely on marketing, the best way to discover what's new and budget-friendly is by chatting with the helpful staff. They'll gladly share information about upcoming arrivals, special deals and fantastic new products. 
More From GOBankingRates