9 Early Black Friday Home Deals You Can Shop Now on Amazon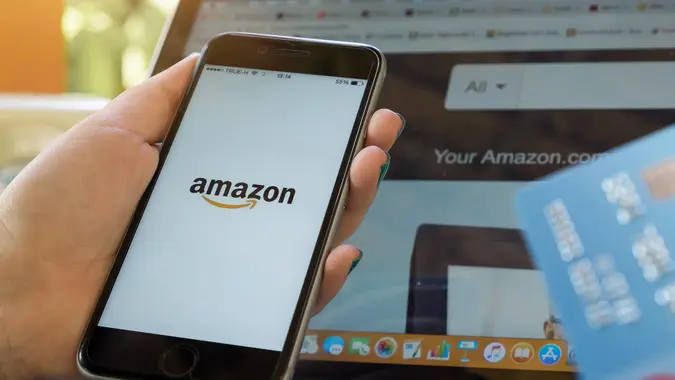 Worawee Meepian / Shutterstock.com
If you're shopping for some great home deals for yourself or a loved one, you may already be planning to check out Amazon on Black Friday. As you might imagine, you can find a huge catalog of deals, including smart home technology, kitchen appliances, vacuum cleaners and cookware.
Many of these items already come at a reasonable price point. But you can score some even better discounts if you shop on or around Black Friday this year.
But why wait? While some of the best deals aren't available yet, there are plenty of early Black Friday deals that you can get right now.
Instant Pot Duo Plus, 6-Quart Whisper Quiet 9-in-1 Electric Pressure Cooker
Sale Price: $99.95
Savings: $50
Instant pots are a great addition to any home kitchen as they can slow cook meals without needing much prep work. This is also helpful for busy families who are constantly on the go.
"I snagged an early Black Friday deal on Amazon for the Instant Pot Duo Plus 6 Quart," said Nikita Sherbina, the senior human resources manager at AIScreen. "Its versatility and time-saving features make it a steal."
Weighing just over 5 pounds, the Instant Pot Duo Plus, 6-Quart Whisper Quiet 9-in-1 Electric Pressure Cooker is easy to maneuver around the kitchen. Both the lid and cooking pot are dishwasher safe, meaning you don't have to spend precious time washing it by hand. Plus, it acts as a pressure cooker, steamer, rice cooker and a saute pan.
Make Your Money Work for You
Amazon's Black Friday deals also tend to include other small kitchen appliances, such as air fryers and coffee makers.
Amazon Fire TV Stick 4K
Sale Price: $24.99
Savings: $25
"The Fire TV Stick 4K is a game-changer for home entertainment," said Sherbina.
This device allows for 4k streaming and is compatible with Wi-Fi 6. With it, you can enjoy a cinematic viewing experience in beautiful 4k Ultra HD with support for Dolby Vision and Dolby Atmos audio. The Amazon Fire TV Stick also grants you access to various streaming apps, like Disney+, Netflix and Prime Video.
It's also easy to use. All you need to do is plug it into your HDMI input using the power cord that comes with it. Then, connect it to the internet, pair the remote to your television and sit back and relax.
Blink Video Doorbell
Sale Price: $29.99
Savings: $30
If you're looking to add some security to your home, then you can't go wrong with the Blink Video Doorbell, which is currently on sale on Amazon.
"This product has day and night video and two-way audio. This can be connected to your smartphone and you can see who is at your door with your phone," said Eugene Klimaszewski, the president of Mammoth Security.
Available in either black or white, this device is compatible with Alexa devices as well. Plus, the video display is in 1080p HD, meaning you can easily see who's at your door. It also comes with infrared night video.
Amazon has other smart home devices as well, which often go on sale around this time of year. Depending on what you're in the market for, you might want to check them out.
Make Your Money Work for You
"From smart speakers to home security cameras, Amazon's own line of smart home devices often sees price cuts of up to 50%," said Kimberly Wall, the founder of BibleKeeper.com. "It's the perfect time to smarten up your home at half the cost."
SODAY Pots and Pans Set Non-Stick
Sale Price: $79.99
Savings: $60
Do you love to cook? If so, then you can find many cookware sets available on Amazon that fit right into any kitchen. One great deal that's going on right now is the SODAY Pots and Pans Set. It's a 12-piece set that consists of non-toxic materials such as aluminum and granite. It cooks food evenly and is very sturdy.
There are also other premium cookware sets that are worth checking out this Black Friday. Some of these can be for up to 30% off — if not more.
Keurig K-Compact Single-Serve K-Cup Pod Coffee Maker
Sale Price: $50.00
Savings: $49.99
At nearly half off on Amazon, the Keurig K-Compact Coffee Maker is practically a steal right now. It comes in several colors and can brew up 6-, 8- and 10-ounce cups. It's also easy to use and weighs less than 8 pounds.
And if you're looking for another type of coffee maker, you're in luck. Amazon offers quite a few stylish espresso machines and other coffee makers at an affordable price.
Moss Pure Minis
Current Price: $225.00
Sale Price: Check back on Black Friday
Make Your Money Work for You
If you're looking for a different way to filter your air, Moss Pure is a brand you should check out.
"Moss Pure will be taking part in Black Friday Deals on Amazon," said Jamie Mitri, the company's founder and CEO. "Most moss wall and décor companies use preserved moss or dried moss, which are no longer living. Preserved moss doesn't last a long time, looks fake and stiff, and gives off a chemical odor. Moss Pure is the world's only company to use live moss as an air filter, stress relief device, and aesthetically pleasing decor piece for your home and office."
As an added bonus, it doesn't require much maintenance. You will need to wait and see how much Moss Pure Minis drop in price once Black Friday officially hits, though.
Ninja BN801 Professional Plus Kitchen System
Sale Price: $183.32
Savings: $36.67
Having the right home appliances can make preparing and cooking food fun while saving you time and stress in the kitchen.
Amazon's Black Friday "discounts on kitchen appliances are too good to miss," said Kayden Roberts, the chief marketing officer at CamGo. "With up to 44% off on select Ninja kitchen appliances, and up to 37% on select KitchenAid mixers, it's the perfect time to upgrade your kitchen gadgets."
One such gadget to check out is the Ninja BN801 Professional Plus Kitchen System. It comes with five functions and can make smoothies and doughs. It also has a 72-ounce pitcher. Plus, it comes with two 24-ounce cups that are great for those who like their smoothies on the go.
Make Your Money Work for You
Apple Watch Series 9 [GPS 45mm] Smartwatch
Sale Price: $379.00
Savings: $50
A smartwatch is a handy little device that can track your heart rate and monitor your exercise levels. Some of them, like the Apple Watch Series 9 Smartwatch, can even double as a GPS.
"There are a couple of Apple products that are having early Black Friday deals on Amazon — including the Apple Watch Series 9 Smartwatch," said Christen da Costa, the CEO of Gadget Review.
This particular smartwatch comes in several colors and sizes. It's also compatible with other Apple devices, including select Apple iPhones. Upon purchase, you're also eligible for three free months of Apple Fitness+.
Bedsure Queen Comforter Set
Sale Price: $47.99
Savings: $28
"Luxury bedding sets and high-thread-count linens are often available at a fraction of their regular prices," said Jasmine Peterson, personal trainer, nutritionist, and full-time writer at Next Luxury.
This Black Friday, Amazon is bound to have many deals in this department. But if you don't want to wait, you can always go with the Bedsure Queen Comforter Set, which is currently on sale. This seven-piece seat includes a comforter, flat sheet, fitted sheet, two pillow shams and two pillowcases. It's made with polyester and a microfiber filling blend.
More From GOBankingRates