Apple's Trade-In Program Will Give You Gift Cards in Exchange for Your Old Electronics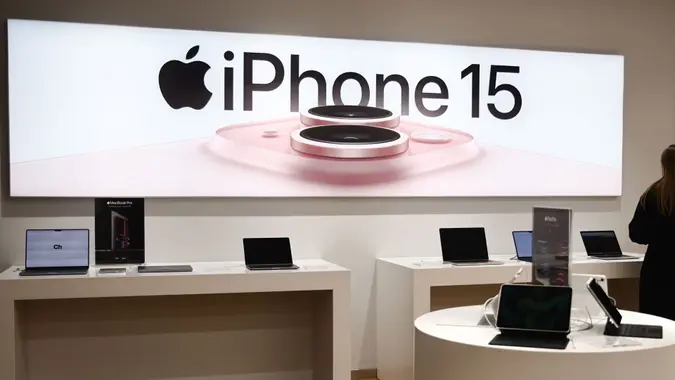 Jakub Porzycki/NurPhoto/Shutterstock / Jakub Porzycki/NurPhoto/Shutterstock
If you've been eyeing the new iPhone 15, Apple recently announced a trade-in program that could make the smartphone's $799 sticker price easier to swallow.
When you trade in your old device, you can receive up to $650 in Apple gift cards, which you can apply to your new phone or other Apple products.
Trade-in value depends on the age, model and condition of the phone. An iPhone 14 Pro Max could give you up to $650 in Apple gift cards, while an older iPhone 7 with no cracks and in working condition could pay you up to $40.
Your other Apple devices also have value as trade-ins. An Apple Watch Ultra could be worth up to $425, while a Series 8 could net you $190. Trade-in values for iPads range from $45 to $580, while a Mac computer could be worth $115 — up to $1,360 for a sophisticated Mac Studio machine.
No Apple Devices? No Problem!
If you have an Android device and are ready to make the switch to iPhone, you can still trade it in to Apple. Samsung Galaxy phones, from the Galaxy Note 8 to the newer Samsung Galaxy S22 Ultra 5G, range in value from $35 to $340.
Google Pixel phones go for $35 up to $140.
How the Apple Trade-in Program Works
You can call an Apple store for an estimate. In the store, you can either trade-in or recycle your electronics on the spot. You can use your trade-in credit immediately in the store, or you can receive an Apple gift card to use on a future purchase.
Make Your Money Work for You
If you don't want to leave your home, you can get an estimate online and Apple will send you a pre-paid shipping label to return your device.
Get Your Electronics Ready for Trade-in
Apple advised that there are few things you should do to get your device ready for trade-in or recycling.
First, unpair any Apple watch devices and any Bluetooth devices you intend to keep. If you're returning an Apple Watch, all you have to do is unpair it from your iPhone.
If you're returning an iPhone, iPad or Mac computer, back up the device so you don't lose your data. Sign out of iCloud, iTunes, and the App Store and, in the case of computers, also sign out of iMessage.
If you're returning a Mac computer, once that's done you can format your hard drive and reinstall MacOS. If you are returning an iPad or iPhone, do not delete device data. A specialist will help you do that once they've assessed the device to determine your trade-in value.
Recycle Other Electronics for Free
If you have other random devices, such as cables, cases, printers, iPods, monitors, or smart speakers, Apple will recycle them for free. Apple will send you a pre-paid shipping label to print and you can send the device to Apple for recycling.
Recycling devices, even if they don't have trade-in value, can help Apple reach its goal of achieving a net-zero carbon impact by 2030, according to the website.
Make Your Money Work for You
More From GOBankingRates