9 Best Appliance Deals at Target in February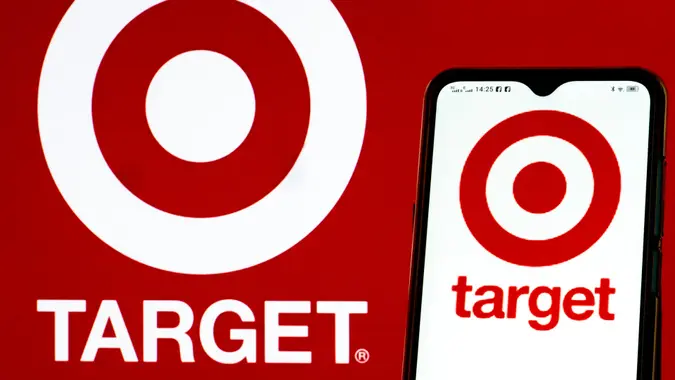 Igor Golovniov / SOPA Images / Shutterstock.com
Now that we're well past the holidays, with budgets recuperating, you might find it's time to replace an appliance that has been on its last legs or finally splurge on one you've been holding out for. Fortunately Target has some great deals this month that can help you make this a reality without a strain on your budget.
Here are nine of the best appliance deals at Target this month.
Whirlpool Stainless Steel Mini Refrigerator 
Maybe you have a college kid who needs a fridge for the dorm room, a surly teen who rarely comes out of their room at home, or an AirBnB that needs a little place to keep beverages chilled. Whatever your reason for the need, Target has the Whirplool 3.1 cubic foot stainless steel mini-fridge on sale for just $159.99 (regular, $219.99). It comes with a reversible door, two glass shelves, a separate freezer space and manual defrost.
Take Our Poll: What Are Your Financial Priorities in 2023?
Make Your Money Work for You
SodaStream Terra Bundle With Extra Gas Cylinder
Do you love bubbly water but hate wasting plastic bottles or aluminum cans to satisfy your fix? Now's the time to splurge on a SodaStream Terra Bundle. It also comes with an extra gas cylinder (one cylinder carbonizes up to 126 bottles of sparkling water), one dishwasher-safe carbonating bottle, made from BPA-free plastic. On sale for $99.99, regularly $119.99.
iRobot Roomba i3 EVO 
If you haven't jumped on the Roomba house cleaning revolution, now's the time. Deal with pesky pet hair, dust and dirt tracked in by family members and more without ever lifting a finger to vacuum. Target has discounted its i3 EVO, the Wi-Fi-connected robot vacuum, from $349.99 to $299.99. This one can also connect to Google Assistant or Alexa. Weighing less than 8 pounds, it's a welcome addition to your house-cleaning arsenal.
Black and Decker Dual Steam Mop and Upright Vacuum
Another product making house cleaning simpler is this Black and Decker dual steam mop and vacuum carpet and floor cleaner combo. It comes with a durable microfiber pad you can wash and reuse, is safe to use on all sealed surfaces, from sealed hardwood to tile, stone, laminate and granite, and includes a 1,000-watt steam boiler and 500-watt vacuum that can be operated at the same time. Its original price of $160.99 has been reduced to $95.80.
Make Your Money Work for You
Cuisinart Programmable Coffee Maker
Coffee lovers, rejoice! If you're in the market for a new programmable coffee maker to make your mornings so much easier because your coffee is already waiting for you, Target has you covered. This Cuisinart 14-cup programmable coffee maker (certified refurbished) is just $49.99 (regularly $79.99). You don't have to make all 14 cups, however; you can set it for the cups of your choice. The heating plate will keep your coffee warm for up to four hours. There's also a brew pause feature, an LCD display and alerts when it's time to decalcify the coffeemaker. With a 90-day warranty, you can't go wrong.
Curtis Stone Air Fryer and Steamer Combo Refurbished
Find out why air fryers are all the rage, with this Curtis Stone air fryer/steamer combo (refurbished). Target has this bad boy discounted from $189.99 to $79.00. It comes with a 6.9-quart non-stick food basket, a dura-Pan non-stick coated air fry drawer and steam tray with four layers of non-stick coating for easy cooking and cleaning. It also includes an LED display with touch screen and three cooking modes: air fry, steam and steam fry. It has a one-year warranty as well.
Make Your Money Work for You
Cuisinart Convection Toaster Oven Broiler 
Continue to revolutionize your kitchen with the Cuisinart convection toaster slash oven broiler. This certified refurbished item allows you to do almost as much as a regular oven, but takes up hardly any counter space. Teach your kids to cook, or make meals for one or two in this chrome beauty. It's on sale for $69.99 (regularly $89.99).
Kitchen HQ 4-Quart Stand Mixer 
Love to bake goodies for the family, your kid's school or just to enjoy yourself? A baker's best friend is a stand mixer, like this Kitchen HQ four-quart mixer. Features include six variable speeds and a pulse function, cord storage in the base to keep it neat on your countertop, non-slip rubber feet for stability and a transparent bowl lid. All of its components are dishwasher safe. You get all of this for $64.99 instead of the original price of $129.95.
Garment Steamer for Cloth 
Now that many people have returned to their in-person jobs, it means ditching the sweatpants for regular work clothes. Those clothes often need to be ironed or pressed, a time-consuming task. Instead, check out Costway's garment steamer, on sale for $102.99 (from $169.99). With 1500 watts of power, up to 208 degrees, this garment steamer has two adjustable steam levels for clothing, curtains, upholstery and more. It has a 1.8-liter capacity water tank and provides up to 45 minutes of continuous steam.
Make Your Money Work for You
Editor's note: All prices are as of Feb. 6, 2023.
More From GOBankingRates
Make Your Money Work for You