6 Best Appliance Deals at Target in March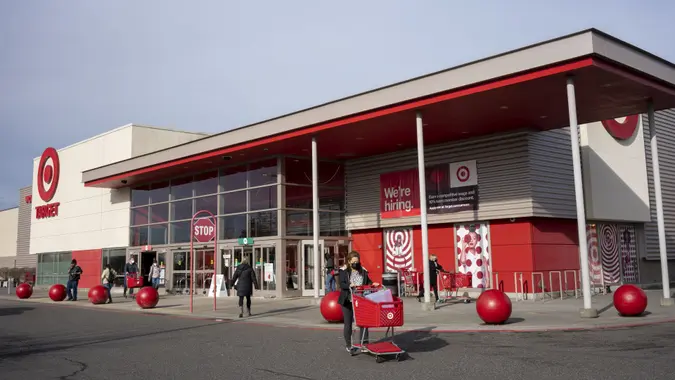 hapabapa / Getty Images
Looking for good deals on appliances this month? It may be time for a Target shopping trip.
$2,000 Quarter? Check Your Pockets Before You Use This 2004 Coin
Related: 3 Signs You're Serious About Raising Your Credit Score
From air fryers to coffee makers, these sales are perfect for grabbing an appliance you've been putting off buying or giving a family member or friend one of these must-haves.
Here are the best appliance deals at Target in March. Also check out 10 items that are almost always cheaper at Target.
Costway Countertop Smoothies Blender
Price: $91.99
If you've been wanting to buy a blender for crafting smoothies, this sale is one you shouldn't pass up. This Costway blender is regularly priced at $259.99 and is 65% off the original price. 
The Costway blender includes a transparent thicken cup with clear scale, allowing you to check food quantity and texture with ease. There are also 10 adjustable speeds, a smart timer and high-speed motor, allowing ingredients to blend better for smoother texture. 
Make Your Money Work for You
Take Our Poll: What Do You Plan To Use Your Tax Refund For?
Nicebay Stainless Steel Large Air Fryer Oven
Price: $99.99
Receive $100 in savings. Originally priced at $199.99, this Nicebay air fryer oven is now 50% off for Target shoppers. 
The Nicebay air fryer oven has a 13.5-quart capacity, enough room to make delicious dishes for everyone in your household. Additional accessories include a crisper tray, wire rack, rotisserie rack, rotisserie fork, rotisserie retrieval and recipe book.
Cuisinart Programmable Coffee Maker
Price: $49.99
Whether you need a new coffee maker or plan to get one for a friend or colleague, this Cuisinart coffee maker is $30 off its regular price.
The Cuisinart coffee maker is sold certified refurbished through Target online. It includes a 14-cup capacity and settings for up to four cups. Use the brew pause feature when needed and decalcify the coffee maker once cleaning alert lights up.
SodaStream Art Sparkling Water Maker
Price: $99.99
Regularly priced at $149.99, this SodaStream sparkling water maker is on sale for $99.99, giving shoppers 33% in savings.
Make Your Money Work for You
Instead of buying sparkling beverages at the store, you can save some extra money and start making them from home. The SodaStream sparkling water maker includes a quick connect CO2 cylinder and a dishwasher-safe carbonating bottle. Just add water to start making your favorite sparkling drinks.
Brentwood Scallop Pattern Slow Cooker
Price: $42.99
Regularly $59.99, this Brentwood slow cooker is 28% off the original price.
Using low, warm or high heat settings, the Brentwood slow cooker works to create delicious, hot meals for everyone. It includes a one-year manufacturer warranty.
George Foreman Electric Indoor Grill and Panini Press
Price: $69.99
Target shoppers adding this George Foreman grill and panini press to their carts will save $20 on their purchase. Originally priced at $89.99, this equals 22% in savings.
For all of your grilling and panini-making needs, this press does it all. Advanced George Tough nonstick coating holds up during the cooking and cleaning process. It also includes dishwasher-safe removable plates to make cleanup a breeze.
More From GOBankingRates
Make Your Money Work for You