14 Best Clothing Deals at Target This May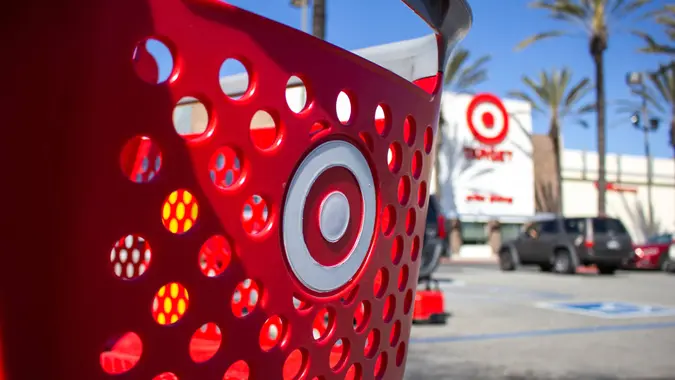 David Tonelson / Shutterstock.com
Ready to update your wardrobe for the summer season? Look no further than Target, where you can find stylish and affordable clothing options galore. From flowy dresses to comfy shorts, Target has something for everyone this May.
To help you snatch up the coolest looks, GOBankingRates asked retail experts for the best clothing deals at Target that you won't want to miss. Here's what they picked out.
Men's Short-Sleeve T-Shirt 
According to Julie Ramhold, a consumer analyst at DealNews.com, these basic short sleeve t-shirts are available in a range of neutral colors and start at a mere $6 each. These highly rated tees will keep you cool during hot summer months, and when temperatures begin to dip in the fall, you can easily layer up for added warmth.
Women's Square-Neck Tank Top
Ramhold shares that these tank tops are perfect for summer and are available in vibrant colors like rose pink and orange, as well as fun patterns like zebra. At just $8 each, they're an affordable option that makes it easy to stock up on all your favorite colors.
Make Your Money Work for You
Bralette Bikini Top
Target is known for offering a great selection of swimwear in various styles, all at an affordable price — especially in May when their selection is huge. According to Jodie Filogomo from Jodie's Touch of Style, this particular $18 swim top is so versatile that it can also double as a chic top when worn under a blazer.
Women's Long-Sleeve Side-Ruched T-Shirt
Tracy Cheng, founder of the fashion and lifestyle blog Girl Shares Tips, describes this $18.70 shirt as both comfortable and fashionable. It features ruching details on the side that add texture and sophistication to the otherwise casual design. This shirt is available in a variety of colors, making it easy to match with any fashion style or event.
Men's Swim Shorts
Get ready to hit the beach in these stylish swim shorts. At $15, they're an extremely good deal and available in a bunch of different colors. 
Women's Short-Sleeve V-Neck T-Shirt 
"These are colorful basics available in a variety of neutrals and bright colors alike," says Ramhold. And, at only $6 each, you can pick up a few to last you the summer — and beyond!
Women's Mock Turtleneck Sweater Vest 
Cheng shares that this $21.25 sleeveless sweater is a stylish and adaptable piece that can easily fit into any wardrobe. The ribbed texture adds an element of refinement, while the mock turtleneck offers both class and comfort. Its neutral colors make it simple to pair with any outfit, no matter the occasion. You can dress it down with jeans for a more casual look, or dress it up with slacks and heels for an appropriate office ensemble.
Make Your Money Work for You
Men's Button-Down Shirt
This short-sleeved madras plaid shirt is so stylish, it's wild that it costs just $25. Houston White, a celebrated designer, offers a new and unique interpretation of a classic summer shirt, providing a fresh perspective on a timeless favorite.
Women's Crop Top
Filogomo believes that this crop top, priced at only $12, is an unbeatable deal. She suggests that if you prefer a longer length, you can simply size up to achieve the desired fit.
Women's Open-Front Cardigan
According to Cheng, this cardigan's loose fit allows for versatility in dressing it up or down, depending on the occasion. Wear it over a dress for an elegant work look or dress it down with jeans for a casual weekend outfit. The neutral color choices make it easy to mix and match with other items in your wardrobe, and at only $23.80, you can stock up for a bargain.
Women's Sleeveless Dress
The fit and flare cut of this $21.25 dress not only provides a comfortable fit but also accentuates the waist for a flattering look. Its sleeveless design makes it perfect for warm weather days, or it can be layered with jackets or cardigans for cooler seasons. "The handkerchief hemline adds an element of fun to the overall look of the dress, making you stand out from the crowd," says Chang. 
Men's Polo Shirt
Nothing says spring quite like a polo, and Target has a well-made on-trend option for just $12. The turnback hem adds a stylish touch, while the use of recycled polyester makes it an eco-friendly option.
Make Your Money Work for You
Women's Long-Sleeve Dress 
"This is a perfect dress for plus-size beauties," shares Chang. With its attractive prints and flattering A-line cut, this dress is versatile for both casual and formal events, notes the fashion expert. The eye-catching pattern adds a bohemian touch to any outfit. It's perfect for layering with tights and ankle boots in the cooler months or pairing with sandals during the summer. This dress is a must-have item in your wardrobe that you can wear for any occasion — and a major steal at just $26.60! 
Round Sunglasses 
Ramhold thinks these sunglasses are the absolute cutest, and despite their affordable price tag of only $15, they have a luxurious look that belies their actual cost. Plus, since they're so reasonably priced, you can afford to snag a few extra pairs to match with different outfits.
More From GOBankingRates
Make Your Money Work for You