7 Best Expensive-Looking Things You Can Buy at Dollar Tree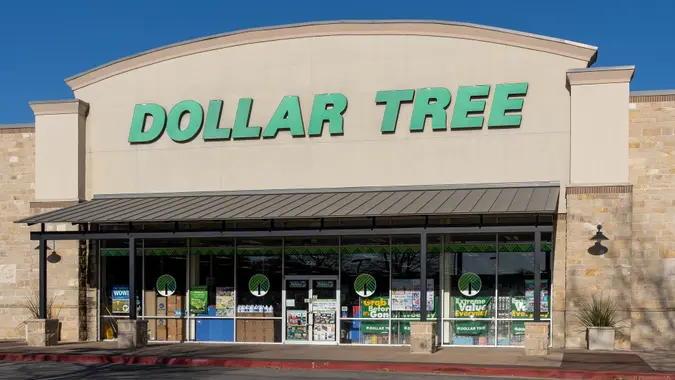 JHVEPhoto / iStock.com
The whole point of Dollar Tree's business model is to keep prices low, so you're not likely to find Dollar Tree carrying items more expensive than $5 (and that's only on select items).
However, looks can be deceiving, and Dollar Tree knows how to market to a wide variety of consumer needs. Thus, you might be surprised by the quality of some of the items you can purchase there.
"Expensive" is often synonymous with stylish or aesthetically pleasing. And anyone with a creative bone can utilize existing items to string together that sort of aesthetic. From home decor to storage, to crafty embellishments, here are seven of the best expensive-looking items you can buy at Dollar Tree.
Special Moments Golden Decorative Mirrors
Improve the ambience of any room with the bright touch of these Special Moments golden decorative mirrors in six assorted designs. Whether you hang one in a space to add both a pop of gold and to increase the sense of space, or you hang several together to create an artistic ambience, for the price of just $1.25 each, you can buy some for every room. These are 9.75 x 9.75 inches.
Bamboo Cheeseboards 
Nothing says luxury entertainment like a well spread charcuterie. Dollar Tree offers bamboo cheeseboards.
Julie Ramhold, consumer analyst at DealNews, said, "These are $5 each, but that's still an affordable price tag for these items. There's a few different designs, and they would make great gifts as well as seasonal picks to add to your own spread."
Make Your Money Work for You
Metal Christmas Milk Jugs
If you want to decorate for the Christmas season in a way that would make Martha Stewart proud, check out these beautifully wrought metal Christmas milk jugs, Ramhold said.
"Choose from a few designs for just $3 each, and use them in your rustic holiday decorating. They're 8 inches and perfect for small greenery arrangements to spruce up your holiday tablescape."
Dinnerware 
Dollar Tree is a great place for purchasing a full set of dinnerware that impresses your guests or filling in your existing sets if something's missing.
According to Ramhold, "There are a ton of different designs to shop, from plain solid colors to clear to floral patterns and more."
With each piece costing only $1.25, she said, "You can buy as many as you need to create your own set without worrying about not having enough or having too much in your cabinet."
Lattice Pattern Glass Jars with Rose Gold Metal Lids
Glass jars are both functional and aesthetically pleasing in a kitchen, bathroom or even as decor on shelves in any room. These 18-ounce lattice pattern glass jars come with uniquely rose-gold-colored metal lids, as opposed to the dull brass or silver colors that quickly cloud over.
These jars measure 5.375 x 3.75 inches and can be used for everything from food to spices, office supplies, crafts, jewelry and more. They're just $1.25 each.
Christmas-Themed Trays
If you want to make guests feel especially well tended in a luxurious way, consider the Christmas-themed trays, Ramhold said. "These wooden trays are perfect for serving milk and cookies to your holiday guests or leaving for Santa."
Make Your Money Work for You
These trays are $5 each and available in four designs, and they would work for some holiday decorating as well as they would serving hot drinks like coffee, tea or cocoa.
"At this price," Ramhold said, "you can pick up more than one without having to worry about overspending and have your decorating and serving needs for the holiday covered."
Ribbon and Craft Embellishments
It's amazing what a little bright, sparkly or colorful ribbon can do to add a luxurious flare to everything from home decor to gifts. Dollar Tree has you covered with ribbon and embellishment options in a wide variety of colors, styles and even seasons.
From wire-edged ribbon you can wrap into neat shapes and around complicated packages, to sparkly tulle and satin ribbon, you can give anything a luxurious flare for an extremely affordable price.
More From GOBankingRates