The Best Father's Day Gifts for Every Budget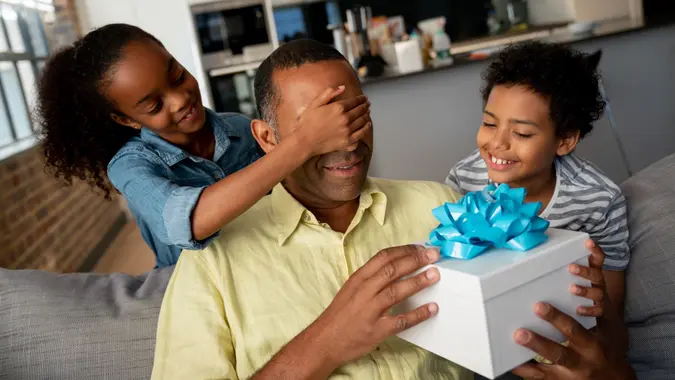 andresr / iStock.com
June 18 is just around the corner, and it's time to celebrate the amazing dads in our lives — but finding the perfect gift to show your love and appreciation can be a huge pain. To help you out, GOBankingRates curated a list of great gifts that are sure to put a smile on dad's face.
Vanva Universal Air Vent Car Mount
This phone holder is inexpensive and is something your dad will actually use all the time. It mounts on just about any car's air vent and can accommodate almost any phone (even if it has a chunky case), keeping the phone safe and stable even when the road gets bumpy. Reviewers note that it's easy to set up and won't cause damage to the vent. 
Super Universal Socket Tool
A great gift for the dad that has everything, this genius gadget can replace a dozen tools in your dad's toolbox. Fifty-four adjustable rods instantly adapt to fit any size or shape that fits in the socket — hex bolts, square nuts, stripped or broken bolts, even hook screws and wing nuts.
Kona Grill Mats
Give dad the gift of an always-clean grill without the scraping and scrubbing. These heavy-duty grill mats are nonstick, making it a breeze to grill more delicate things like seafood, and can handle temperatures up to 600 degrees Fahrenheit. They're also backed by a seven-year warranty, so you can buy with confidence — and it's a two-pack, so you can always keep one for yourself. 
Make Your Money Work for You
PuttOut Pressure Putt Trainer
Help your dad work on his short game with this putting trainer. It works indoors and out and has a collapsible design so he can throw it in his golf bag. The PuttOut's parabolic shape is designed to closely mimic an actual hole on a green, and it rejects bad putts and returns good ones, giving you instant feedback on every shot.
Elijah Craig Barrel Proof Bourbon
Want to wow your whiskey-loving dad, but don't have a few thousand to spend on a bottle of Pappy Van Winkle? Good news, there are a number of alternatives that are accessible but still excellent — they're even expert-approved. One of the best is Elijah Craig Barrel Proof, with sweet flavors of vanilla and butterscotch and a warm finish. It's hard enough to find that it still feels special, but you won't need to take out a loan to buy it.
Custom New York Times Football Book
This striking hardcover will make a great addition to dad's bookshelf. You pick his favorite team and get a library-bound sports journalism collection that uses reprinted coverage from The New York Times archives to trace the team's history (you can also get a magnifying glass to help read the smaller print). It can even be embossed with his name for a personal touch.
Craft Beef Jerky Subscription
$19-$57 a month at Craft Jerky Co.
Nothing quite says dad like beef jerky. Maybe your dad is perfectly happy with the stuff you can buy at gas stations, but this monthly box will let you class up his jerky selection for Father's Day and beyond. With a lot of options available for any budget — two, four, six and eight bags per month subscriptions as well as the option to prepay or buy month to month — this is a gift that keeps on giving.
Make Your Money Work for You
MIKO Foot Massager
Keep dad's dogs from barking with this fancy electric shiatsu foot massager. Its adjustable bar also lets you work your ankles and calves, and it fits up to a size 15 foot (if your dad is Shaq you're out of luck). Many reviewers noted that it had helped relieve their plantar fasciitis (a painful inflammation of tissue in the foot).
Away Carry-On
Named the best hard-shell carry-on suitcase of 2023 by CNN Underscored, this durable, surprisingly lightweight piece of luggage is a fantastic gift for any frequent traveler. Features include 360-degree wheels, a TSA-approved combination lock and an interior compression system. You can also add a USB charger for $20, or personalize it with custom colors for $50 so dad will always be able to spot it in the luggage carousel.
Yeti Roadie 60 Wheeled Cooler
If you really want to make a splash this year (and have the money to afford the lofty price tag), give dad the supercar of coolers — the Yeti Roadie 60. This beast is capable of holding 68 pounds of ice (for days) or 98 cans, and is tall enough to fit a wine bottle standing up. The Roadie's wheels are built rugged for off-road but are still maneuverable, it's dry ice compatible and it comes with a five-year warranty. Unfortunately for your wallet, aside from a dry goods basket, most accessories come separately.
More From GOBankingRates
Make Your Money Work for You
Disclaimer: Product prices are accurate as of June 13, 2023, and subject to change.