10 Best New Costco Products for November 2023 That Are Worth Every Penny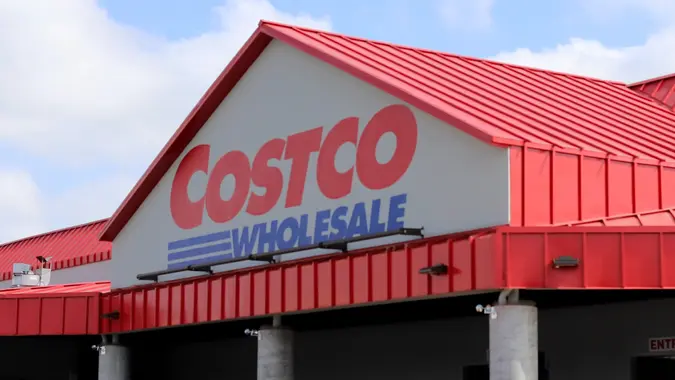 Laser1987 / iStock.com
As you prep for the holidays, Costco has been shipping in new products to help you stretch your dollars and make the most of the holiday season. These are the latest Costco finds available in stores for November 2023. 
Chefman Electric Warming Tray with Adjustable Temperature Control – $44.99 
If you're having family over for Thanksgiving and the winter holidays, you'll want to keep your dishes warm throughout the evening. This sleek electric warming tray could be a big help in keeping food from going cold without the messiness of chafing dishes and fuel cans. The glass top is easy to clean and the temperature controls make it easy to avoid overheating your holiday meals. If you're a frequent host for family gatherings and holidays you'll find the $44.99 price tag well worth it. 
Yummy Dino Buddies Holiday Nuggets – $14.69
For little picky eaters who thrive on chicken nuggets, Costco has started carrying a festive version of their favorite food. The Dino Buddies Holiday Nuggets come in at $14.69 for about 120 nuggets. The holiday-themed pack comes in fun shapes like snowmen, holiday trees, reindeer, stockings, gingerbread men, and candy canes. 
Godiva Ganache Filled Chocolate Chip Cookies – $15.99
Whether you're responsible for bringing a dessert to the holiday party or leaving cookies out for Santa, these Godiva Ganache Filled Chocolate Chip Cookies bring decadence to a traditional favorite with a warm gooey center and luxurious Godiva chocolate chips. Simply pop them in the oven at 350 degrees for 14 to 16 minutes for a delightful treat without the mixing bowl. With 32 cookies for $15.99 a cost of about 50 cents per cookie. 
Make Your Money Work for You
FRYE Arctic Luxe Faux Fur Throw – $34.99
Whether you're doing some early gift shopping or want to create a cozy vibe in your home, the FRYE Luxe Faux Fur Throws are a plush addition to your next movie night and home decor. These reversible throws give you the luxurious feel of fur without the finicky upkeep. It's machine washable and comes in two neutral colors: white and grey.  With 60-inch by 70-inch dimensions, you'll have no problem keeping your whole body warm under this blanket. 
Cuisine Adventures Mini Quiche – $17.49
If you're looking for a tasty hor d'oeuvre for your next gathering, the Cuisine Adventures Mini Quiches could hold over hungry guests while you work on the main course. The box of 72 pieces comes in two flavors: florentine and three-cheese. The buttery flaky crust is satisfying and as a bonus, it's also kosher and has no artificial flavors.  
Stonemill Kitchens Organic Cranberry Sauce – $8.99
The holidays aren't the same without cranberry sauce. Costco added organic cranberry sauce to bring that familiar cheer to the dinner table. This 36-ounce container of cranberry sauce has whole organic cranberries mixed in for just $8.99. 
Fotis Fine Baked Brie with Fig Jam and Chopped Walnuts – $11.99
If you or your family love the smooth meltiness of baked brie, you'll enjoy this pastry-wrapped version topped with fig jam and chopped walnuts. This could make for a great appetizer or wine-night snack. Bake in the oven for a few minutes and pair with slices of toasted bread, prosciutto, and crackers. 
Anchor Hocking Drinkware Set 16 Piece – $19.99 in stores
If you'd like to replace your hodge-podge of drinking glasses with a classy set of sturdy drinkware, then Costco has a great deal. For just under $20, you could get a hammered glass drinkware set that's dishwasher safe. The 16-piece set comes with eight tumblers and eight tall glasses. 
Make Your Money Work for You
Cuisinart Smart Stick Variable Speed Hand Blender – $29.99 in stores
Whether you're the chef in your family or gifting to the family chef, this variable-speed immersion blender can come in handy when making soups, chopping veggies, or whipping cream. The five-piece set includes a three-cup beaker, a four-cup food processor, a chef's whisk, a storage bag, and a stainless steel blending shaft. 
Dyson Purifier Hot+Cool Purifying Heater Fan – $429.99
At $120 off the manufacturer's price, this multifunctional air purifier also takes the place of a fan and a heater. The 360 filtration system removes gases and odors through a HEPA filter that captures 99.97% of particles. Connect and control the air purifier through an app to heat, cool, and purify the air throughout an entire room. 
More From GOBankingRates