8 Best New Items Coming to Dollar Tree in March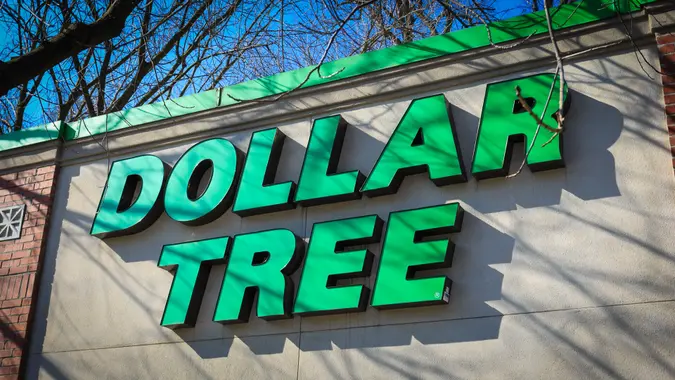 Cassiohabib / Shutterstock.com
If you're a bargain hunter or just looking for ways to save some money on everyday essentials, Dollar Tree is the place to be. The discount store has always been a go-to for shoppers looking for affordable household items, snacks and party supplies.
However, Dollar Tree has now stepped up its game by introducing some exciting new products in March. From trendy décor to tasty new beverages, we've scoured the aisles to bring you the eight best new items coming to Dollar Tree this month. 
Dollar Tree has always had great deals; but, with these recent additions, the store is offering even more value for your money.
Whether you're on a tight budget or simply looking for some fun finds, you can expect to find a variety that caters to every need, all while keeping their signature low prices. From fun toys to seasonal décor, Dollar Tree has something for everyone. Your next shopping trip is sure to be a success.
Coffee 
If you're a coffee lover on a budget, you'll be delighted to know that Dollar Tree has recently introduced some new coffee flavors that are available exclusively in stores. For just $1.25 each, you can now enjoy the rich taste of Jim Beam Original Coffee, Jim Beam Bourbon Vanilla Coffee, Harry & David Breakfast Blend and Harry & David Vanilla Crème Brulee. 
Make Your Money Work for You
The Jim Beam Original Coffee is a bold and rich blend that's perfect for jump-starting your day. The combination of premium coffee beans and the signature Jim Beam flavor creates a unique taste that coffee and bourbon fans alike will enjoy.
If you're in the mood for something sweeter, the Jim Beam Bourbon Vanilla Coffee is a must-try. The smooth and creamy blend is infused with the flavors of vanilla and bourbon, making it the perfect pick-me-up for a cold winter morning. 
For those who prefer a milder blend, the Harry & David Breakfast Blend is an excellent choice. This classic blend of Arabica beans is roasted to perfection to create a smooth and balanced flavor that's perfect for enjoying any time of day.
On the other hand, for a sweet and indulgent treat, the Harry & David Vanilla Crème Brulee is the perfect option. This decadent blend features the flavors of creamy vanilla and caramelized sugar, making it a delicious dessert-like coffee that's perfect for sipping on a cozy night in. 
Make Your Money Work for You
Splenda Liquid Creamer 
For coffee lovers who like their morning brew a little sweeter, Dollar Tree has introduced a new line of Splenda Liquid Creamer, available both in stores and online in bulk. These new creamers come in two delicious flavors: French Vanilla and Sweet Cream, each priced at just $1.25. 
The Splenda French Vanilla Coffee Creamer adds a rich and creamy flavor to your coffee, while also providing the perfect amount of sweetness without the added calories. This creamer is perfect for those who love a classic French vanilla taste and prefer a dairy-free option, as it is made with water, sugar, vegetable oil and natural and artificial flavors.
For those who prefer a simpler taste, the Sweet Cream Liquid Creamer is a legit choice. This creamer provides a smooth and creamy texture to your coffee, along with a touch of sweetness that's not overpowering. As a bonus, the Sweet Cream Liquid Creamer is also dairy-free. Both of these creamers are great options for those looking to add some flavor to their coffee.
With their low price point, you can indulge in a delicious cup of coffee every day without feeling guilty. Plus, the convenient 8-ounce size makes them perfect for on-the-go coffee drinkers.
Make Your Money Work for You
New Dinnerware
Dollar Tree is known for offering great deals on everyday household items, and their latest addition is no exception. They've recently introduced a new line of dinnerware that's available both in stores and online in bulk, priced at just $1.25 each. This new dinnerware collection features a classic and timeless design that's perfect for any kitchen. 
The Royal Norfolk Ceramic White Solid Glaze Dinner Plate is the perfect addition to your dinner table. The 10.5-inch plate is made from high-quality ceramic material, making it durable and long-lasting. The white solid glaze adds a touch of elegance to your mealtime while remaining versatile enough to match any kitchen décor. Whether you're serving a casual meal or a fancy dinner party, these plates are a perfect addition.
To complete the collection, the Royal Norfolk Ceramic White Glaze Mug is also available. This 14-ounce mug is perfect for enjoying your morning coffee, tea or hot cocoa. The classic white glaze provides a clean and timeless look that can easily match any kitchen style. The mug is also made from high-quality ceramic material, making it durable and perfect for everyday use. With their low price point, you can easily stock up on these plates and mugs to create a complete dinnerware set for your home. 
Make Your Money Work for You
Toy Blind Bags  
The new toy blind bags are only $1.25 each and are available both in stores and online in bulk. These bags are perfect for surprising your little ones with fun toys that are both affordable and entertaining. 
There are two options to choose from: Squishy Surprise Assorted Boys and Squishy Surprise Assorted Girls. The boys' bags come with a variety of squishy toys in different shapes, sizes and colors, including cars, trucks, animals and more. The girls' bags have cute squishy toys as well, such as animals, unicorns, jewelry and more. 
These Toy Blind Bags are not only fun and affordable but also a great way to inspire creativity and imagination in children. They're perfect for birthday party favors, stocking stuffers or just as a surprise for your kiddo. They're also small and easy to carry around, making them perfect for long road trips or boring waiting rooms.
Easter Gnome
The new Easter Gnomes at Dollar Tree are the cutest. These plush little guys are only $3 each and are the perfect addition to your Easter décor. These Easter Gnomes come in cute and colorful designs that are sure to brighten up any room.
Make Your Money Work for You
They're 16 inches tall and made of soft and plush material, making them perfect for cuddling or displaying on a shelf. These little gnomes are a great way to add a touch of whimsy and fun to your Easter decorations. You can place them on your mantel, bookshelf or even on your Easter table as a centerpiece.
Roam Wireless Earbuds 
The new Roam Wireless Earbuds at Dollar Tree are only $5 and are a great option for anyone who loves listening to music or taking phone calls on the go. These 2Boom Bluetooth Wireless Ear Buds offer high-quality sound and are designed to fit comfortably in your ears. 
They come with a charging cable and a compact charging case that makes them easy to take with you wherever you go. These wireless earbuds are perfect for working out, running errands or just relaxing and listening to music at home. 
With their Bluetooth connectivity, you can easily pair them with your phone or other Bluetooth-enabled devices, making them a versatile and convenient option for all your audio needs. They offer the same features and quality as more expensive earbuds on the market, but at a fraction of the cost. 
Make Your Money Work for You
Plush Pals 
The new Plush Pals at Dollar Tree are ridiculously adorable and you're gonna want a million of them. These adorable cuddly animals are only $5 each and are sure to be your new favorite snuggle buddy. These Plush Pals are 14 inches tall and come in a variety of cute and lovable animal designs. From cuddly bears to playful dogs, there's a Plush Pal for everyone. 
They're made of soft and plush material that's perfect for snuggling up with on the couch or taking to bed for a good night's sleep. These cute and cuddly animals are great for kids and adults alike. They make a perfect gift for a child's birthday or as a surprise for a friend who needs a little extra comfort and joy in their life. With their affordable price, you can even collect them all and frankly, you're gonna want to — they're too dang cute!
Stackable Stool/Table
If you're looking for a versatile and practical piece of furniture, you'll want to check out the new Stackable Metal Table Stools. These handy stools can double as tables and are steals at just $5 each.
These Stackable Metal Table Stools measure 11.8 by 17 inches, making them the perfect size for use as small tables or stools. They're made of durable metal that can withstand everyday use and come in a sleek and modern design that will complement any decor.
One of the best things about these Stackable Metal Table Stools is that they can be easily stacked on top of each other, saving you valuable space and making them ideal for small apartments, dorm rooms or anywhere space is at a premium. 
More From GOBankingRates