8 Very Best Sam's Club Items You Can Get for $100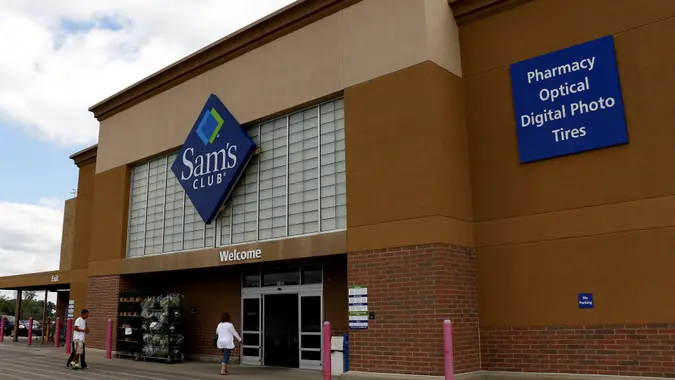 Laser1987 / iStock.com
Ah, Sam's Club. The warehouse shopping extravaganza with big stores and even bigger savings! But what are the best deals? Well, if you've got a budget of $100, we've got you covered with a fantastic selection of the very best items you can find at this beloved wholesale store.
From everyday essentials to indulgent treats, we've scoured the aisles to bring you a curated list of top-notch products that won't break the bank. Whether you're stocking up on household necessities or treating yourself to some delightful surprises, get ready to make the most of your $100 at Sam's Club with these incredible finds that run in that price range. 
De'Longhi 15-Bar Pump Espresso and Cappuccino Machine
According to Julie Ramhold, a consumer analyst with DealNews.com, this espresso machine is a must if you're a fan of espresso drinks. Making your own espresso drinks at home allows you to save money and experiment with different flavors to cater to your personal tastes.
Make Your Money Work for You
This highly-rated machine not only brews espresso but also has a milk-steaming feature, enabling you to create coffeehouse-style beverages right in the comfort of your home. Even at $120, it's an excellent deal, as similar De'Longhi models elsewhere can cost up to $200 or even more.
Samsung 27-Inch LED Full HD Monitor With Borderless Design 
Boasting a 27-inch Full HD display, a stylish borderless design, and multiple ports such as HDMI, DisplayPort, and VGA, this Samsung monitor is an excellent choice for gaming, movie-watching and project work. And according to Sam's Club superfan Ted Howard from EZCustomGifts, it's an exceptional value at just $119.98.
Cuisinart Soft Serve Ice Cream Maker With Mix-Ins 
In the scorching heat of this summer, making homemade ice cream is a great way to cool down. Treating yourself and your family to this fantastic small appliance is definitely worth the investment. Homemade ice cream simply tastes better, and this machine combines the convenience of a freezer and a dispenser in one.
With the ability to make 1 1/2 quarts of ice cream in just 20 minutes, you can indulge in your favorite frozen treats almost immediately — and what's sweeter than that? Even better, according to Ramhold, you can dispense the ice cream directly from the same machine, making serving a breeze. The added container for mix-ins allows you to sprinkle your favorite toppings or candies, giving you that authentic ice cream parlor experience.
Make Your Money Work for You
The best part is, by shopping at Sam's Club, you can save around $30 compared to other places, bringing the price down to just $99.98. 
GE Solon Decorative 3-Light Integrated Color-Changing Light Fixture
This light fixture is an excellent choice for adding style and personality to your home, all at an attractive price of $139.98. Gone are the days of mundane and static lighting; now, you can effortlessly tailor the ambiance to suit your mood and decor preferences. With a mere flick of a switch, the atmosphere transforms, bringing a kaleidoscope of hues that breathe life into your surroundings.
Apart from its color-changing powers, this light fixture also boasts the energy-efficient brilliance of integrated LED technology, Howard said. Say goodbye to frequent bulb replacements and welcome the long-lasting efficiency that helps you save on your energy bills.
Honeywell 4800 Lumen LED 4′ Dimmable Ceiling Light
These ceiling lights are an exceptional choice for illuminating and enlivening your home space, Howard said. Boasting an impressive 4800 lumens of brightness, they bring a radiant glow that effortlessly fills the room with warm and welcoming light. What's more, the lights come with a convenient dimmable function, allowing you to set the perfect ambiance for any occasion, whether it be a cozy movie night or a lively gathering with friends. And at just $139.98 for a two-pack, they're not only practical but cost-effective.
Make Your Money Work for You
VIZIO 5.1 V-Series Home Theater Sound Bar 
Remarkably, this sound bar's exceptional features and performance come at an incredibly affordable price of just $169.88. Howard shares that it'll transform your TV's audio capabilities without costing a fortune. He also shares that the audio is premium with this stellar sound bar, so your home theater experience is about to get a lot more cinematic. 
PowerXL Smokeless Grill
According to Ramhold, this indoor grill offers the satisfaction of grilling your favorite meats, veggies and even fruits, all without the hassle of dealing with outdoor heat and bugs. While it may not replicate the exact flavors of charcoal or mesquite chip grilling, it comes pretty close to the experience of using gas grills. This makes it an ideal option, particularly for apartment dwellers who can't have outdoor grills and small families that only need to grill in smaller quantities.
Being smokeless, it's perfect for spaces with limited ventilation, making it a great solution for those who miss the grilling experience. Furthermore, the grill is available at a reasonable price of $99.98, which is at least $10 cheaper than many other options. Even cooler, Sam's Club offers a convenient return policy if you happen to change your mind. 
Babish 4-Piece Cast Iron Cookware Set
Howard recommends this cookware set as the ideal entry point into the world of cast iron cooking. It comes complete with a 10.25-inch skillet, an 8-inch skillet, a 5-quart Dutch oven and a 10.25-inch griddle, all for an incredible value of just $119.98. Crafted from top-notch cast iron, this cookware exudes durability and reliability, ensuring it'll last for a very long time.
Make Your Money Work for You
One of the standout features of this set is its pre-seasoned finish, eliminating the need for time-consuming seasoning processes. With this pre-seasoned perfection, you can dive right into your culinary adventures without delay. From sizzling seared steaks to fluffy golden pancakes, your culinary creations will savor the benefits of cast iron cooking from the very first bite. Yum!
More From GOBankingRates