25 of the Best-Selling 'As Seen on TV' Products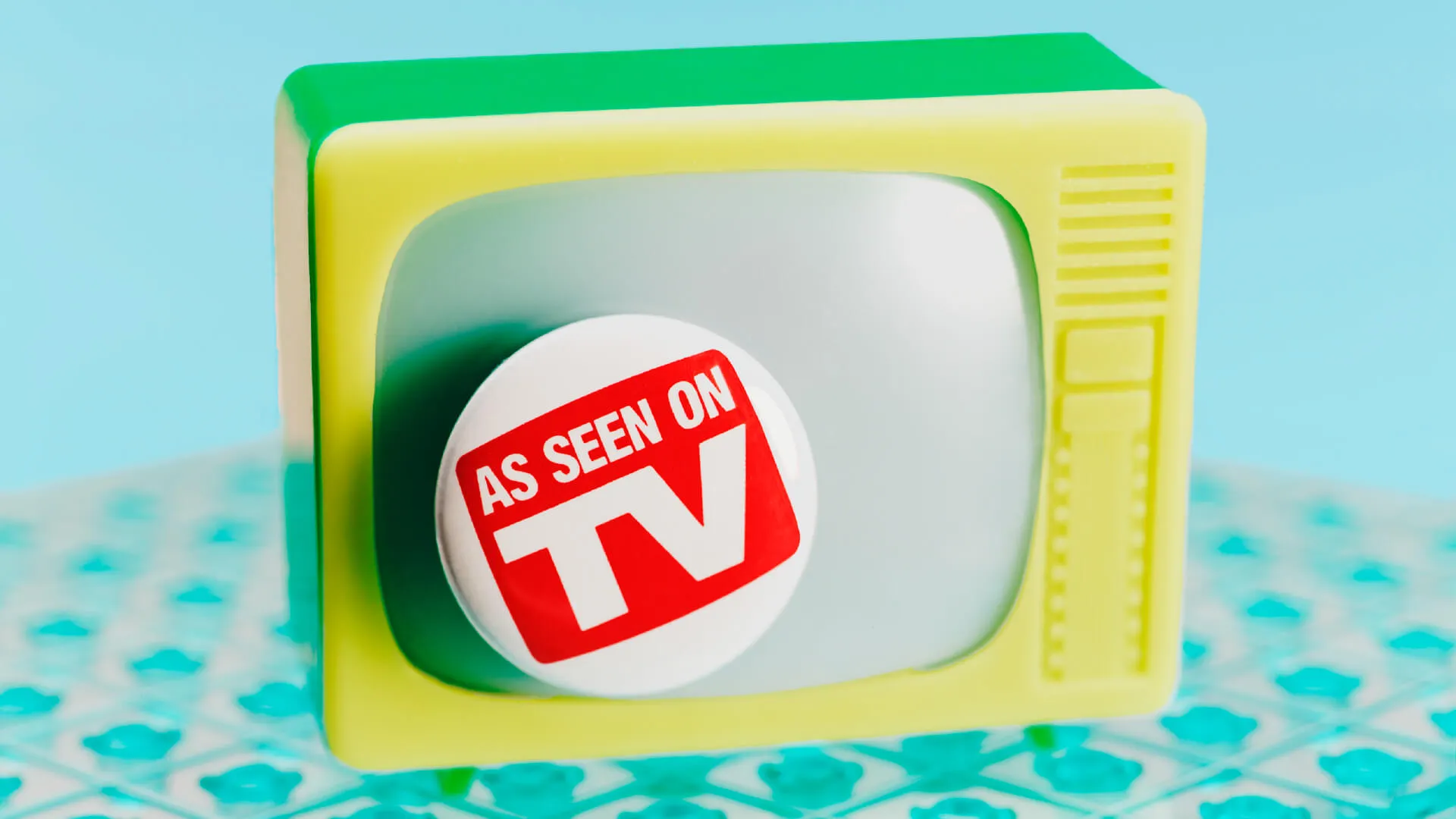 Big Vision Glasses
When you're having trouble reading the fine print, your standard options are heading to the eye doctor or living in a blurry world. These options might not appeal to you, and spending hundreds of dollars for an eye exam and new lenses and frames might be out of the question. It's easy to overspend on glasses or contacts, but you shouldn't have to.
Stop stressing and try a pair of Big Vision Glasses for $8.99. Offering hands-free and 160% magnification, this optical wonder can be worn alone or with prescription glasses, contact lenses and sunglasses. No eye exam or prescription is needed, so you can have magnified vision for less than $10.
Wipe New
You want to keep your vehicle sparkling, but professional detailing costs add up. Instead, roll up your sleeves and do quality car work yourself with a $13.99 Wipe New kit. Along with the cleaning solution, you'll receive two applicator cloths, detail brush, headlight prep pad, headlight applicator cloth and gloves.
You can apply Wipe New to your dashboard, interior plastic, bumpers, decorative panels or any other rubber or vinyl items to help renew and protect them. The kit certainly costs less than a professional cleaning, and with more than 3 million Wipe New products sold in the first three years after its launch, it's safe to say this product was a success.
Make Your Money Work for You
BeActive Brace
Suffering from lower back pain puts a strain on your entire life, but the BeActive Brace — $6.78 through Amazon — aims to offer relief. Designed to ease tension on the sciatic nerve, this brace can reduce pain in the user's lower back, buttocks and legs. Plus, it's designed to be easy to hide under clothing and comfortable to sleep in.
Lower back pain can be difficult to treat, which can result in a pile of medical bills for an unresolved condition. If you want to reduce your medical and healthcare costs, the BeActive Brace might be an affordable alternative that can make you feel better.
Flex Seal
If you're contending with minor cracks and holes in your home but aren't handy, consider giving Flex Seal a try for $9.94. One can treats 2 to 12 square feet. No prepping is required for Flex Seal, which works on both wet and dry surfaces. An easy way to fix your home yourself, use it everywhere from your roof and PVC pipes to gutters and ductwork.
Before paying a large sum of money for professional repairs, you might want to try this. For best results, some items require multiple coats, and be sure to leave plenty of time to cure before using it a second time, according to Consumer Reports.
DashCam Pro
It's frustrating to share the road with reckless drivers. DashCam Pro offers peace of mind by recording your entire trip, and using it could save you money in the future. This is an easy way to show you're not at fault if you get into an accident — you would have evidence to show in court and your car insurance shouldn't take a hit.
For $18.99, a DashCam Pro Camera comes with a car charger, adjustable suction mount and USB sync/charging cable. The system has many features, including full HD 120-degree wide-angle video, a time and date stamp, and the ability to record both audio and video.
Furniture Feet
Furniture Feet can help to protect your beautiful floors and furniture from scratches. Made with woven fiber pads, these booties slide onto the legs of stools, tables and chairs, providing a nonabrasive surface that glides across your floors.
Each $9.94 pack of Furniture Feet contains eight large sleeves, made to last up to five times longer than felt pads. Safeguarding your floors can add years to their lifespan, so you won't have to shell out thousands of dollars for untimely repairs or replacements.
Make Your Money Work for You
5 Second Fix
If you've ever tried to glue a broken wood, metal, plastic or glass item back together without success, you might want to try 5 Second Fix. It's a liquid-plastic welding tool that lets you fix, fill, repair and seal items, presumably in five seconds or less.
You can position pieces until you have them just right, and once the welding tool cures the clear adhesive, it's flexible, sandable and paintable. The tool costs $9.94, but you can save hundreds of dollars if you're able to repair items instead of having to replace them.
TV Free-Way
Watching TV is a popular way to relax, but network providers keep causing stress by raising monthly premiums. The average household spends $109.60 per month on television service, according to a 2019 Leichtman Research Group survey. If you want to watch network shows without an exorbitant bill, the TV Free-Way might be a compelling "As Seen on TV" item to try.
Offered for a one-time fee of $14.99, this digital antenna delivers network programming in a clear HD picture, without any contracts or hidden costs. You won't get premium channels, but this can be a cost-effective way to enjoy network television.
Furniture Fix
Old, sagging furniture looks terrible and is uncomfortable to sit on, but replacing it can be expensive. Furniture Fix bills itself as an affordable alternative, allowing you to bring new life to your favorite old pieces.
No tools are needed; you just place Furniture Fix panels under drooping cushions for added support. The panels interlock to provide a boost and can be used on furniture of any size. Designed to withstand heavy use, each $14.95 Furniture Fix kit comes with six panels.
EverBrite LED Light
Hiring an electrician to wire the exterior of your home for a motion light can cost hundreds of dollars, but the EverBrite LED Light offers the same benefits for $12.94. The EverBrite contains a built-in solar panel that charges itself so you won't have to fill it with expensive batteries.
Installation is quick and easy. Just peel and stick this durable, waterproof light wherever you want more light. The motion detector automatically senses movement up to 15 feet away, serving as a great way to brighten patios, walkways and garage door areas.
Make Your Money Work for You
Red Copper Square Pan
Stocking a kitchen with necessary cookware is expensive — unless you invest in the Red Copper Square Pan. Serving as a skillet, fryer, roaster and baking pan, this $39.94 all-in-one kitchen wonder can save you money and cabinet space.
Crafted with 100% copper and made with anti-scratch technology, no oil, butter or grease is needed when using this nonstick pan. Also included are a tempered glass lid, steamer/roaster rack and frying basket. One piece of good cookware easily can cost hundreds of dollars, so this "As Seen on TV" item might be worth a look.
Personal Pedi Callus Remover
Visiting the nail salon for a pedicure is a relaxing treat, but spending on regular trips can add up fast. At $19.99, the Personal Pedi Callus Remover can be an affordable alternative, offering a massaging scrub at home.
This mineral roller is designed to get rid of calluses and buff your hands and feet. Pair the Personal Pedi Callus Remover with a quality brand of nail polish and you can create your own DIY spa at home.
DrainWig
Loads of lustrous hair looks great on your head, but it doesn't fare as well in your shower drain. If you're tired of paying your plumber hundreds of dollars to unclog your drain, buy a set of two DrainWigs for $9.98. Shimmy the chain down the drain, and let it catch hair in its soft rubber whiskers.
Replace your DrainWig every two to four months by pulling it out and throwing it away. This is a safe and easy way to keep the water in your pipes flowing freely without the use of a plumber or harmful chemicals.
Groomaroo Pet Trimmer
Visits to the groomer aren't cheap, but your dog has long hair that needs to be trimmed. The Groomaroo is an innovative, at-home solution, making it easy to give your pooch a trim yourself. This safe, painless, easy-to-use trimmer accommodates different fur lengths without having to change blades, and it trims in any direction.
You won't even have to clean up a mess when you're done because the Groomaroo — $8.51 on Amazon — collects all trimmings. The ultra-quiet motor and massaging feature will keep your dog calm, allowing you to pamper your pup with a free haircut instead of spending money at the groomer.
Make Your Money Work for You
Rodent Sheriff
Rats, mice, squirrels and other unwanted creatures in and around your home can be a huge and expensive problem. Rodent Sheriff might be the cheap alternative you're looking for. Formulated in the United States from a handmade peppermint recipe hated by rodents, this spray is safe for indoor and outdoor use.
Also safe for use around children and pets, you'll enjoy the minty scent of the spray in this 8-ounce bottle. At a price of $10, this is a great alternative to messy traps and expensive exterminators. Enjoy a nontoxic, effective solution at a fraction of the price you'd pay a professional.
Simply Straight
Created for all hair types, this innovative hair straightener brush heats up to 450 degrees to give you salon-quality hair for just $19.94. Effectively replacing your flat iron, Simply Straight boasts an LCD digital display and a 6-foot swivel cord.
For safe use, the ceramic straightener brush automatically turns off after 60 minutes. It's also small enough to fit into your travel bag, allowing you to look amazing wherever life takes you.
Miracle Copper Socks
Revitalize your tired feet with Miracle Copper Socks, priced at $9.94. These anti-fatigue compression socks reduce swelling, boost circulation and soothe and massage aches and pains.
That's not all — these thin and discreet compression socks also control odor, making embarrassing smelly feet a thing of the past. Copper-infused fibers also will help restore skin cells, giving your feet a healthier look.
Turbo Scrub 360
Give your home a deep clean with the Turbo Scrub 360 for a one-time cost of $39.99. This cordless scrubber weighs 3 pounds, extends up to 4 feet and features a deep-cleaning brush that rotates up to 300 rpm.
Clean for at least 60 minutes with a single charge, and enjoy the satisfaction of scrubbing hard-to-reach spots such as tile grout, glass, tubs, sinks and showers. Also an effective floor scrubber and polisher, the Turbo Scrub 360 does it all.
Make Your Money Work for You
Miracle Bamboo Cushion
Enjoy back support and good posture anywhere with the Miracle Bamboo Cushion. Priced at $18.94, this orthopedic seat cushion helps relieve backaches, fatigue, discomfort, soreness and more.
The support seat molds to fit the shape of your body and returns to its original form when it isn't in use at sporting events, picnics and even in office chairs. The viscose from the bamboo seat cover stays nice and cool while in use, and it's easy to remove for washing.
Good To Know: 
Full Crystal Exterior
Make your house sparkle with Full Crystal Exterior, a versatile outdoor cleaner priced at $19.95. These outdoor cleaning crystals instantly spruce up and brighten a variety of surfaces, including vinyl, wood siding, brick, stucco, concrete, trim, fences and painted decks.
Designed for use with a hose, this safe and nontoxic solution can clean surfaces from up to 27 feet away without scrubbing. When you use this quick and easy cleaner, you're able to have the best-looking home on the block with minimal effort.
Huggle Hoodie
Possibly the most comfortable item of clothing you'll ever own, the Huggle Hoodie serves the dual purpose of hoodie and blanket. Priced at $29.94, this reversible hooded blanket is made of ultra-soft fleece and is Sherpa-lined to keep you warm and cozy.
One size fits all, so men, women and kids can share the Huggle Hoodie — if you're willing to take it off. It's also machine washable, making it ideal for your home, dorm room, camping and more.
Dutch Glow Scratch Aide
Make scratched wood surfaces look new with Dutch Glow Scratch Aide. Priced at $12.95, this miracle worker can be used on any color wood to fill and conceal unsightly cracks and gouges.
The kit includes Scratch Mender — used to remove scratches — and Wood Butter, which fills and conceals scratches. Use these miracle workers on wooden floors, cabinets, doors and more, and then watch their stunning transformation.
Make Your Money Work for You
Power Pod
A must-have when on the go, the Power Pod is a mini USB-C charger that will bring your device back to life. Its small size makes it easy to carry everywhere you go, but it's mighty enough to boost your battery for up to two hours.
Keep the Power Pod charged and use it as often as you need. This handy charger also makes a great gift for just $19.95.
Pink Armor Nail Gel
Get a salon-quality manicure without leaving your home with Pink Armor Nail Gel. Use it as a top and bottom layer — before and after applying nail polish — to enjoy a beautiful glossy shine.
Strengthen and protect your nails while restoring weak nails with this innovative gel coat. Priced at just $8.99 per bottle, you'll have a perfectly polished look for a fraction of salon prices.
Hover Cover
Make food-splattered microwaves a thing of the past with Hover Cover. This 11 1/2-inch splatter guard fits most dinner plates, dishes, bowls and platters to make heating food tidier than ever.
Featuring four microwave-safe polymer encased magnets, the Hover Cover attaches to the interior top of your microwave — even smaller ones — and built-in steam vents release steam and collect food splatter. Priced at $14.95, this handy gadget easily wipes clean and is dishwasher safe.
More From GOBankingRates