Try These 9 Chrome Extensions To Save Money While Shopping Online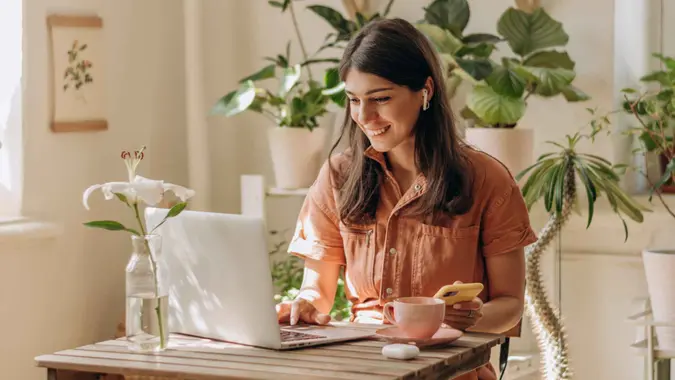 Tatiana Buzmakova / Getty Images/iStockphoto
Shopping online is so easy that it's hard to avoid. In 2022, it was reported that 75% of consumers shop online at least once a month.
The ease of shopping online sometimes leads us to spend more than we want to in exchange for convenience, however. In order to mitigate this, check out these Chrome extensions recommended by experts that are easy to install — and could save you hundreds in the long run.
Rakuten
Once installed, Rakuten looks for cash-back deals and rewards that could be offered at the online store you're browsing. "Rakuten offers cash back on purchases from over 2,500 stores," said Casey Jones, founder and head of marketing and finance at CJ&CO. "It also applies coupons automatically at checkout."
Rakuten's website reports that they've earned their 17 million members more than $3.7 billion in cash back.
PriceBlink
This extension looks to see if there are lower prices elsewhere on items you're looking at. "Not only does this cut down the time for you to compare prices, but the site also shows you options you may not have thought to check," said consumer and money-saving expert Andrea Woroch. "It's important to still review all the potential fees as they don't take into account shipping costs or coupons between the options."
Beni
Woroch said Beni could score you great deals if you're OK with buying a pre-owned item. "Beni is another awesome browser tool that helps you save on new purchases by showing you gently used or secondhand options at resale sites. They may either find the same exact match of the item or a similar item!"
Make Your Money Work for You
TopCashback
TopCashback gives you money for shopping at their featured retailers. "TopCashback guarantees the highest percentage of your money back on qualifying purchases at over 7,000 retailers nationwide," said Samantha Landau, consumer expert at TopCashback.
Kudos
While you're shopping online, Kudos works to make sure you're taking full advantage of the credit card rewards offered to you. "Kudos will automatically help you pick the best card to use that gets you the most rewards and include relevant hidden card benefits like purchase protection and travel insurance," said Tikue Anazodo, Kudos' co-founder and CEO.
Anazodo added that Kudos offers the opportunity to double your credit card rewards at more than 15,000 stores. "If you usually earn 3% from your credit cards on sites like Sephora or Booking.com, you'll now get 6% with Kudos Boost — that's basically free money." 
Honey
Honey looks for coupons and promo codes you can use on your shopping journey. "[Honey also has] an interesting feature where it will automatically apply a coupon code when you're shopping online, which is super handy if you're not sure how to find one on your own," said Mac Steer, owner and director at Simify.
Jones added that if you're an avid user of Honey, there are even more perks for you. "It also offers a rewards program, Honey Gold, which can be redeemed for gift cards," Jones said.
Capital One Shopping
"Formerly known as Wikibuy, this extension compares prices across various retailers to ensure you're getting the best price," Jones said. "It also applies available coupon codes and offers rewards on purchases."
Make Your Money Work for You
Capital One Shopping offers rewards at more than 100,000 stores.
CamelCamelCamel
If you're a frequent Amazon shopper, you need this extension. "It tracks price history, allowing users to buy when prices are lowest," Jones said.
You can create "price watches," for certain items, so you can be alerted when the price of something you want drops. The website also features popular deals other shoppers are taking advantage of on any given day. 
Price.com 
Price.com searches for deals and cash-back opportunities at more than 50,000 stores. "Price.com's newest partner cash-back programs range up to 20% per purchase and are available via desktop, mobile, browser extension, an app, and chatbot integration," said Price.com's founder and CEO RJ Jain. "The cash-back programs are just one of Price.com's many rewards options, which also includes coupons, comparison shopping, pricing trends and alerts."
More From GOBankingRates