8 Costco Deals From Superfans That You Can Get Only in July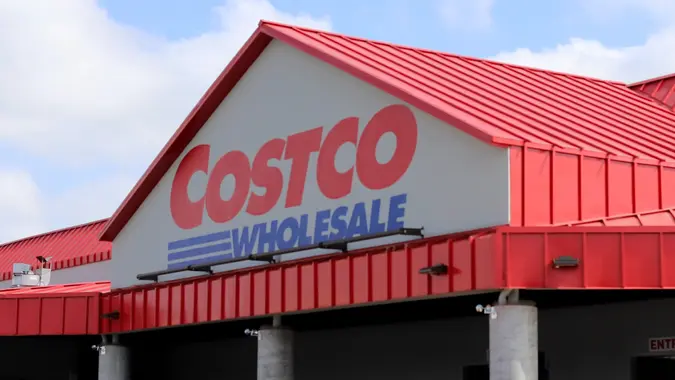 Laser1987 / iStock.com
Costco members know their favorite warehouse membership club offers too-good-to-miss deals all year long, but superfans know that each month brings special bargains that lower prices even more.
The following is a roundup of the chain's top deals, as touted by Costco Insider and Costco-themed social media influencers, that will be gone once July turns into August. It's summer, and Costco is offering red-hot specials that won't survive past the season's second month. From small pantry fare to pricey big-ticket items, these are the July-only savings at Costco that you don't want to miss.
Also see Costco's best deals as revealed by an employee.
Buy More Save More Apparel Deals
If you buy five to nine qualifying apparel items at Costco.com, you'll save $20 through July 9. You'll save $50 for purchases of 10 or more. The deal is limited to one redemption per membership and excludes special events and Costco Next apparel, but you can save on fan gear, plus sizes and clothing for men, women, kids, babies and even pets.
Vita Coco Coconut Water
$18.49 for 18 (was $23.99)
Cool off and recharge on hot days with the electrolyte-replenishing refreshment of coconut water from Vita Coco. Take $5.50 off an 18-pack of 11.1-ounce bottles through July 23 (limit of 10 per member). Coconut water hydrates while also replacing vital nutrients lost to sweating on sweltering days, which makes it perfect for summer sipping.
Make Your Money Work for You
Hellman's Real Mayonnaise
$8.99 for 64 ounces (was $11.99)
Summertime recipes from macaroni salad and deviled eggs to baked goods and dips call for mayonnaise, and you can save $3 on four pounds of the stuff through July 23. The most famous name in the business uses only certified cage-free eggs and 100% responsibly sourced soybean oil for a finished product that's light, creamy and rich in Omega-3 ALA.
Refresh Tears Lubricant Eye Drops
$20.49 for a 65-ml multi-pack (was $24.99)
Relieve the burning, itching and redness of dry eye all summer long with a Refresh Tears multi-pack that contains four 15-ml bottles and one mini 5-ml bottle. They're safe for contacts and — unlike others that just reduce redness — are specifically designed to lubricate while lowering the risk of infection, protecting your eyes and reducing allergy symptoms. You can save $4.50 through July 23 on either the multi-pack or a 100-count single-use pack that's $21.49, down from $25.99.
Huggies Pull-Ups Plus Training Pants
$32.99 for 102-124 (was $41.99)
Keep your kids dry and leak-free this summer with Huggies that fit like underwear. Absorbent, comfortable and perfect for potty training, Pull-Ups Plus training pants can be undone and refastened for quick checks and changes. Built for long-term wear both day and night, they protect for up to 12 hours. Available in 2T-3T (124-count), 3T-4T (116-count) and 4T-5T (102-count), they're made for kids 18-34 pounds. Save $9 per box through July 23 with a limit of two per member.
Band-Aid Assorted Bandages
$12.99 for 198 (was $17.99)
Summer is the season of scraped knees and elbows, but Costco has you (and your skin) covered with $5 off for a 198-pack through July 23 — that's just $0.07 per adhesive bandage. The deal is available only while supplies last and has a limit of five per member. Each package includes a variety of sizes and different applications, including flexible fabric, tough strips, water block flex, extra large and travel pack.
Make Your Money Work for You
Austin 4-piece Top Grain Leather Living Room Set
$2,999.99 (was $3,799.99)
If you're looking to upgrade your interior this summer, Costco is knocking $800 off a couch, loveseat, chair and ottoman combination that can seat six through July 23. Made from top grain leather with polyurethane match on the sides and back, the set is available in dark brown and ivory with nail-head trim, an antique finish and high-density foam cushions on espresso solid wood legs.
Dell Inspiron 15.6-Inch Touchscreen Laptop
Get an early jump on back-to-school shopping with $200 off a 15.6-inch, anti-glare, LED backlight Dell Inspiron laptop through July 23. Powered by a 13th-Gen Intel Core i7, it comes equipped with the latest Wi-Fi 6 and Bluetooth. With a built-in 1080p webcam and an SD card reader, it features an integrated graphics card and 16GB of RAM.
More From GOBankingRates