Costco Employee Divulges 8 Best Products Currently on Shelves — How Much Do They Cost?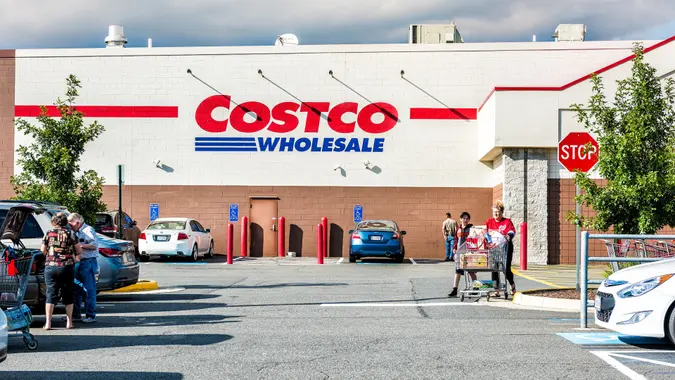 855684128 / iStock.com
Costco fans know the warehouse club has amazing deals on exclusive items. And the Kirkland Signature brand usually does not disappoint. But a long-time Costco employee recently revealed some of the best items available now, from snacks to home décor and appliances.
We rounded out her recommendations with a few long-standing favorites. Some of these are seasonal items and some are limited time deals, so act fast online (or in your local Costco) if you don't want to miss out.
Kirkland Signature S'mores Caramel Clusters ($12)
Autumn means s'mores, of course. But Costco offers the ultimate shortcut with Kirkland Signature caramel s\'mores clusters These clusters combine graham crackers, marshmallows and milk chocolate for a classic fall treat. No campfire required.
Bentgo Lunch Boxes ($50 for a two-pack)
Grab a two-pack of Bentgo leak-resistant lunchboxes for work or school. These microwave- and dishwasher-safe boxes are convenient for lunch on the go, road trips or even meal planning. With three food compartments, plus a removable divider to add another section in the largest compartment, this box is great for sandwiches, hot foods, veggies, nuts, and even fresh fruits. Insider's Veronia Thatcher, who has worked at Costco for 18 years, recommended checking the Costco website for the full range of colors available.
Midea 11-Quart Two Zone Air Fryer Oven ($99, originally $140)
Air fryers open so many easy meal possibilities for busy families. It's hard to get over the price of this Midea 11-quart air fryer with two independent cooking zones and Sync Finish technology. The benefit of two cooking zones? Your protein and side are ready at the same time. The stacked design won't take up any more room on your counter than a single-basket air fryer, making it perfect for small kitchens, apartments, and even college dorms.
Make Your Money Work for You
BlendJet 2 Pack ($80)
When it comes to portable blenders, other brands don't compare for crushing ice and frozen fruit. Get the BlendJet 2 portable blender in a two-pack for just $79.99, recommended by Thatcher. She said these have been "pretty popular among customers at Costco."
Whether you keep one for work and one at home — or split the package with a friend — this is a great deal.
Chosen Foods Avocado Oil ($23.99)
Did you know avocado oil has a high smoke point, great flavor, and is an easy way to incorporate healthy fats into your diet? Use it on salads, in baking, or for sauteing as a substitute for other vegetable oils, including extra virgin olive oil. Grab 2 liters for $23.99.
10-foot Towering Animated Reaper ($279)
You may have seen the 6-foot animatronic skeleton from Home Depot that's going viral on social media. Costco, perhaps unsurprisingly, offers an even bigger (and better?) model. Impress and startle your neighbors with this 10-foot animated grim reaper with life-like LCD eyes and an LED glowing chest.
It's not cheap, but can you really put a price on having the best Halloween decorations on the block?
Island Way Sorbet ($14.99 for a 12-pack)
Summer may be on the way out, but you can still enjoy the tropical flavors of frozen desserts. The TikTok Costco community loves Island Way sorbet, with videos about this sweet frozen treat garnering 170 million views.
Make Your Money Work for You
Each serving of sorbet is served inside a real fruit shell, making this treat as fun to eat as it is refreshing.
A representative from the manufacturer said Island Way sorbet is available year-round in Costco stores on the East Coast, and you can order it from Instacart.
Berkshire Collection Faux Fur Throw ($22)
These Berkshire Collection faux fur throws are recommended by Thatcher as being "soft and cozy." Available in white, brown, gray or purple online — with other colors possibly available in stores — this oversized throw measures 60 inches by 70 inches. Perfect for cuddling up on movie night, the blanket features faux fur on the front and a solid, equally soft back. Stock up for the season, as these would also make great holiday gifts.
More From GOBankingRates