6 Overpriced Items at Costco That Will Become Cheaper This Fall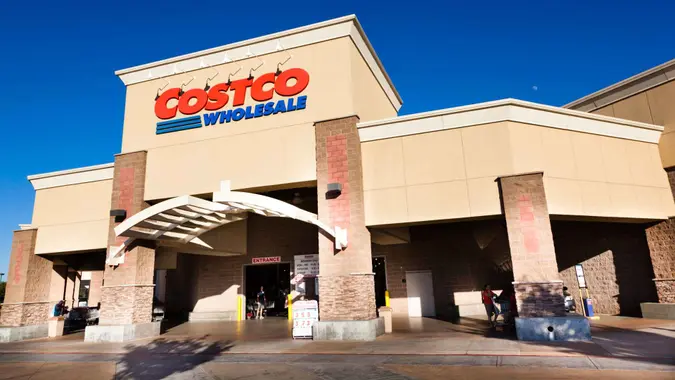 slobo / Getty Images
Fall is just around the corner. In fact, the fall season starts on September 23 this year, coinciding as it always does with the autumnal equinox.
As summer nears its end, many major retailers are preparing for a change in their seasonal goods — and Costco is no exception. Certain Costco items, especially those geared toward spring and summer, are predicted to drop in price at the end of this month.
This means that some of those items you've had your eye on but have hesitated to purchase due to their cost could become cheaper in a few short days or weeks. And while certain goods might need to wait to see the light of day until next spring or summer, now's a good time to shop if you're looking for some great bargains.
Just remember, even though these goods often become cheaper once the season changes, your local Costco might not follow the same patterns. With that in mind, here are some Costco items that tend to drop in price in the fall.
Make Your Money Work for You
Outdoor Furniture, Grills and Accessories
Outdoor furniture and related items tend to be popular spring and summer buys, so it's no surprise that goods in this category are also more expensive in the warmer seasons. In fall, however, they tend to become cheaper.
"Keep your eyes peeled for big fall discounts on grills, patio furniture, summer tumbler sets, pool toys, beach towels, and summer apparel," said Melissa Cid, a consumer savings expert at MySavings.com. "You may be able to score popular name brand grills for half off!"
With the season's change comes less opportunity for outdoor gardening, as well. Because of this, Costco and other stores will often lower their prices on gardening supplies and tools once the peak season ends in favor of selling what they've got and stocking their shelves with new, more timely goods.
"Understanding seasonal price fluctuations can be tricky, but here is how it works," said Carol Wilson, editor-in-chief at You Comfort. "In the fall, you'll often find discounts on patio furniture, grills, and gardening tools as they make room for winter stock."
Make Your Money Work for You
Camping Supplies and Pool Equipment
Depending on where you live, fall is still a prime time to go camping, hiking and swimming. But in colder regions especially, you can typically find lower prices on outdoorsy gear and equipment. This includes everything from tents, sleeping bags and coolers to outdoor chairs, loungers and air mattresses. It also includes swimming equipment.
"As summer comes to a close, items like camping gear and pool entertainment (floaties, loungers, etc.) all drop in price," said Scott Lieberman, founder of Touchdown Money. "It's a tricky balance though — when those items drop in price, they go quickly, so you'll want to grab them when you see them."
Lieberman added, "If you're looking to get a deal on camping gear or outdoor entertainment, the fall is the best time to visit Costco to see what they have left on their shelves. As a Costco member, you can also check online for deals, purchase items, and have them waiting for you for pick up."
Summer Apparel
Costco's apparel selection tends to be cycled out with the end of summer and start of fall or winter. This often means discounts, either on select items or storewide.
Make Your Money Work for You
"As the seasons change, you'll find some great deals on summer clothing at Costco — perfect for anyone traveling somewhere warm this winter or to stock up for next year at a deep discount," said Samantha Landau, consumer expert at TopCashback. "The warehouse club needs to get rid of its stock that is going out-of-season, so they lower prices on items like shorts, swimwear, tank tops, and more."
Summer Footwear
Similar to how clothing tends to drop in price, footwear does much the same. But with potentially limited inventory, don't delay too long to shop or you could miss out on a great deal.
"Footwear like sandals and open-toed shoes will also be discounted to make way for boots and slippers," said Landau. "However, if you're looking to score deals on clothing or footwear, you need to act fast if you want to snag your size before they sell out."
Holiday Decor and Food
Certain items that may have kept steady prices during the spring and summer months may also be discounted in the fall. This includes baking supplies and goods related to the winter holidays.
Make Your Money Work for You
"With the coming of fall, certain holiday decorations may be cheaper," said Wilson. "With the holiday season's approach, baking essentials like vanilla extract, chocolate chips, and nuts might see price reductions," she added.
In later fall, especially after Halloween, you can also typically get cheaper sweets and Halloween-themed apparel. "After Halloween, you can expect to find candy and costume mark downs," said Cid. "Costco will be eager to clear out end-of-season inventory for the upcoming holiday season. If the price ends in .97 or .00, then the product is considered 'marked down' or clearance."
School Supplies
Near the middle or end of summer, a lot of major retailers have back-to-school sales. If you wait until after school starts back up in the fall, you might benefit from even better deals on certain school-related items. This includes backpacks, pens, paper, binders and more. Certain office supplies might also be cheaper.
More From GOBankingRates
Make Your Money Work for You