5 Ways To Get Free (or Cheap) Groceries at Costco in September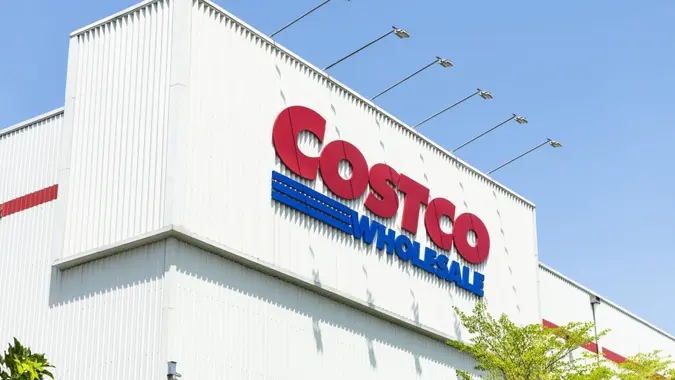 BING-JHEN HONG / Getty Images
We already know Costco offers incredible savings on everything from coffee and bacon to home appliances and electronics. But did you know you can also get free groceries from Costco?
Sure, you can wander the aisles and make a meal out of all the free samples. But there are at least five other ways members have found to get free food:
Take Advantage of Manufacturers' Offers
Right now, Proctor & Gamble is giving Costco members an opportunity to earn a $25 or $50 Costco Shop card just for buying the everyday household products you probably need! Here's how it works:
Between now and September 24, 2023, purchase at least $100 or $200 in P&G products, including Cascade and Dawn dish soap, Bounty paper towels, Crest toothpaste and more. Submit your receipts online at www.costco.com/pg.html, and receive a free Costco Shop card worth $25 (for $100 in purchases) or $50 (for $200 in purchases).
Get a New Costco Membership
New Costco members can earn a $30 Digital Costco Shop Card when they open a Costco Gold or Executive Membership and use the code "CJPROMO." With Costco's already-low prices, that should buy several meals worth of free groceries.
Earn Cash Back When You Shop
If you splurge for the Costco Executive membership for $120, not only do you get the $30 Shop card, but you earn 2% back on all your purchases. As long as you spend $6,000 per year in purchases, the card pays for itself. Anything you spend exceeding that amount is free money for groceries (and more), delivered on your annual Costco anniversary in the form of a Reward Certificate.
Make Your Money Work for You
Leverage Gift Cards for Savings
Costco wholesale clubs sell gift cards to local restaurants and national chains at a discount. For instance, you can purchase two Texas de Brazil $50 e-gift cards, a $100 value, for $79.99. Landry's offers the same deal, with gift cards at 20% off their face value. The multi-brand restaurant company owns more than 400 locations across the U.S., including Bubba Gump Shrimp Co., Rainforest Café, and Morton's Steakhouse. Using these gift cards is like getting a portion of your meal, an appetizer, or even a whole kid's meal, for free.  
Look for BOGO Deals
It doesn't happen often, but keep an eye out for buy-one-get-one deals. Sometimes, these are sponsored by the manufacturer and you'll need to fill out a rebate form online. You can also search "Costco BOGO" on Instacart to find offers, all delivered direct to your home.
More From GOBankingRates