Costco Members Use This Price Hack to Spot a Good Deal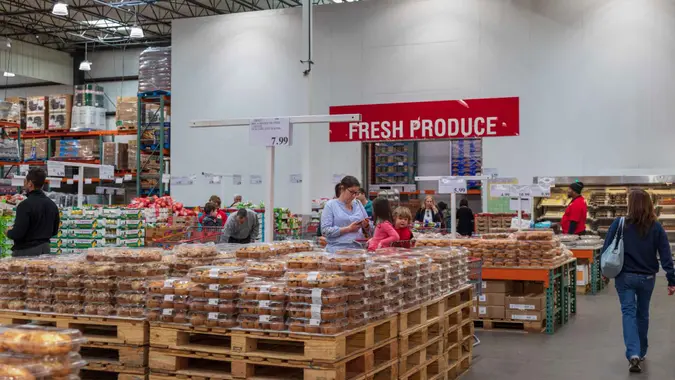 artran / Getty Images
When you shop at Costco, you might notice an array of prices that seem different than other stores. Yes, Costco often offers lower prices than grocery stores or other big box retailers.
But the warehouse club's prices are also different for another reason. There's a plethora of secret information hidden on every price tag. And if you know how to decode it, you can save even more money.
If the Price Ends in .99, It's a Regular Price
You'll often see Costco prices ending in .X9. If the price ends in .99, that's Costco's regular price on the item. If it's a staple you need, compare prices from other retailers first. Costco may have the lowest price, but you might find it cheaper somewhere else.
Manufacturer Deals Also End in 9
If you spot a price tag ending in 9, but with a 3, 4, 7 or other number before it, that's a special deal from the manufacturer. These are name brand products that the manufacturer has offered to Costco at lower-than-retail prices, according to @ecommjess, an Instagram influencer who created a video about Costco deals.
Sometimes, the signs will show the discount or the low price may even include an instant rebate.
Markdown Prices End in .97
If you see an item with a price tag ending in .97, that's where you'll find the real savings. These are items that Costco has marked down. Unlike some stores, Costco doesn't post the original price to let you know you're saving money. You can ask a Costco store manager about the original price, or look online to see what the item is going for at other retailers.
Make Your Money Work for You
Look for a Date To See When Merchandise Was Last Marked Down
You will also see a tiny date in the corner of the price tag below the price. That's the date it was last marked down. If it has been a while, you might want to wait to make your purchase because the price could drop even more.
"I have seen some items only marked down $1 at times when there is a large inventory," according to the personal finance blog Tough Nickel. "Wait until the inventory and the price are lower."
Merchandise With an Asterisk Will Not Be Restocked
There's one exception to waiting for a lower clearance price. If you see an asterisk on any sign, Costco will not be restocking that item. This goes for clearance items, manufacturer specials and even regularly priced merchandise.
If it's an item you love and you see that asterisk, fill your cart because you won't find it at your favorite Costco again any time soon.
Whether you're stocking up for cookouts or transforming your backyard into a paradise retreat, knowing these secret codes embedded in Costco price tags can help you save even more.
More From GOBankingRates
Make Your Money Work for You