I'm a Costco Superfan: These Are the Only Buys I've Regretted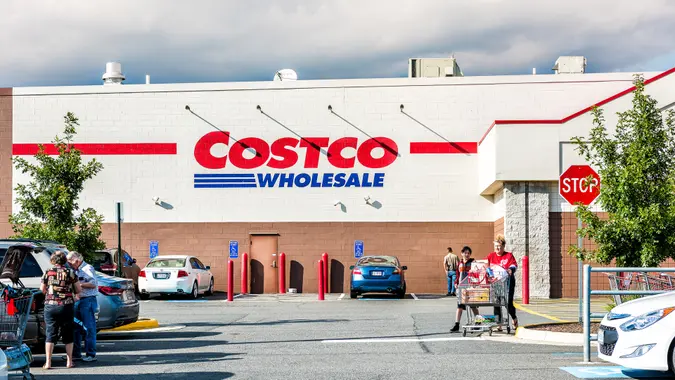 ©Shutterstock.com
Costco inspires not just regularity in shoppers, but loyalty, with its commitment to a wide variety of products for all aspects of one's life and home at consistently great prices. But even the most well-liked retailers have their issues, and Costco is no exception. Here, Costco superfans explain which items they regret purchasing.
Lifetime Double Slide Deluxe Playset
Milosz Krasinski, the managing director at Chilli Fruit Web Consulting, is a fan of Costco but admits that every once in a while you get a "bad apple" and there is not much you can do about it except purchase more wisely the next time.
"A purchase I regret to this day is the Lifetime Double Slide Deluxe Playset. At that time it was $2,499." The item for his kids came with two slides, a fireman's pole, swings and even monkey bars. "I was hoping it [would] deliver fun to my kids for months, and when their friends [came] for sleepovers, they [would] enjoy it too."
Unfortunately, the metal parts of the playset heated up to "uncomfortably high temperatures" and his kids would avoid the set for other toys that weren't so hot.
"Should I have the opportunity to buy it again, I'd definitely go for something cheaper," he said, "knowing the time spent there will not be worth the price of many other toys and sets."
Make Your Money Work for You
Luggage Organizers
As a self-proclaimed Costco superfan, Athina Zisi, the chief operations officer of Energy Casino, said she feels a special attachment to Costco when she travels to the U.S. "There's just something about stepping into the massive warehouse that brings me a sense of comfort and familiarity. However, even with my unwavering loyalty, I must admit that there have been a few purchases at Costco that I've come to regret."
One such purchase was a set of compact, lightweight luggage organizers.
"These organizers were designed to help keep your suitcase neat and orderly," Zisi said, "allowing you to make the most of your limited space while on the go. The vibrant colors and the promise of effortless packing convinced me that they were a must-have for my upcoming trip."
With visions of a perfectly organized suitcase, she set out to pack for an upcoming trip, only to be disappointed.
"The sizes and shapes of the organizers didn't align well with the dimensions of my suitcase," she said, "leaving me with wasted space and a less efficient packing experience. To make matters worse, the flimsy zippers and feeble seams of these so-called organizers proved to be as trustworthy as a politician's campaign promise."
The organizers also weighed down her luggage.
"Although I regretted the purchase," Zisi said, "it served as a valuable lesson in thoroughly assessing the suitability and functionality of travel-specific items before adding them to my shopping cart."
Bose Smart Soundbar
Some time ago, Harry Johns White, marketing manager of NBAblast.com, decided to upgrade his home cinema with a Bose Smart Soundbar 700 from Costco. At more than $600, this was not a cheap investment, but the staff at Costco assured him it was worth the price.
Make Your Money Work for You
"The first struggles began when I started plugging it in," White said. "I'm no tech expert, but I also never before had problems with setting up electronics, but this almost overwhelmed me. I spent way too much time trying to figure everything out."
His problems didn't end there.
"Sometimes when I'm watching a movie, the sound changes from stereo to mono, and I can't find a reason for it," he said. "Technically, nothing is broken, but it drives me nuts when it happens, especially during the climax. Should I be buying a new soundbar, I'd definitely go for something else, as it's not worth the money at all, but at the same time, I do not want to get rid of the current one, because it was so expensive."
10-Pound Bag of Gummy Bears
As a frequent Costco shopper, Nikita Sherbina, marketing manager for AIScreen, once regretted buying a 10-pound bag of gummy bears.
"It seemed like a great deal," he said, "but I soon realized I couldn't finish them all, and they lost their freshness. Financially, it wasn't the best choice."
However, at least Sherbina found a creative solution by hosting a gummy bear-themed party and sharing them with friends. 
"It turned out to be a memorable and enjoyable experience," he said, "but I learned to be mindful of the quantity and expiration dates of bulk purchases. Shopping at Costco still brings me joy, and I've become wiser in my selections."
Make Your Money Work for You
Large Quantities of Perishables
A chartered financial analyst and founder of Digital Connect Mag, Shawn Davies said he loves shopping at Costco, which he does regularly for its wide selection of products, low prices and convenient shopping experience, but he has made a few purchases he regretted. 
"One instance was when I bought perishable items in large quantities, thinking I would consume them before they expired," Davies said. "Unfortunately, some of these items went to waste due to their short shelf life, which ended up being a financial loss. It taught me the importance of considering the expiration dates and my actual consumption patterns before purchasing perishables in bulk."
More From GOBankingRates