5 Things You Should Know About Costco Tires: Are They the Cheapest?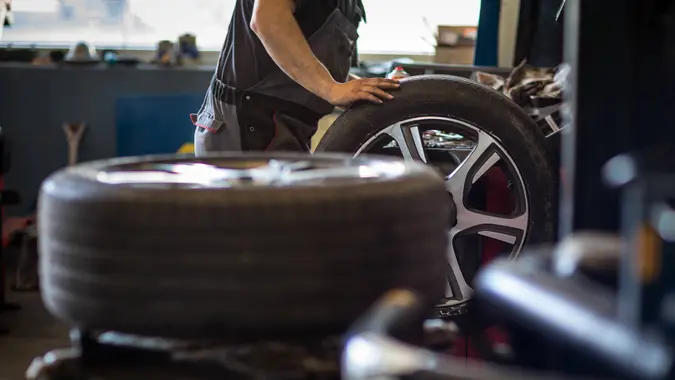 ViktorCap / Getty Images/iStockphoto
When you think of buying in bulk you may not think of tires, but perhaps you should. Buying new tires at Costco rather than other tire shops is an option you should consider, especially if you are already a Costco member. In today's fuel economy, you need to know where to go to get the most mileage out of your dollar. 
5 Things To Know About Costco Tires
Before getting your motor running and heading out to the highway, you should have a routine tire rotation and tire balancing service. When you are thinking of making a pit stop at the Costco Tire Center, there are some things you should know:
Competitive tire prices
Lifetime maintenance included
Road hazard warranty
Multiple promotions and rebates offered
Nitrogen tire inflation rather than compressed air
1. Competitive Tire Prices 
Though Costco isn't always the cheapest for tires, it is competitive and their prices are low. When you schedule an appointment to get Costco tires, not only is there a good chance you are saving money but it will also include the following services:
Tire balancing
Tire rotation
Nitrogen tire inflation
Expert advice on what tires work best for you
2. Lifetime Maintenance Included 
The term "lifetime maintenance" may be slightly misleading. This service means maintenance for the life of the tire, not for your life. But if you purchase tires with Costco, at least you know they are protected. Costco tire shops offer flat repairs and other maintenance that will positively impact the life of your tires. The types of vehicles Costco stocks tires for include:
Truck
Trailer
Golf
Industrial-grade ATV tires
Make Your Money Work for You
3. Road Hazard Warranty 
As tires are just pieces of rubber filled with air — or in Costco's case, filled with nitrogen — it's always good when they come with a warranty. The good news is that Costco offers a five-year road hazard warranty. This means Costco will replace or repair the tires you purchase from them for five years, or once they get within 1/16 inch of their tread depth. 
It is important to note that the warranty only replaces tires damaged during standard legal vehicle operation. If this is the case, Costco will repair or replace any treadwear damage or tire failure you should run into within five years of the purchase date.
4. Multiple Promotions and Rebates Offered 
Costco is consistently running deals and specials for tires. At face value, they may not be the cheapest across the board. But with the promotions and rebates Costco runs, you will more than likely save money on tires there– especially if you are a member. Here are some examples of sales Costco is currently holding:
$150 off a set of four Bridgestone tires. It is $70 off when you get a complete set of four as well as an additional $80 off for Costco members.
$110 off a set of four Firestone tires. When you buy a set of four tires, you'll get $60 off. If you are a member, you will get an additional $50 off.
5. Nitrogen Rather Than Compressed Air
When Costco refills your flat tires, you may assume they are using air. In reality, Costco inflates your tires with nitrogen. The reason why is that nitrogen retains tire pressure better over time than compressed air. This is one of the reasons it may be better for you, in the long run, to get your tires at Costco.
Final Take To GO
Is Costco worth it for tires? From Bridgestone to Michelin, Costco tires are not only high quality, but they often come with good deals. 
Once you select what tires you want, Costco will deliver the tires to your local Costco tire shop for installation. Costco cares for the life of the tire with included maintenance, rotation, repairs and replacement. All these details help move your tire budget a nice way down the road a bit. 
Make Your Money Work for You
FAQ
Here are the answers to some of the most frequently asked questions regarding Costco tires.
Do you save money with Costco tires?

Yes, you can save money with Costco tires. There are often promotions or rebates such as the following:

$150 off a set of four Bridgestone tires. This breaks down to $70 off when you get a complete set and an additional $80 off for Costco members.
$110 off a set of four Firestone tires. Buying a set of four tires gets you $60 off and you will score an additional $50 if you are a member.

How much does it cost to replace tires at Costco?

An installation fee of $18.99 per tire is included in the quoted price of the tire, and tire prices will vary depending on size, brand and other factors.
If you purchased your tire at Costco and need it replaced, if it is within five years of your purchase, Costco will replace it for free.
Data is accurate as of July 24, 2023, and is subject to change.
Editorial Note: This content is not provided by any entity covered in this article. Any opinions, analyses, reviews, ratings or recommendations expressed in this article are those of the author alone and have not been reviewed, approved or otherwise endorsed by any entity named in this article.