These Customers Have Been Shopping at Costco for Years: These 11 Savings Are Why They're Loyal To the Store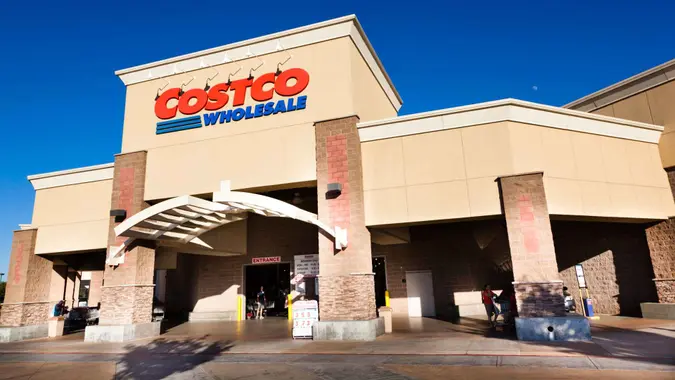 slobo / Getty Images
For many people, Costco is more than just a place to shop; it's a place that offers such consistently good deals and products that it breeds a unique loyalty not many such retailers can claim. It's not hard to understand, given Costco's wide range of products, consistently good deals and a one-stop-shop approach. We spoke with some of Costco's most loyal customers on what savings keep bringing them back for more after all these years.
Essential Foods
You don't have to shop for a family or a restaurant to get great deals at Costco, according to Shaun Eli, a stand-up comedian at Brain Champagne. "I'm single and I still find bargains at Costco. Bob's Red Mill Steel Cut Oatmeal in a big box is about a quarter the price of oatmeal in a supermarket," Eli said. Additionally, he finds that the meat and fish, especially wild sockeye salmon and ahi tuna in season, are a bargain. "Yes, they come in large quantities, but I have barbecues in the summer and feed a couple of dozen people at a time."
Home Goods/Electrical
As a stand-up comedian, Eli records all of his shows, thus batteries are an essential item on Eli's shopping list. He said, "Forty packs of batteries are useful and inexpensive. I go through a lot of batteries."
Healthcare Items
Costco is a great place to purchase items to support one's health, according to long-time shopper Thomas Maluck, an NFEC certified financial education instructor. "I use antihistamines, nasal spray, nasal rinse, and a couple of nutritional supplements. In a grocery or convenience store, these items tend to sell for over $20 for not many doses. At Costco, I can get a year's supply of antihistamines for under $20, instantly justifying the cost of membership in one purchase."
Make Your Money Work for You
Paper Products and Household Items
There are other useful items for the home that work out to be much cheaper at Costco's bulk prices than anywhere else, Maluck said. "This goes for paper products, such as toilet paper, tissues, paper towels, and napkins. It also applies to dishwasher and laundry detergents, which sometimes go on sale and beg for you to restock at home."
Food and Drink and Then Some
Maluck is also a fan of the $1.50 hot dog and $2 big slice of pizza for a cheap lunch, too. "And then you can top off your car's tires for free and gas — at a competitive price and the highest tier of quality — on the way out."
Soap and Other Bath Essentials
Many people start going to Costco for food but stay for other items, like health and wellness items like Jack Underwood, CEO and co-founder of Circuit. "We stock up on everything we need for the year, like deodorant, vitamins, skincare, cotton swabs, floss, toothpaste, soap, body wash, and more! The prices are almost always better than at the grocery store or pharmacy, and we don't need to rebuy again for months. Occasionally, a traditional store's discounts beat out Costco's prices, so it's important to price shop. But, if you time your restock right, you can buy all your toiletries when they go on sale at Costco for even better savings!"
Make Your Money Work for You
Vitamins
If you take vitamins to support your health, Costco is a great source for great prices on all kinds of vitamins. Long-time shopper Liza Kirsh, chief marketing officer of Dymapak, explained why she buys hers there. "Costco sells Nature Made Vitamin C 1000mg for only $28.99 for a 365-day supply. Target on the other hand sells a 150-count bottle for $15.69. So, you'd be paying $31.38 if you bought two bottles and only receive 300 instead of a whole year's supply. Costco isn't limited to just Vitamin C. They also have similar deals on Vitamin B12, D3, and more."
Clothing
One of the helpful things about Costco is that you can shop for multiple parts of your life, from groceries to clothing. John Frigo, eCommerce Manager with Best Price Nutrition, a loyal Costco shopper, said, "In terms of clothes, Costco is competitive if not better priced than other retailers and the quality is always great. When it comes to shoes I can almost always find a pair of Puma's or Adidas for $20 or $25."
Additionally, he's a fan of their great return policy. "There are some things at Costco that cost more but I'll oftentimes still buy them because Costco has such a generous return policy — for example, when I bought my paddleboard years back I paid $40 more than I could have found it for online but I knew if I had any issues with it I could bring it back no questions asked."
Eggs
Another loyal fan of Costco is Greg Larkin, managing editor of the site Costco Food Database, which creates Costco shopping guides and food reviews. "I love Costco's egg options, variety, and prices. Costco mostly sells cage-free eggs, but some locations also carry organic pasture-raised eggs as well. Their prices are often a fraction of traditional grocery store prices, and even during the great egg shortage of 2023, their prices remained fair and reasonable." 
Liquor
Costco is also Larkin's go-to spot for liquor. "Their prices for name-brand liquor are usually unmatched, but the real value is in the Kirkland Signature brand. The Kirkland Signature brand often costs 20-30% less than name-brand liquor and has even outperformed name-brand alternatives in blind taste tests." 
Catering
Something that many people may not be aware of, Larkin said, is that "Costco offers amazing savings and value with its catering/party platter trays. For just $39.99, you can pick up a tray of croissant sandwiches serving 16-20 people or a giant 3.5-pound shrimp cocktail tray. Costco makes party planning easy."  
It's never too late to start shopping at Costco. You might just become a loyal fan too.
More From GOBankingRates