The 6 Differences Between Costco and Costco.com –Which One Saves You More Money?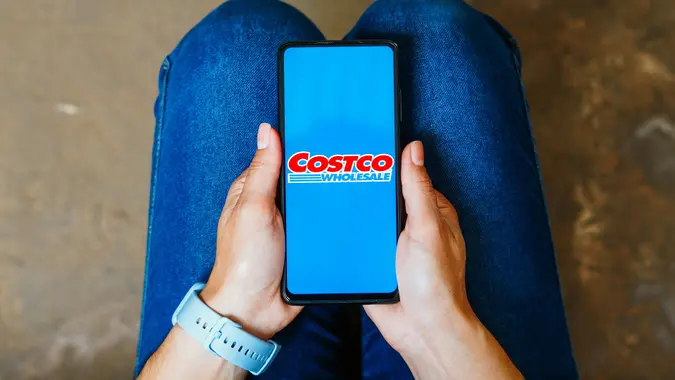 Rafael Henrique / SOPA Images / Shutterstock.com
In 2017, Costco gave discount devotees who hate maneuvering through their warehouses another option: online retail. While one-click shopping at Costco.com means fewer crowds and more convenience, it doesn't necessarily provide the same deep discounts you'd expect to find at their brick-and-mortar. In fact, depending on how often you shop at Costco and what you buy, it might be far cheaper to brave the crowds and shop in person.
Here are the six differences between shopping at a Costco store or shopping online at Costco.com.
Non-Members
One perk to shopping at Costco.com is that you don't have to be a member. Non-members are free to fill their online carts, but there's a 5% surcharge to do so.
While this may not be worthwhile if you visit the website often, if you spend less than $1,200 per year at Costco.com, the 5% surcharge amounts to less than the $60 membership fee. So for a smaller, non-member household that shops at Costco only a few times a year, online shopping is cheaper.
Make Your Money Work for You
Inventory
While Costco.com has many items that aren't available in stores, across the board the online items are more expensive than what you'd find in person. This is because of shipping and handling fees added to deliver the items to your home or office.
While Costco will do price adjustments on store-bought items that are later marked down, it won't do price adjustments on online items that are priced cheaper at stores. If you have a membership and the item you're looking for is in stock at a brick-and-mortar, you'll save more money shopping in person.
Groceries
During the height of the pandemic, many households got used to purchasing groceries online. While Costco has deep discounts on bulk grocery items, CostcoGrocery items are typically priced higher online to account for the packaging. The online shop also charges a delivery fee. For same-day delivery, which is via Instacart and available only to members, the service and delivery fee is included in the price of the item. Plus there's a $35 minimum purchase.
For two-day delivery of non-perishable goods, there's a $3 delivery fee per item. If you buy $75 worth of groceries, you can avoid the delivery fee, but remember the online prices are higher to begin with. If you're looking to avoid fees, it's far cheaper to shop in person. 
Make Your Money Work for You
Buying Prescription Drugs
Fun fact: You don't need a membership to order prescription drugs on Costco.com or in person at the warehouse. Non-members also won't be charged a 5% surcharge if they do decide to order them online. If you order your prescription well in advance, standard shipping (6-14 days) is free. Meaning that for both members and non-members shopping online and in the store costs about the same amount.
If you need your prescription ASAP, it's much cheaper to purchase it in person as you'll incur delivery fees on Costco.com that will set you back $10.95 for three-day UPS delivery and $13.95 for two-day UPS delivery.
Purchasing Glasses
While Costco.com has a much larger selection of frames, it doesn't accept vision insurance. If you have insurance and the frames you want are available in store, it's much cheaper to purchase them in person. 
Business Center
Costco Business Center is an offshoot of Costco.com that sells bulk items for all different kinds of businesses, including restaurants, convenience stores and offices. Not only do the business centers sell things you won't find in a regular Costco, but the items come in much bigger sizes. The business center does have brick-and-mortar locations, but there are just 24 (in 12 states). 
Make Your Money Work for You
If you don't live near one of the 24 locations, it's cheaper to order through the business center online than it is to shop for your business at a regular Costco — especially considering Costco waives its $25 surcharge if you purchase more than $250. If you live near a business center, it's cheaper to shop in person, as online items can be more expensive.
More From GOBankingRates