5 Dollar Store Purchases Buyers Almost Always Regret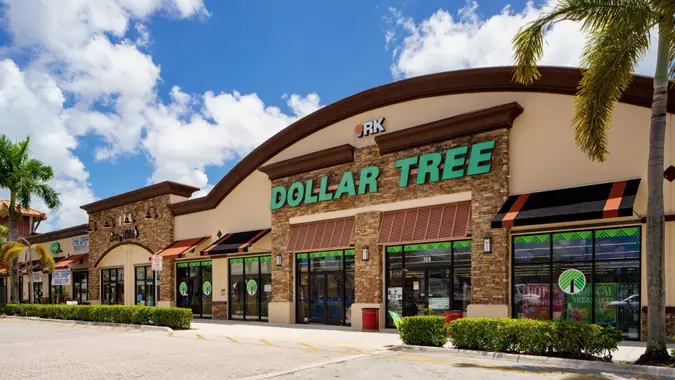 felixmizioznikov / Getty Images
Dollar stores often appear as beacons of frugality, offering seemingly endless aisles filled with cheap bargains to help us stretch our hard-earned cash.
Who hasn't rushed in for last-minute party decorations and left with an additional $10 worth of goodies in hand? It's easy to get lured in by their charm, as the rock-bottom prices can be hard to resist.
However, as the saying goes, "You get what you pay for," and this rings true for some purchases made at dollar stores. GOBankingRates talked to retail experts to find out which purchases from dollar stores buyers almost always regret. 
Milk
Julie Ramhold, a consumer analyst with DealNews.com, said milk is often a bad deal at Dollar Tree.
"A 32-ounce carton of milk is $1.25, which works out to four cents per ounce," Ramhold said. "But, if you shop at a store like Walmart, you can get a full gallon (128 ounces) for around $2.93 or so, which is two cents per ounce. In order to get a full gallon of milk from Dollar Tree, you'd have to buy four cartons and spend $5 for a gallon overall."
Make Your Money Work for You
Not only is it a bad value, Ramhold said, but the milk is in shelf-stable cartons, which may mean you can't find them in store and thus have to purchase them online, which means you'll have to purchase a minimum of 12 for a cost of $15.
For less expensive alternatives, generics are a good way to go and Walmart's Great Value brand or Target's Good & Gather brand are both recognizable and much better deals.
Take Our Poll: Who Has Given You the Best Money Advice You Have Ever Received?
Electronic Accessories
Given that you've invested so much money in your electronic devices, it's not always a great idea to trust a charger cord purchased from the Dollar Store.
"It might seem like a great deal," said Amy Weiher, founder and creative director at Weiher Creative, but she said it's not. "You don't know the manufacturer that produces the insanely cheap cords and you run the risk of zapping your phone or tablet." 
Andhi Ermawan, a professional product tester and the founder of MyProsAndCons.com, agreed.
Make Your Money Work for You
"A few years back, I picked up a pack of USB cables from a dollar store," he said. "Can you imagine how fantastic it felt to get five cables for the price of one? But, fast-forward a few weeks and every single one had stopped working. Cheap manufacturing and low-quality materials meant they weren't just a waste of a dollar; they were a waste of time. Better yet, they put my devices at risk of damage."
Name-Brand Cereal
At Dollar Tree, you can find Honey Nut Cheerios and other varieties. However, according to Ramhold, these cereal pouches are priced at $1.25 each for a mere 3.5 ounces, which she considers a remarkably poor value.
Crunching the numbers, that equates to 36 cents per ounce. However, a savvy shopper can head to Walmart and snag a 32-ounce resealable bag of the same cereal for just $6.77, amounting to a mere 21 cents per ounce.
Not only does this alternative offer a more cost-effective solution, it also eliminates concerns about the cereal going stale, as you can store it conveniently or opt for resealable packaging. Ultimately, opting for the larger bag is a wiser choice that guarantees a better deal for your money.
Make Your Money Work for You
Cleaning Products
According to Ermawan, purchasing cleaning supplies from the dollar store is not the best idea.
"Once, in an effort to save some money, I opted for a generic window cleaner," he said. "And let's just say, it was more water than cleaner. The smears it left behind on my windows were a clear reminder that cheaper isn't always better."
Instead, experts advise buying name-brand cleaning supplies in bulk from warehouse stores like Costco, where you can almost always get a good price.  
Pampa Strawberry Fruit Spread
"This is an item I'd avoid altogether as it's basically a sugar bomb," Ramhold said. "The first two ingredients are sugar and water, followed by strawberry pulp, fruit pectin, artificial flavor, caramel color, sodium benzoate, distilled monoglyceride and red #40." It's a decent deal at 19 ounces for just $1.25, but the quality just isn't there.
For a better alternative, she recommended that consumers head to Walmart and purchase the Great Value Squeezable Strawberry Fruit Spread, which comes in a 20-ounce bottle. Although it's priced slightly higher at $2.92, the ingredients are better.
Make Your Money Work for You
This product lists strawberries as the main ingredient, followed by corn syrup, high fructose corn syrup and sugar — indicating a sweeter taste. However, it also contains fruit pectin, citric acid, grape juice concentrate for color and natural flavor. Overall, the ingredient list is less concerning than that of the Pampa brand, even considering the sugar content.
More From GOBankingRates