Do's and Don'ts of Kohl's Shopping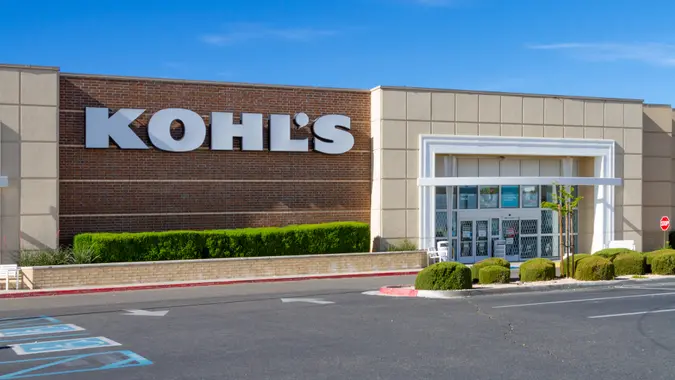 Felipe Sanchez / Shutterstock.com
Kohl's, a favorite store among many U.S. shoppers, offers a variety of products ranging from clothing and home goods to electronics. If you're looking to maximize your shopping experience and save money at Kohl's, consider the following do's and don'ts.
Do Sign Up for Kohl's Rewards
As a member, you earn 5% Kohl's Rewards (7.5% when you use a Kohl's card) on every purchase. These rewards can be used alongside other promotions and discounts. As a member, you earn Kohl's Rewards on every purchase, and these rewards accumulate over time, allowing you to redeem them on future purchases.
The program is free to join and often comes with additional perks like birthday gifts and exclusive sale notifications. You can combine rewards with other discounts.
Do Stack Coupons
Kohl's is known for its generous coupon policy. You can use multiple coupons on a single purchase, so always look for various discounts that apply.
Do Look Out for Kohl's Cash Promotions
Periodically, for every $50 you spend, you'll receive $10 in Kohl's Cash to use on future purchases.
Do Download the Kohl's App
The Kohl's app often has exclusive offers and is a convenient way to track your savings and Kohl's Cash.
Do Take Advantage of Price Matching
If you find an identical product advertised at a lower price at a competitor, Kohl's will match that price. Be aware that Kohl's will only match in-store pricing. If you want to match a competitor's price for an online deal, you're out of luck.
Make Your Money Work for You
You'll be required to print a copy of the competitor's local ad showing the identical Kohl's product you want to buy. The ad must include the current price, a product description, and the competitor's current retail or sale price.
Do Shop Clearance Racks
Check the clearance sections, often located at the back of the store or end caps. You'll find significant discounts on off-season and discontinued items.
Do Use Kohl's Wi-Fi
There are benefits to using the store's Wi-Fi. When you connect to Kohl's Wi-Fi, you sometimes receive exclusive offers or coupons.
Don't Buy Without a Sale or Coupon
Given the frequency of sales and promotions at Kohl's, it's rarely necessary to pay full price for any item. You can get some great deals when you keep an eye on the promotions. The best way to keep track of sales is to sign up for email alerts.
Don't Overlook the Kohl's Return Policy
Kohl's has a generous return policy, but be aware of any exceptions or conditions, especially for electronics or premium brands.
Don't Forget To Check Online
Sometimes, Kohls.com has exclusive online deals, a broader selection, or additional sizes and colors.
Don't Let Kohl's Cash Expire
Kohl's Cash has expiration dates. Make sure to use your rewards before they expire so you can avoid missing out on savings. If you're planning to make a purchase, mark the Kohl's Cash expiration date on your calendar so you won't forget.
Make Your Money Work for You
Don't Ignore the Fine Print
Some brands or premium products might be excluded from certain promotions or coupons. Always read the fine print to avoid surprises during checkout.
Don't Hesitate To Ask for Help
Kohl's associates are typically well-informed about current promotions and deals. If you have questions about stacking coupons or any other offers, ask for clarity.
Saving Money at Kohl's
By following these do's and don'ts, you can maximize your savings and have a more enjoyable shopping experience at Kohl's. With a little planning and savvy shopping, your dollar can stretch much further.
Editor's note: This article was produced via automated technology and then fine-tuned and verified for accuracy by a member of GOBankingRates' editorial team.
More From GOBankingRates