Here's Why I Stopped Shopping at Aldi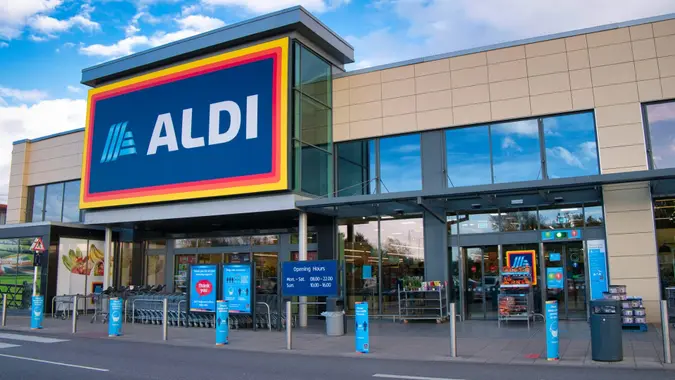 Alan Morris / Getty Images
Aldi is adored by many for its discounted prices on groceries and household essentials. But the no-frills German supermarket chain only works for some consumers. Some drawbacks cause some longtime devotees to break up with Aldi ultimately. 
Here are common reasons loyal customers decide to stop shopping there.
Unreliable Stock
Aldi keeps prices low by offering a curated selection of predominantly store-brand items. However, this leads to a haphazard inventory with frequent out-of-stock items. Former Aldi shopper David Bakke explained the constant fluctuations grew tiresome over time:
"Blueberries might be at a steal of a price one week, and they don't have any the next week. It's the same thing with other shopping categories."
The hit-or-miss options often meant settling for secondary choices or skipping purchases altogether. Never knowing what would be in stock made regular shopping a frustrating guessing game.
The Limited Nutrition Info Can Be an Issue
Aldi aggressively controls inventory to lower operational expenses. But this means many items need more in-depth nutritional information beyond basic FDA label requirements. For shoppers with allergies or medical diets, these knowledge gaps present challenges. 
"In full transparency, my kid is allergic to peanuts and he's also diabetic. For those two reasons, I need detailed nutritional information," explained Bakke. "But because Aldi sells some off brands, there are instances where that info just isn't available. In my situation, I just can't buy those products." When ingredient and nutrition basics aren't accessible, health-motivated customers get excluded. Those needs led Bakke to competitors providing greater product transparency.
Make Your Money Work for You
Inconvenient Locations and Rising Gas Costs 
Aldi has grown rapidly but still needs the expansive retail networks of chains like Walmart or Kroger. Depending on location, many shoppers find their closest Aldi requires driving upwards of 30 minutes each way.
"I understand that Aldi isn't as big as, say, Publix or Kroger," shared Bakke, "but the drive that I need to undertake, close to 30 minutes, makes it untenable for me in my current situation. High gas prices make that even more undoable."
I Don't Like Packing My Own Bags
"I don't like remembering money for the cart or packing my own bags," said former Aldi superfan Lanie van der Horst. "I don't like the speed in which I'm supposed to put the scanned items back in my cart."
Aldi's minimalist approach expects shoppers to bag their groceries swiftly after checkout. Forgetting quarters for the cart rental and racing to package items is stressful. Van der Horst came to view the hassle and pressure as drawbacks that didn't justify the low prices.
Prices Rising Closer to Competitors
Aldi built its reputation on rock-bottom prices. But van der Horst noticed costs creeping closer to non-discount chains in recent years: 
"The savings is minimal if at all. My family used to love the spanakopita and would eat it almost weekly. Then the price increased $3. We ate salmon weekly, and that also went up $5. I no longer purchase either, and most of what I do purchase is a similar price at a larger grocery store."
Make Your Money Work for You
As Aldi's deals lost their edge over big box stores, the promise of saving money faded for shoppers watching prices converge across retailers.
I Prefer a One-Stop Shopping Experience
With superstores carrying quality groceries at competitive prices, the time spent visiting multiple outlets like Aldi lost appeal for van der Horst. "I save time and just go to one store that has everything you need," she said. "It's worth the few cents you may save. I prefer one-stop shopping."
For van der Horst, the hassle outweighed the fractional savings.
Desire for Premium Quality Brands 
Shoppers who were once dedicated bargain hunters admitted that when their incomes grew, they started trading up. Once basics were covered, brand reputation and quality took precedence over pure price-chasing at retailers like Aldi.
This appetite for upmarket specialty items caused some to return to mainstream grocers boasting premium selections. Though they initially lost a little bit in savings, the added peace of mind justified the slightly higher costs for some.
When Low Price Loses Its Appeal
For devoted discount devotees, it may seem unthinkable to stray from Aldi's astounding value. But frugality has its limits. At some point, convenience, selection, brands, and service outweigh cost considerations. 
Some budget shoppers realize that the time invested in chasing deals can outweigh a few measly dollars in savings. Or life priorities change. Ultimately, smart shopping is really about aligning your values and situation with the retailer that best serves your needs.
The decision to leave Aldi is temporary, too. As circumstances change again, the ease and discounts — not to mention their delicious holiday treats! — could draw former customers back. Savvy shoppers stay flexible, pivoting between stores as their needs evolve — they don't remain loyal out of habit or obligation. For many, Aldi forever remains a magical shopping experience. But for others, different stores better fit their lifestyle today. Whatever your needs, it pays to shop around to find the right fit for you and your family.
More From GOBankingRates