How Much Money You Can Save Each Month By Shopping at the Dollar Store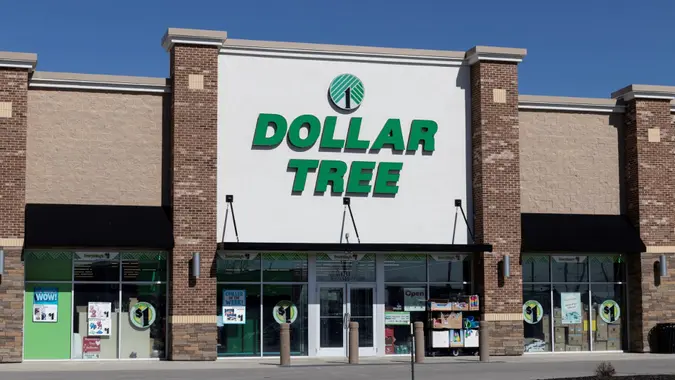 Though wages are beginning to rise in some industries in response to surging inflation, Americans are still by and large struggling to make ends meet. Just as there is mounting pressure to make more money, there's pressure to make what money you do earn stretch further. This means being extra scrupulous with how and where you spend your hard-earned paycheck — and likely hitting up dollar stores on the regular. 
Because dollar stores buy overstock and liquidated products and buy in mega-bulk (among other reasons), they can afford to sell items at rock-bottom prices. But are they really worth the hassle?
After all, these bargain basements aren't exactly known for their charming staff or organizational flair. How much more can you really save on a monthly basis by shopping at Dollar Tree than if you shopped solely at, say, Walmart or Amazon? It depends. 
Hundreds in Savings a Month
"In order to determine how much money you can really save by shopping at the dollar store, you would have to calculate your average monthly spending and understand where your money is spent," said Becky Brown, CEO and co-founder at ShoppingKim.com. "Specifically, you want to know how much money you spend on non-essential stuff."
Brown estimates that consumers spend roughly $300 to $700 monthly on stuff that can be purchased at the local dollar store — and they would save significantly if they made dollar stores their main destination. 
Make Your Money Work for You
"Buying stuff for just a dollar would save you a decent amount of money, and I estimate it to be anywhere between $200 (and) $300 on average each month," Brown said. "There are a lot of factors to consider, but I do believe this to be a fair estimate." 
Dollar Tree vs. Walmart: A Toss-Up  
But it depends on what you buy. The two main factors when determining a cheaper store are actual cost and what you get, said Paul Scarfone, a financial coach.
"To illustrate this," he said, "here is a brief sample of items that might appear on all of our lists: Salt, Cheerios, peanut butter, fruit snacks, oatmeal, rice and, of course, toilet paper. The cost of these seven items from Dollar Tree is a total of $8.75. If we instead went shopping at Walmart, this list would cost us $56.88."
Wow! Looks like we saved a heap by shopping at Dollar Tree instead of Walmart. But not so fast. 
"The truth is we spent less at Dollar Tree because their quantities are less," Scarfone said. "We didn't necessarily get a better deal. But, if the budget was $10 to go buy this list of items, we would not be able to shop at Walmart; we would have had to go to Dollar Tree."
The Key Is To Look at Unit Prices
Scarfone broke down the spending comparisons further: Instant oatmeal packets cost $1.25 at Dollar Tree — $0.21 per ounce. Instant oatmeal packets at Walmart cost $2.42 for 10 packets at 1.51 ounces each — $0.16 per ounce.  
This highlights the importance of examining unit prices to find the best deal. 
Make Your Money Work for You
"Buying a larger quantity might be a better deal; but, if we end up wasting it, there are no savings," Scarfone said. 
Michael Outar, owner of Savebly.com, provided examples of when Dollar Tree is the better deal, and when Walmart is the better deal, according to unit price: 
| Item | Dollar Tree Price | Dollar Tree Price Per Unit | Walmart Price | Walmart Price Per Unit | Cheaper Option |
| --- | --- | --- | --- | --- | --- |
| Colgate Toothbrush | $1.25 | $1.25 per toothbrush | $1.00 | $1.00 per toothbrush | Walmart |
| Dove Bar Soap | $1.25 for 2.6-oz bar | $0.48 per oz | $1.27 for 3.17-oz bar | $0.40 per oz | Walmart |
| Bounty Essentials | $1.25 for a 40-sheet roll | $0.03 per sheet | $8.99 for a 40-sheet roll | $0.22 per sheet | Dollar Tree |
| Puffs Tissues | $1.25 for a 96-tissue box | $0.01 per tissue | $4.50 for a 180-tissue box | $0.03 per tissue | Dollar Tree |
| Glad Sandwich Zipper Bags | $1.25 for 29 bags | $0.04 per bag | $7.89 for 50 bags | $0.15 per bag | Dollar Tree |
| Mixing Spoons | $1.25 for 4 spoons | $0.31 per spoon | $0.97 for 4 spoons | $0.24 per spoon | Walmart |
| Lady Speed Stick Deodorant | $1.25 for 1.4 oz | $0.89 per oz | $1.24 for 1.4 oz | $0.88 per oz | Walmart |
Buy These Items To Save
If you're in a rush, consider that some items are almost always cheaper/better value at the dollar store. 
"For instance, you'll find modest savings on cleaning supplies — including around 30 cents for disinfecting wipes, $5 for toilet bowl cleaner, $3 on latex cleaning gloves and 54 cents on sponges," said Julie Ramhold, consumer analyst with DealNews.com. "Other products you can save on include around $5 on plastic sandwich bags, $1 on hand soap refills and around $3 on paper plates.
"If you were to purchase all of these items on a monthly basis from dollar stores rather than a big-box store, you (would) save close to $18 a month, which can help you save over $200 a year," Ramhold said. 
Make Your Money Work for You
More From GOBankingRates