How To See All of Costco's Sales Early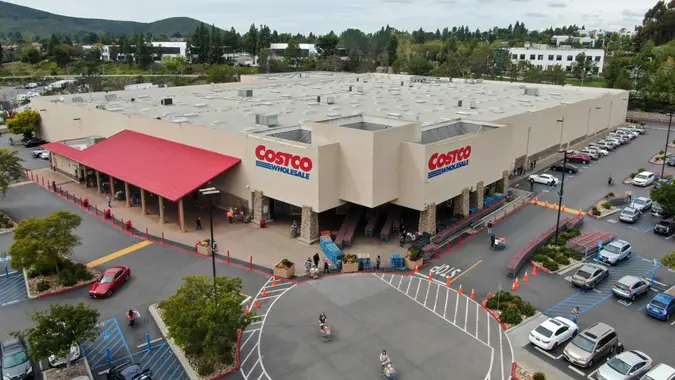 Thomas De Wever / Getty Images
Shopping at Costco saves you a lot of money. However, you may wish you had a little more notice about sales at the warehouse club, so you could plan accordingly.
It's always frustrating to purchase an item, only to have it go on sale shortly after. Since buying in bulk is the theme of Costco shopping, this can be even more problematic, because you probably won't want to take advantage of a sale if you've just purchased a large quantity of a certain product.
Trae Bodge, smart shopping expert at truetrae.com, said Costco members usually find out about sales about a week in advance, but there are other resources shoppers can use to try to get a sneak peek. Here's a look at six strategies that can help you preview Costco sales early.
Follow Money-Saving Blogs
"There are a handful of blogs that have good Costco insider intel and coupons, including Costco Insider, Krazy Coupon Lady and Southern Savers," Bodge said.
Keeping a close watch on these blogs can allow you to score tips about sales before they're disclosed to members. Bodge said you'll also want to check BlackFriday.com for sales specific to the biggest shopping day of the year.
Make Your Money Work for You
"This site will post the Black Friday sales circular as soon as they can get their hands on it," she said.
Check Slickdeals
"Slickdeals.net is a deal site where you can sometimes find insider info about Costco," Bodge said. "They have a sale page dedicated to Costco deals and members of the Slickdeals dealseeker community — over 12 million strong — are regularly adding and vetting deals."
She said it's also worth it to peruse the site's active community forums.
"The other thing I would do, if Costco deals are your focus, is enter 'Costco' as a term in the Slickdeals Deal Alert feature, so you will be notified when Costco has a sale," she said.
Sign Up for Emails
Not already signed up to receive Costco emails? It's time to get on the list.
"If you're interested in knowing about all the best Costco deals, this is a must-have subscription," said Julie Ramhold, a consumer analyst with DealNews.com. "You'll receive notifications about every sale — both major and minor — with highlights about what items will be on sale and the dates the events will run."
She said this is a guaranteed way to get in the know about Costco sales.
"Many times you'll get at least 24 hours' notice before a sale starts, but in some cases, you may receive more notice," she said. "Signing up for these emails means if there's any early notice, you'll have it, so there's no reason to skip this step."
Make Your Money Work for You
Make Sure Costco Has Your Home Address
If Costco doesn't have your current address, Ramhold said it's important to update your information.
"Costco sends out mailers for both member savings events and online sales each month, so it's worth making sure they have your correct mailing address," she said. "These mailers arrive at least a few days before the sales begin, if not a week or more ahead of time, so it's worth keeping an eye out and checking them as soon as they arrive, so you can make a game plan for all the items you want to shop in the latest round of discounts."
Follow Costco on Social Media
If you're not already following Costco on social media platforms like Facebook, Twitter and Instagram, Andrew Lokenauth, founder of BeFluentInFinance.com, suggested doing so.
"Many Costco stores will share updates about upcoming sales and special deals on their social media accounts, so this is a great way to stay in the loop," he said.
Assuming you're active on social media, this is an easy way to catch any updates shared by the company.
Consult Costco Employees
While the amount of advance notice Costco employees receive about sales is unknown, they likely find out about promotions before the members do. Therefore, Lokenauth recommended seeing what you can find out during your regular shopping trips.
"Ask the employees at your local Costco store about upcoming sales and promotions," he said. "They may be able to give you a preview of what's coming up and help you plan your shopping trips accordingly."
Of course, if an employee seems reluctant to share this information, you should never persist.
Ultimately, you love saving money at Costco, so finding out about sales early is a true luxury that can allow you to cut costs even further. While it might require some extra time and energy, keeping more of your hard-earned money in your wallet is well worth it.
More From GOBankingRates