I'm a Costco Super-Fan: 9 of My Favorite Things to Buy There for Halloween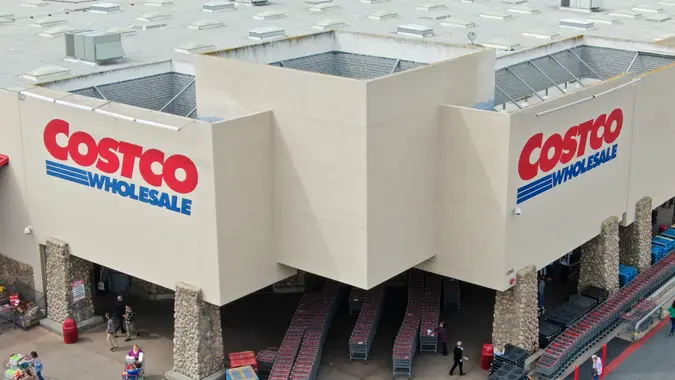 Thomas De Wever / Getty Images
While Costco warehouse clubs are largely wiped out of Halloween merchandise, with racks of costumes and rows of towering clowns and skeletons replaced by Christmas trees, you haven't entirely missed out. Whether you need full-size candy bars, decorations, costumes or pumpkin pie, there's plenty to choose from at the Costco website.
Here are some of my favorite finds for the season.
Kirkland Signature Funhouse Treats ($19)
I talked about some of the best full-size chocolate bars at Costco earlier this week. But if you're looking for cheap, name-brand Halloween candy kids will love, grab this 5.75 lb. bag of favorites like Twizzlers, Gummy Bears, Airheads, Skittles and more for just $19. That even beats out Amazon's prices for non-chocolate goodies.
Disney Princess Costumes ($40)
I spotted these costumes in stores earlier this month and the quality rivals dresses you'd find at The Disney Store for less than the retail price. One caveat: Disney Princess gowns are steeply marked down on the ShopDisney website right now. But free standard shipping takes 5 to 7 business days according to the website, otherwise, you'll have to pay $20 for 2-day express or $25 for next-day shipping.
If you want your costume shipped free in two days, Costco is the way to go. Tiana, Belle and Cinderella are all available at Costco.com.
Teetot Halloween Costumes
Costco didn't forget about those who may not want to be princesses this year. The line-up of Teetot costumes includes a werewolf, ninja, astronaut, Viking and dinosaur. These high-quality costumes are also affordable at $34 each. If your kids don't have their Halloween costumes picked out yet, don't despair. Costco to the rescue!
Make Your Money Work for You
7′ Animated Mummy ($270)
A Costco employee told me that this towering mummy sold out weeks ago in many stores. But you can still snag all seven feet of his spooky silliness online for $270. The eyes, nose and mouth light up by way of LEDs, and the bones glow in the dark. He's the perfect companion to your Halloween celebration.
9′ Animated Clown ($240)
Your mummy needs a buddy to keep him company on Halloween night, right? This 9-foot clown is motion-sensor activated (just like the mummy) has light-up LED eyes, and plays music and scary phrases to spook the neighbors.
Desert Steel Pumpkin Luminary Set ($86)
I thought I was done buying Halloween décor for the year, but I can't resist these pumpkin luminaries that will look right at home all the way through the Harvest season into Thanksgiving. The tall pumpkin stands 18 inches high, while the rounder model stands 15 inches. Both glow when you add an LED light or a candle.
For $86, these pumpkins are an heirloom decoration you'll use year after year.
Pumpkin Spice Madeleines ($12)
These Sugar Bowl Bakery individually wrapped pumpkin spice madeleines will make it easy to keep your hands out of the trick-or-treaters candy bowl. They are perfect to dip in coffee or enjoy as a sweet and easy dessert. These cookies only come around to Costco once a year, so you won't want to miss them.
6-Tier Happy Halloween Tower of Treats ($30)
Whether you're looking for a Halloween treat for special kids in your life, a gift to bring to a Halloween party, or something for your office to enjoy this season, this Tower of Treats checks all the boxes. It's $5 off between now and October 16, 2023, and includes a tasty collection of Godiva, Lindt, and Ghirardelli chocolates, caramel popcorn, vanilla wafers, and more. There's so much value in this collection, and it's put together by Wine Country Gift Baskets, a reputable company for seasonal gifts, wine baskets, and more. 
Make Your Money Work for You
Pokemon Halloween Trick or Trade Booster Packs ($30)
If you're looking for an affordable, non-food giveaway for trick-or-treaters, these 3-packs of Pokemon cards make a treat that will delight collectors and kids who will be happy to get something different. The box includes 120 booster mini packs for $30, making these giveaways just 40 cents each – perfect for class parties or trick-or-treating.
More From GOBankingRates