7 Kirkland Items Not Worth Wasting Your Money on at Costco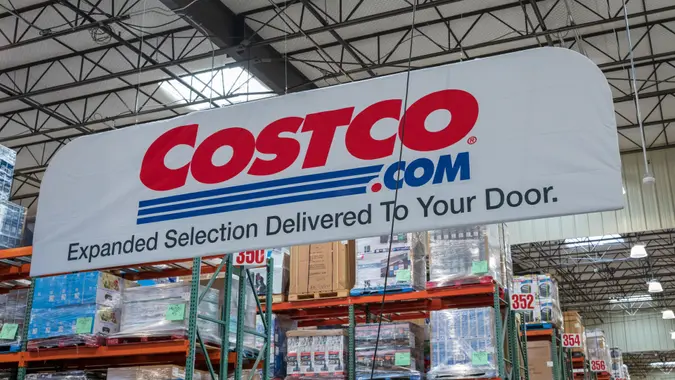 artran / Getty Images
Costco is well-known for its wide range of products and savings deals, but it's the Kirkland Signature brand that often garners special attention. This private label offers quality comparable to leading national brands but often at a fraction of the cost.
Read: How To Get Cash Back on Your Everyday Purchases
While many swear by Kirkland Signature products as a cost-effective alternative, not every item under this label is a home run. In fact, some might not deliver the value you'd expect.
7 Kirkland Items at Costco To Pass On
You may love the Kirkland rotisserie chicken or the peanut butter pretzels, but have you considered whether the Kirkland protein bars or frozen vegetables are up to par? It's easy to be lured by the low prices and substantial quantities, but it's also important to also consider quality and whether or not you actually need that item.
From groceries to household necessities, some products don't quite hit the mark when it comes to quality or value. 
Here are seven Kirkland items not worth wasting your money on at Costco. 
Kirkland Signature Salad Dressing
If you eat a lot of salads, buying your salad dressing in bulk can be a smart move to save money. However, Kirkland salad dressings miss the mark, according to David Bakke, shopping expert at Dollar Sanity. 
Bakke said that Kirkland salad dressing, as a whole, just isn't that good. "There's not much taste to them," he said, "and if you ever look at the ingredient label, they are loaded down with additives and preservatives, presumably to extend the shelf life." Bakke said he's had much better success with the salad dressings at Aldi. He claims they're of much higher quality and are also a better price than the Kirkland salad dressings at Costo.
Make Your Money Work for You
Kirkland Signature Plastic Wrap
A good buy on plastic wrap may seem like a no-brainer, but if using it is more frustrating than helpful it's not. 
Bakke said that while the plastic wrap offered by Kirkland isn't terrible and it is cheap, it has some issues. "The problem is that it gets stuck quite a bit inside of its box," he said, "which means you have to take the roll out of the box and extend it yourself, and then cut it off. This is terribly time-consuming for me, and I'm a busy guy. This might seem like splitting hairs, but I would definitely go with a Kroger brand where you normally don't have that problem."
A Reddit user said that the Kirkland Signature Plastic Wrap is weirdly hard to cut, which adds to the frustration.
Kirkland Signature Protein Bars
Protein bars can be expensive and take a bite out of your budget if you buy them regularly, so the well-priced Kirkland protein bars can be tempting. However, Bakke said they're not worth it. 
"I'm a fan of protein bars because my kid is diabetic and a lot of them are low-carb," Bakke said. "However, the Kirkland brand has a limited selection as far as flavor, and according to my son, the taste is just 'off' in his words. Where you will find a better selection is at Publix, but they're not at discounted prices. But to me, and my son, it's worth it to pay more."
Make Your Money Work for You
Some Reddit users also agree that Kirkland Signature Protein Bars are not worth it. One user said that they've bought dozens of boxes of these bars and have to microwave the bars for 15-30 seconds before eating because otherwise, they are so hard they are inedible. 
Kirkland Signature Vitamins
Expensive recurring purchases like vitamins need to be worth it, but Costco's house brand vitamins don't measure up, according to Jasmine Charbonier, owner of Your Tampa Bestie, lifestyle expert and frequent Costco shopper. 
She said that Kirkland Signature Vitamins aren't worth buying when she discovered they contained lower quality ingredients than some name brands after comparing labels. Plus, she experienced nausea and stomach pains when she took them. "It's better to spend a little more on a reputable vitamin brand," she said. 
One Reddit user said that they bought the Costco adult gummy vitamins and found them stuck together in one big glob. A few other Reddit users chimed in with the same experience.
Kirkland Signature Paper Towels
If you're a fan of premium paper towels, the Kirkland Signature variety might not be up to your standards, according to Charbonier. She said she found them to be thin and flimsy, thus allowing grease and moisture to soak through quickly. She also noted lint residue after wiping down surfaces with the paper towels. "Spend a little more for Bounty or Brawny for more absorbency," she recommended. 
If you used to be a fan of Kirkland paper towels but haven't used them in a while, the quality has apparently changed. A Reddit user agreed that this Costco item isn't worth it, stating that the paper towels are so bad now, they are unusable.
Kirkland Signature Chocolate Chips
A quality chocolate chip with a rich chocolate taste and just the right amount of meltiness can make a big difference in how homemade baked goods taste. Charbonier said you should pass up Kirkland Signature Chocolate Chips because they don't meet expectations. She claimed they have a weak chocolate flavor that tastes artificial. She also said the chips don't melt well when baking cookies or brownies. "Spend extra on Nestle or Ghirardelli for gourmet quality." she said. 
One Reddit user said that the Kirkland Signature Chocolate Chips have an "oddly fruity odor and taste."
Kirkland Signature Frozen Vegetables
Frozen veggies can be a great timesaver in the kitchen. But they can also be a hit or miss. In this case, according to Charbonier, they are a miss. 
Upon trying them, she said that the produce used seems to be lower-end quality and many batches that she tried were mushy or watery when cooked. She also noted that the flavors were bland and the textures off-putting. "I prefer frozen vegetables from Birds Eye or Green Giant," she said. 
One Reddit user said the frozen broccoli "tricks" them every few months and warned others not to fall for it.
Takeaway
The next time you're shopping at Costco, think carefully before reaching for any of these seven Kirkland Signature items. While many products from this brand offer good quality and savings, some items are just not worth it. And due to the bulk-size quantities Costco is known for, if you don't like the item, you could waste a lot of money and product. 
That being said, everyone has an opinion and what one person doesn't like or think is worth buying, someone else may have a more positive opinion of — even going so far as to say it's a must-have when they shop at Costco.