How to Make Your Own Ugly Christmas Sweater for Under $5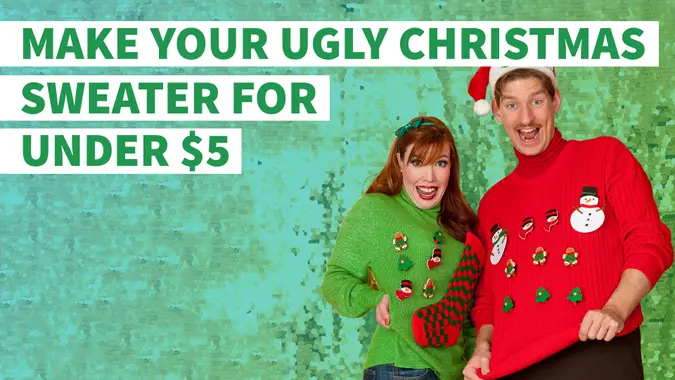 Jason_V / iStock.com
Tacky Christmas sweaters aren't just for Aunt Edna and your hipster friends. In 2015, entrepreneur Fred Hajjar told CBS his company, UglyChristmasSweater.com, was on track to hit $5 million in sales. The celebration of silly sweaters even has its own holiday, National Ugly Christmas Sweater Day, which falls on Dec. 16 this year.
Here's where to find an ugly sweater and turn it into a monstrous masterpiece for less than $5 in time for your budget-friendly holiday party.
Find an Inexpensive Sweater
The best DIY ugly Christmas sweaters begin their lives as regular, boring apparel. Scour your closet, thrift stores and yard sales for an inexpensive sweater — ideally in red or green. Make sure it fits a little large, too. The sweater can be plain or themed for the season, as long as you have room for some artistic expression.
Seek out the bargain racks at your local thrift stores. Even non-profit shops mark items down for clearance. In many cases, you can find a great base sweater for less than $2. Check sizes in both the men's and women's sections to expand your chances of finding the perfect sweater.
Yard and church rummage sales are also good spots for bargain-priced apparel. Check sites such as Gsalr.com, YardSaleSearch.com and Craigslist to find sales in your area.
Don't Miss: Cheap Gifts Your Co-Workers Will Love This Christmas
Make Your Money Work for You
Scavenge for Ugly Sweater Supplies
The best part about creating an ugly Christmas sweater is, in a way, you can't fail at the task. Use any materials you have at home, like reject Christmas decorations and party supplies. Tiny plastic ornaments and fake lights from a desktop artificial tree can be repurposed, as well as plastic snowflakes and other holiday odds and ends you've accumulated over the years. Mardi Gras-style beads are ideal for decorating sweaters, as they resemble holiday baubles and are light enough to hot-glue in place.
Digging through your craft supplies will unveil other useful materials, such as velvet ribbon, glue, glitter and paint pens. Set aside any items that might come in handy.
Buy Craft Supplies You're Missing
Dollar and discount stores are great for materials. Search the crafts, toy and party-supply aisles for packets of felt, pompoms, thread, sequins and packs of colorful party favors. Thrift stores have serious holiday bounty, too. Look for bagged collections of plastic holly, craft beads, sewing supplies and ribbons.
Make Your Money Work for You
Even craft stores can come in handy — as long as you can get the items at a discount. Michael's and Jo-Ann frequently offer coupons for 40 to 50 percent off regular-priced items. Use the coupons on the most expensive items you need to keep your costs under $5. Be sure to check the seasonal, sale and kids craft supplies aisles for surprisingly good deals.
Decorate Your Ugly Christmas Sweater
Before you start lathering on the hot glue, draft on paper what your sweater will look like. Use paper templates and a marker to trace a snowman, reindeer, tree or other design on your sweater. Using felt or scrap fabric and hot glue, fill in your outline.
Lay loose items such as plastic ornaments or beads in place, then use your glue gun to glue the pieces on one by one until you're happy with your design. A durable craft adhesive suitable for fabric can be used in place of hot glue, if you prefer.
Light Up Your Sweater
Go the extra mile by adding festive twinkling lights to your decorated sweater. Miniature, battery-operated light strands are ideal for apparel. Once the main design for your Christmas monstrosity is glued down, follow these steps:
Turn the sweater inside out. Use a marker to dot spots where you want to place Christmas lights.
Take the tip of a knife or an awl to poke small holes in the fabric for each light.
Put your lights through the small holes, securing them in place with dabs of hot glue.
Duct-tape the battery pack to the inside of the sweater, or sew a scrap piece of felt inside the sweater for a makeshift pocket.
Make Your Money Work for You
After you've celebrated the holidays with your ugly Christmas sweater, gently remove the lights. Hand-wash your sweater so you can wear it again to the office party or your next family get-together.