How Much Do Memberships Cost at Costco, Sam's Club and Other Warehouse Stores?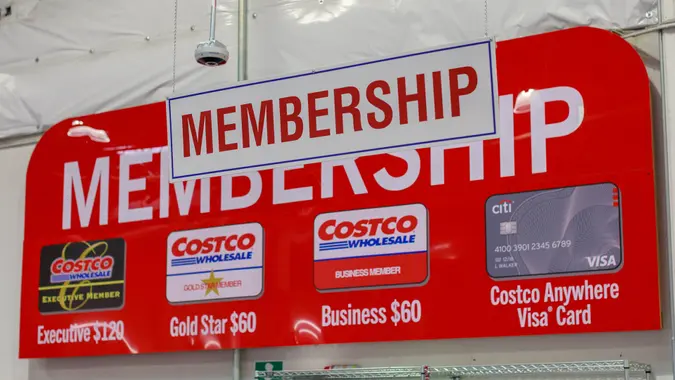 ARTYOORAN / Shutterstock.com
People have been shopping at warehouse, or wholesale, clubs since the 1970s. Warehouse clubs such as Costco and Sam's Club are so attractive because the merchandise typically costs less than what you would find elsewhere. This makes them especially good options for the thriftier or more budget-conscious shoppers.
Costco's Best Deals? Employee Reveals 10 Standout Buys for Your Money
Check Out: 3 Signs You're Serious About Raising Your Credit Score
Even though warehouse clubs often have cheaper goods, many of them come with membership fees. If you're thinking about getting a warehouse club membership, here's what you need to know about costs and how to get the most savings.
How Much Does Each Membership Cost?
The cost of membership depends on the warehouse club. Some of the biggest warehouse clubs — like Costco or Sam's Club — offer memberships on a tiered system. By getting a membership, customers can take advantage of discounts, bulk items and more.
Here's what each membership costs at the most popular warehouse clubs, along with what's included.
Make Your Money Work for You
Take Our Poll: Are You Concerned About the Safety of Your Money in Your Bank Accounts?
Costco Membership Costs
Before you can enter a Costco warehouse and buy goods, you'll need to get a membership. The only exception is that non-members can get prescriptions from Costco pharmacies.
Costco offers the following three types of memberships:
Gold Star Membership: As the most basic option, this membership includes a free household Costco card and is valid at any Costco location worldwide. It costs $60 annually.
Business Membership: Like the Gold Star tier, this option includes the household card and access to all Costco stores. With it, you can purchase items for resale. You also can add affiliate cardholders for $60 each. This option also costs $60 annually.
Executive Membership: This option includes everything from the Gold Star membership, as well as 2% annual rewards on select goods. It also comes with the potential for more benefits and savings on Costco services and travel products. It costs $120 a year.
As with other warehouse clubs, many items at Costco are sold in bulk. The individual price per item may be cheaper than what you would find elsewhere, but the up-front cost can be higher.
Sam's Club Membership Costs
Unlike with Costco, you don't need a membership to enter a Sam's Club. This means you can window shop and check out the selection and cost of goods before committing to becoming a member. You will, however, need a membership to purchase most items.
Make Your Money Work for You
Sam's Club has the following two membership tiers:
Club Membership: This is the basic membership option. It comes with a Sam's Club Mastercard, which has cash-back rewards (ex. 3% on dining and travel, 5% on gas, 1% on everything else). Terms and conditions apply to cash-back rewards and any other bonuses. This membership also comes with fuel savings, access to the tire and battery center, wiper blade installation, curbside pickup and more. It costs $50 a year.
Plus Membership: The Plus Membership includes everything from the first tier, as well as savings at the pharmacy and optical center. It also comes with up to 2% cash back on certain purchases (up to $500 a year). Plus, it includes free shipping and the ability to shop early at certain locations. It comes with a $110 annual fee.
BJ's Wholesale Membership Costs
Also called BJ's Wholesale Club, Inc., this warehouse store has three membership options:
Basic Club Card: This includes exclusive coupon offers and a complimentary membership for one household member. It costs $55 annually.
Club+ Card: This option includes the same things as above plus $0.05 off per gallon of BJ's gas, 2% cash-back rewards, extra rewards and access to special events. It costs $110 a year.
Business Membership: This membership comes with tax exemptions, resale privileges and discounted add-on memberships. It costs $55 a year.
Make Your Money Work for You
Amazon Prime Membership Costs
While not a wholesale club, Amazon Prime is another option if you're looking for online shopping at an affordable price. Amazon Prime costs $14.99 a month or $139 a year.
You don't have to have a membership to shop at Amazon. However, having membership comes with free, fast shipping and delivery. It also comes with the ability to stream select shows and music or access online deals early.
If you have an Amazon Prime membership and use either the Amazon Prime Rewards Visa Signature Card or regular Amazon Prime store card, you also could receive up to 5% cash back from Amazon Fresh.
Can Warehouse Clubs Save You Money?
It's possible to save money by shopping at a warehouse club, but it's not a guarantee.
Warehouse clubs and supercenters earned an estimated $722.3 billion in 2022. Two of the biggest warehouse clubs in the United States — Sam's Club and Costco — contribute the most to these earnings.
Most warehouse clubs have open concepts with wide aisles, high ceilings and shelving, and an industrial look — cement floors, strategically placed lighting, minimal decor, etc. This design helps them keep lower overhead than standard retail stores, which enables them to offer goods at lower prices.
But this sparse design is more strategic than you might think. Warehouse clubs are organized in such a way that encourages impulse buying. If you end up purchasing things you don't need — or worse, don't use — you're not really saving any money.
Plus, warehouse clubs are notorious for charging membership fees. In fact, they get the majority of their revenue from memberships. If you have a membership but rarely use it, you could be spending money without getting anything in return. Consider the advantages and savings options carefully so you don't overspend.
How To Get the Most Out of Your Warehouse Club Membership
You'll need to be strategic if you want to take full advantage of your warehouse club membership and save the most money. Here are some tips on how to get the most out of your membership:
Take advantage of membership discounts, bonuses, sales or exclusive events.
Enjoy some free samples while shopping at the warehouse club.
Use the wholesale club's additional services (like the pharmacy or optical services) since they're often cheaper.
Buy in bulk (but only what you need and will use).
Make a list before you go and stick to it (to avoid overspending and take advantage of the best discounts).
Finally, if you have a membership that you don't use, consider canceling it. Most warehouse clubs offer free cancellation, though you may be charged for the current month or the remainder of the year.
More From GOBankingRates
Make Your Money Work for You