7 Most Overpriced Target Items, According to Superfans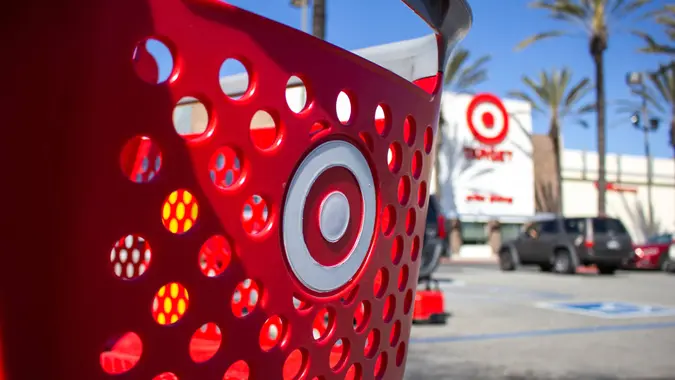 David Tonelson / Shutterstock.com
Target is a popular shopping destination for millions of people across the United States, known for its stylish clothing, trendy home décor and affordable prices.
However, not all items at Target are created equal. While many products are reasonably priced, some are notoriously overpriced, leaving consumers feeling like they've paid too much for what they've received.
Here are some of the most overpriced Target items, as identified by Target superfans and shopping experts, and tips on where to find similar products at a better value.
Coffee Machines
The Nespresso VertuoPlus Deluxe Coffee and Espresso Maker is priced at $199.99 at Target, which is comparable to other retailers. However, if you purchase the same item at Costco, you will receive additional value for the same price, including an Aeroccino three-milk frother, 32 capsules, two recycling bags and a $40 voucher to Nespresso.com.
Consumer analyst Julie Ramhold from DealNews.com explains that the package at Target includes just 16 capsules and does not include a frother or voucher, making the Costco deal much more attractive. Furthermore, Target's Bodum 8-cup/34-ounce Pour Over Coffee Maker is priced at $19.79, while Walmart offers the same product for $18.63.
Make Your Money Work for You
KitchenAid Professional Stand Mixers 
While stand mixers can be expensive, they can be valuable investments for avid bakers and home chefs. The Target model is priced at $449.99 and includes the standard three attachments — dough hook, paddle attachment and whisk.
However, Costco offers a better deal for a 6-quart stand mixer that comes with the dough hook, whisk and paddle attachment, as well as a flex edge beater and a pouring shield to prevent ingredient spills. Both models feature the bowl-lift function and come in the same color, but the Costco version is priced at $399.99.
Ramhold believes that the Costco option is a great deal, offering many of the perks of the professional-grade model at a $50 discount.
Dyson Vacuum Cleaners
At Target, the Dyson V15 Detect Cordless Vacuum Cleaner is priced at $749.99; on Amazon, it is available for $698.
According to Target superfan Garrett Smith of GMB Gorilla, it is more practical to purchase household gadgets like this on Amazon due to their better discounts, sales and free shipping. Smith pointed out that these factors can make a significant difference in savings.
Make Your Money Work for You
Books
Target doesn't offer a huge selection of books and rarely offers discounts, while places such as Barnes & Nobles, Amazon and Bookshop.org, do.
"Probably most importantly with books, it's best to shop around to find the best price and spend your money at places that uplift authors and support your community," said Target superfan Sarah Meads. "I love independent book retailers and places like Bookshop.org, an online bookstore that allows customers to purchase books while supporting independent bookstores."
​​Beauty Products
The prices of beauty products at Target can vary depending on the brand and product type. However, some customers have reported that certain name-brand beauty products can be more expensive at Target compared to other retailers.
For example, some customers have noted that certain skincare brands, such as La Roche-Posay and CeraVe, can be priced higher at Target compared to retailers such as Ulta or Amazon. Similarly, some makeup brands, such as Nars and Urban Decay, might be priced higher at Target compared to other retailers.
Make Your Money Work for You
Groceries
The pricing of groceries at Target can be dependent on item and location, and there are cases where specific grocery products are more expensive at Target than at other stores.
"I don't love buying my fresh produce at Target and also avoid name-brand cereals, snacks and beverages," Meads said.
When it comes to groceries, as always, it pays to be prepared and shop around. And don't forget rewards programs.
Clothing
While Target has a lot of on-trend and designer capsule collection clothing, it's not the most inexpensive place to get staples. For example, a woman's V-neck shirt costs $10 at Target. But if you buy the same item at Walmart, it'll be just $2.98. That's a $7 savings on an everyday dressing staple. 
More From GOBankingRates