5 Outdoor Items You'll Probably Regret Buying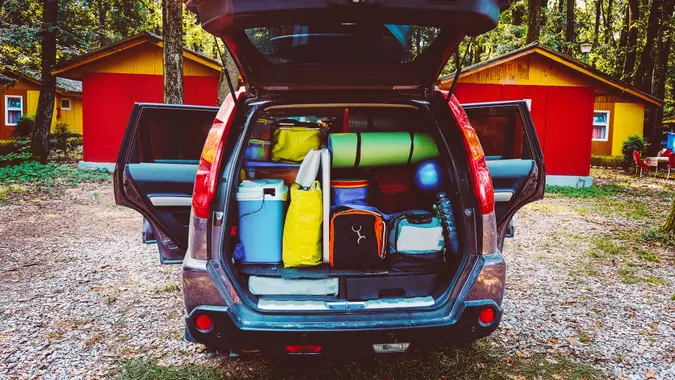 ©iStock.com
Summer is just around the corner. That means many of us will be looking to head on out on some wild adventures in the great outdoors.
Whether camping, hiking, driving cross country in a motorhome, backpacking up a mountain or grilling over an open fire in the middle of nowhere, there's nothing like strapping on some gear and braving the elements.
But what happens when your outdoor tools don't do the job you want or you really need them to do? You might be out of luck and find yourself in a tricky situation where Mother Nature takes over in a not-so-kind way.
GOBankingRates asked some outdoor enthusiasts for some of the most regrettable items they have purchased over the years. Here's what you can avoid putting in your shopping cart as the weather warms up.
Also see some great glamping options.
Make Your Money Work for You
Small Tents
They are compact, easy to travel with and should provide the shelter you need to spend an evening under the stars — if there is enough room.
"I once purchased a budget two-person tent for a weekend camping trip with friends," said Sophia Warren, owner of TryBackpacking.com. "For $30, the price was too good to pass up, and I thought I'd found a great bargain."
But Warren soon found out that quality doesn't always match up to savings when it comes to outdoor items.
"Unfortunately, my excitement was short-lived," Warren said. "On our first night, a storm rolled in, and the rain came pouring down. To my dismay, I quickly discovered that the tent wasn't waterproof. Instead of a cozy, dry shelter, I ended up with a soggy sleeping bag and a restless night. Since then, I've learned to invest in a quality, weatherproof tent that can withstand the elements."
Take Our Poll: What Do You Plan To Use Your Tax Refund For?
Make Your Money Work for You
Multitools
It used to be that having a knife was all it took to handle your cutting needs. Then the Swiss Army knife became the standard sharp go-to instrument with lots of useful add-ons. After that, the next generation in utility was multitools, only they might not be as versatile and able to handle all the situations where you might need to use one.
"I went hiking once, and the most commonly used feature on the multitool was the knife," said Jon Stephens, director of operations at Snowshoe Vacation Rentals. "I really just needed a pocket knife suitable for the outdoors. Even worse, the knife on the multitool wasn't sharp enough … I might as well have used my teeth."
That said, Stephens isn't quick to write off multitools. 
"Don't get me wrong," he said. "I think a multitool is great for everyday use when you're out and about. Not for the outdoors though."
Camping Kitchens
Cooking outside is special, bringing a quality and taste to the food that you don't get from being indoors. But the next time you decide to picnic, make sure you're not getting into a disaster.
"I've been camping and hiking for over 10 years, and a camping kitchen was one purchase I really regretted," said Christine Borgfeld, an experienced camper and founder of Off Grid Sense.
Make Your Money Work for You
"These are basically folding tables with shelves and organizing features that support a portable grill, sink and kitchen stuff. They are usually $130 to $200," Borgfeld said.
She pointed to the REI Mountain Summit Gear Deluxe Roll Top Kitchen as an example.
"It was heavy, bulky and a hassle to set up, and then you had to clean it and pack it up," Borgfeld said. "The work involved in using it made camping harder, which is the last thing you want. I used it twice, kept it in a closet for a few years and finally donated it to Goodwill. It felt like such a waste."
Luckily, there's a simple fix to this messy mess kit debacle.
"Today, I stick with a picnic table or simple folding table and some organizers for my kitchen gear," Borgfeld said. "Much simpler and easier!"
Air Mattresses
Sleeping on the ground might sound more appealing if there were some cushioning between you and Earth. Sadly, most air mattresses are deflating duds to avoid.
"When I first got into camping, I bought an air mattress for about $30 off Amazon, thinking it would be a great way to save some money," said Elise Burley, an experienced backcountry camper who runs a website called Gone Camping Again. 
Make Your Money Work for You
"I soon learned that this was a mistake," she said. "It was almost impossible to blow up and left me feeling light-headed afterward. If I blew it up all the way, it was too firm to give any cushioning. But if I deflated some of the air to make it softer, I'd sink right into the ground. It was super uncomfortable and, no matter what position I slept in, I would wake up feeling sore and achy everywhere."
Burley said an air mattress is one piece of outdoor gear you should never skimp on, because a bad night's sleep can ruin your whole camping experience. 
"I've since upgraded to a more specialized air mattress that cost about $240," Burley said. "Much more expensive, but totally worth the splurge. I'll never go back to a cheap air mattress again if it means sacrificing comfort and sleep quality."
Coolers
Not all coolers are bad, nor are all coolers made equal. Some provide more than adequate refrigeration you need to keep food and beverages cold when you are outside and away from an electric cooling appliance. Others, such as the ones made from cheap Styrofoam, just don't do the job.
Make Your Money Work for You
"I've regretted buying cheap coolers over high-quality ones," said Alex Eaton, founder of Lore Outdoors. Cheap, in this case, means anything under $30. 
"I've ended up spending more time dumping water out, dealing with soggy food items and finding more ice to buy than enjoying my outdoor time," Eaton said. "You don't need to spend $500 on a cooler; just $100 to $200 can sufficiently upgrade you from a bad experience."
More From GOBankingRates
Make Your Money Work for You