Pros and Cons of a BJs Membership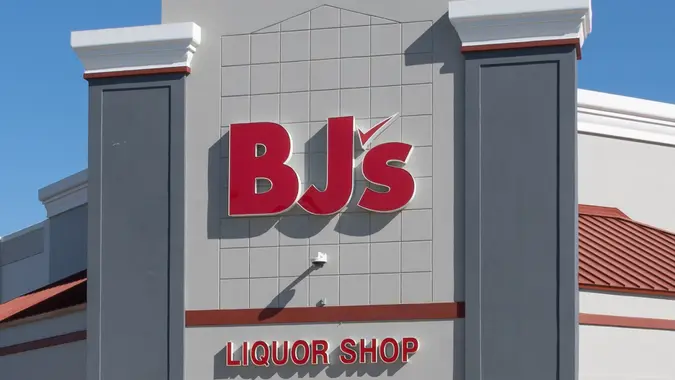 JHVEPhoto / iStock.com
BJ's Wholesale Club, often referred to simply as BJ's, is one of the leading membership-only warehouse clubs in the U.S. Like other similar retailers, BJ's offers its members the opportunity to purchase a wide variety of products, from groceries to electronics, at discounted bulk prices. But is a BJ's membership right for you? Here's a look at the pros and cons to help you decide.
Pros of a BJ's Membership
Here are some of the pros when it comes to a BJ's membership.
Savings on Bulk Purchases
One of the primary reasons people opt for a BJ's membership is the potential for substantial savings. By buying in bulk, members can often get products at a lower unit cost, leading to long-term savings.
Wide Product Range
BJ's offers a diverse range of products. Whether you're in the market for fresh produce, electronics, clothing, or home goods, you can find it all under one roof. This wide selection can save both time and money by reducing the number of trips to multiple stores.
Exclusive Member Services
In addition to the product offerings, BJ's provides its members exclusive services such as travel deals, optical services, and even home improvement services. This adds value to the membership beyond in-store savings.
Fuel Discounts
Many BJ's locations have gas stations that offer competitive prices on fuel. As a member, you often get additional discounts on gas, leading to significant savings over time, especially if you have a longer commute.
Make Your Money Work for You
Coupons and Promotions
BJ's regularly provides members with exclusive coupons and promotional deals, enhancing the savings. Unlike some other wholesale clubs, BJ's also accepts manufacturers' coupons, allowing you to stack savings.
Cons of a BJ's Membership
Although BJ's offers great deals, there are some cons to consider.
Membership Fee
To shop at BJ's, you'll need to pay an annual membership fee. For some, especially those who don't frequent the store, this fee might outweigh the potential savings.
Temptation to overspend
The allure of saving can sometimes lead to buying items in bulk that you don't need or can't consume in a reasonable time frame. This is especially true for perishable items, leading to potential waste.
Limited Locations
While BJ's has a significant presence on the East Coast, it doesn't have the nationwide reach of some of its competitors. If you don't live near a BJ's or plan to move, the membership may not offer the same value.
Potential for Impulse Purchases
The vast array of products and the excitement of deals can sometimes lead to unnecessary impulse buys. You might come in for groceries and leave with a giant TV, a risk if you're on a strict budget.
No Price Matching
Unlike some retailers, BJ's does not offer price matching. So, if you find a product at a lower price elsewhere, BJ's won't match that price.
Make Your Money Work for You
Is a BJ's Membership Right for You?
Whether or not a BJ's membership is a good fit depends largely on your shopping habits and proximity to a store. If you have a large family or run a small business that requires bulk purchases, the membership can offer significant value. The potential savings on groceries, household items, and fuel can quickly offset the membership fee.
On the other hand, if you're a smaller household or someone who values buying in smaller quantities to reduce waste, the allure of a BJ's membership might not align with your shopping preferences.
Like any financial decision, weighing the pros and cons tailored to your situation is crucial. Consider visiting a BJ's store as a guest to get a feel for their product offerings and prices. This can give you a more concrete idea of whether the potential savings align with the membership cost.
Editor's note: This article was produced via automated technology and then fine-tuned and verified for accuracy by a member of GOBankingRates' editorial team.
More From GOBankingRates