Rachel Cruze: 9 One-Time Purchases That Can Save You Hundreds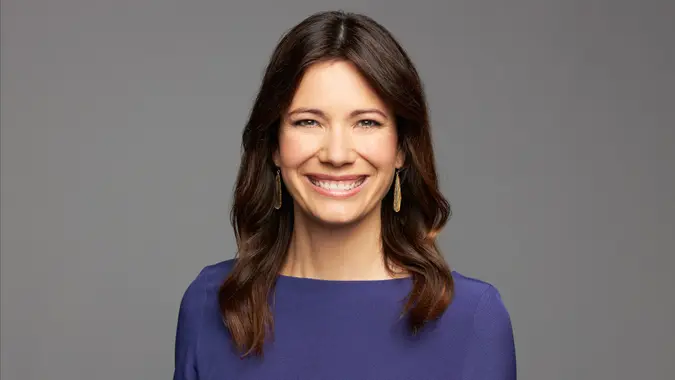 ©Rachel Cruze
Do you ever feel as though you just bought something, like trash bags, and suddenly you're back at the store buying it again because you ran out too quickly? It's a frustrating feeling to experience, especially if you're trying to save money.
In an episode of "The Rachel Cruze Show" on YouTube, personal finance expert Rachel Cruze tackled this topic by sharing how you can save money by buying certain things. You may even be able to save a few hundred dollars, depending on the products. The next time you're shopping at the store, keep your eyes peeled for these nine one-time purchases that result in major savings. 
Reusable Sandwich Bags
If you find yourself running out of sandwich bags for the kids' lunches frequently, Cruze recommends buying reusable sandwich bags to save money.
These types of reusable sandwich bags are typically made with materials, like silicon, which can be cleaned and reused repeatedly. They're also usually microwave and dishwasher safe.
Reusable K-Cup Pods
If you have a Keurig and use it frequently, you know firsthand that K-Cup pods can be quite expensive. Cruze said it's a better deal to buy ground coffee in a bag and add it to a reusable K-Cup pod to make coffee. 
SodaStream
This is for every reader who spends a lot of money on carbonated beverages, particularly sparkling water. (On average, Cruze said a can of sparkling water is 51 cents a can.)
Make Your Money Work for You
Using a SodaStream turns still water into carbonated water. It even comes with different types of flavoring which can be added to the water. Owning a SodaStream, according to Cruze, can save you up to $600 a year.
Budgeting App
The moment people start budgeting, Cruze said she often hears them say it feels like they got a raise. 
Using a budgeting app allows you to exert better control over your money. You know exactly where your money is going and you're more likely to cut back and save money accordingly. In the short and long run alike, having a budget will help you save money.
Drain Snake
This is a long, flexible, metal cable which allows you to clear out blockages in your plumbing. 
"This item can potentially save you a lot of money on plumber visits," said Cruze, adding it can be helpful in clearing out common drain clogs like hair.
Vegetable Chopper
Most savvy shoppers know it's cheaper to buy whole fruits and vegetables instead of pre-cut, but aren't necessarily anticipating the moment they need to cut the whole produce. If you have a vegetable chopper, however, you can easily cut up your produce and throw the chopper into the dishwasher when you're done.
Cruze, who owns a vegetable chopper, highly recommends investing in one to save money in the long run.
Reusable Water Bottle
Those who spend $3 to $5 on a case of bottled water could be spending anywhere from $152 to $1,460 on bottled water per year if they drink two bottles each day.
Make Your Money Work for You
Cut back on overall bottled water purchases by buying a reusable water bottle. While there are many expensive water bottles, Cruze said you can find plenty of cute and inexpensive ones to reuse over and over again without breaking the bank. 
Gel Nail Polish Curing Light Kit
Frequent visitors to manicure salons often get gel manicures, where gel polish is used to help keep manicures lasting longer. They also tend to cost more money than regular manicures.
According to Cruze, a typical gel manicure can cost anywhere from $35 to $100 or more along with additional fees like tips. You can cut back on costs by polishing your own nails at home and purchasing a gel UV nail polish curing light which dries your nail polish just as it would at the salon. 
Smartphone Case and Screen Protector
It's incredibly distressing to see cracks develop in your smartphone's screen if you dropped your phone and it didn't have a protector. Replacing a screen can be expensive: Cruze said it can cost up to $300 for a replacement.
The best thing to do is buy a high-quality smartphone case and a shatterproof screen projector. Neither purchase is too expensive either, as Cruze said they range in price from $17 to $65. If you're particularly accident prone, it's worth making the investment.
More From GOBankingRates