Money Expert Rachel Cruze Reveals 5 Luxury Products Worth the Money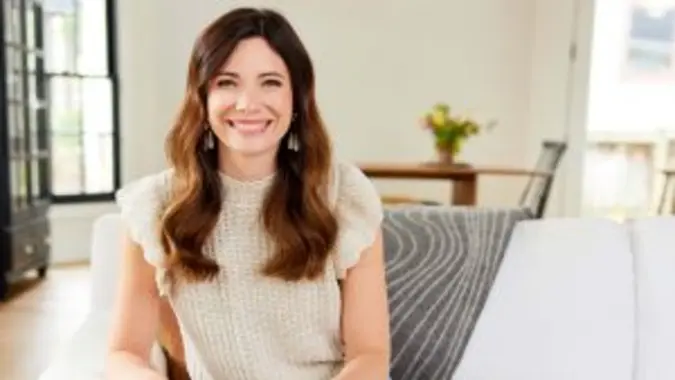 Most people know not every luxury product is worth its price tag. You might buy a pair of uncomfortable designer shoes and stop wearing them after a few days or spend a lot of money on a membership for a high-end gym you rarely visit.
You can still be smart with your money and show off your good taste, according to money expert Rachel Cruze. In an episode of The Rachel Cruze Show on her YouTube channel, Cruze shared the luxury products she says are worth the money. Do you agree these luxury buys are worth it?
Quality Shampoo and Conditioner
Cruze said her favorite shampoo and conditioner is from a brand called Kérastase. GOBankingRates looked up the price tag on Walmart and most bottles, when they're not on sale, are priced anywhere between $30 to $40.
Even though it's pricey, Cruze said she leans towards quality not quantity when picking a shampoo and conditioner. "I love investing in a good product I'm gonna use multiple times a week."
Classic Designer Handbag
For over 10 years, Cruze has owned a Louis Vuitton tote bag. Not only does she love carrying around this handbag, but Cruze said its quality material stands the test of time. Even better: it keeps her overall handbag costs down.
Make Your Money Work for You
"I rarely buy purses anymore," said Cruze. "I just have that bag that everything goes into."
Good Sunscreen
Cruze's favorite sunscreen is from a brand called Supergoop. While prices fluctuate depending on the retailer, Supergoop sunscreen goes for around $38 per bottle at Sephora.
Again, Cruze cites the quality of the sunscreen as worth the price, especially since most doctors recommend wearing sunscreen on your face daily. "It's great to put under your makeup and has really great ingredients for your skin."
Good Pair of Sneakers
For Cruze's 30th birthday, she treated herself to a pair of Golden Goose sneakers. GOBankingRates checked out the Golden Goose website, where women's sneakers start at $350 on up.
While some people may criticize Cruze's decision to pay a lot of money for sneakers, she likes how fun and comfortable they are, since she wears them all the time.
She's also not planning to embrace sneakerhead culture and start investing in expensive sneakers. "I have one pair… I don't need eight pairs of them."
Good Perfume
Cruze's personal favorite perfume brand is Jo Malone, which retails for around $110 on the Jo Malone website.
Pricey? Yes. But worth the memories evoked with the scent? Definitely. Cruze said she fell in love with perfume during her pregnancy, after being advised to wear a different perfume with every pregnancy, because scent brings back your memory.
Make Your Money Work for You
More From GOBankingRates