10 Reasons Skipping Black Friday This Year Could Save You Money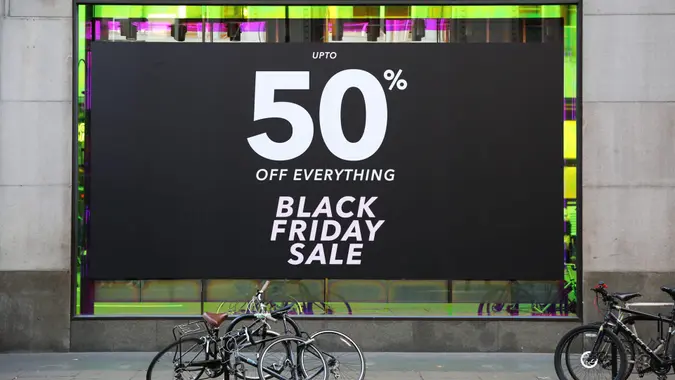 Patrick Shutterstock / Shutterstock.com
As soon as Thanksgiving approaches, you start seeing signs of Black Friday sales that are coming up. It can be exciting to look out for deals since we're all looking for ways to save money.
However, one of the best ways to save money this year could be to skip Black Friday.
Here are 10 reasons why skipping Black Friday this year could save you money in the long run. (Yes, that includes these pre-Black Friday sales with huge discounts.)
You Avoid Getting Into Credit Card Debt
The biggest problem with looking for deals is that you may justify making purchases you can't afford. With so many credit card options and other Buy Now Pay Later apps, it's easier than ever to rack up debt. When you put these items on your credit card, you have to deal with the high interest rates, which leaves you spending more money on the purchase than you intended to. You could also get stuck with debt that's difficult to manage on top of your other expenses. 
More Sales Will Come in the Future
Even though the sales may be tempting, you have to remember that there will be other deals in the future. Retailers don't always sell everything off during the holidays, so they offer better deals at the start of the year. 
The most important lesson is that it's not a deal if you didn't plan on buying it in the first place. Just because something is on sale, it doesn't mean you have to purchase it. By waiting to make this purchase, you could find a better deal in the future. 
You Have More Time To Save Up
If you skip Black Friday this year, you'll have more time to save up for those items, so you don't have to finance them. As you wait to save up, you may even discover that you didn't want to make this purchase. Taking the time to save and reflect on your high-ticket purchases helps you determine if they're valuable to you or if you even need them.
Make Your Money Work for You
You're Not Spending Valuable Time on Shopping
Shopping around for Black Friday deals can get time-consuming since you're driving around and searching for these items. You've likely seen the news headlines about people who camped out in front of stores for these deals. You'll save money in the long run by skipping Black Friday since you won't spend the entire weekend shopping and looking for bargains. 
You Have More Money To Invest
With the stubborn inflation numbers bringing up the prices of everything in the economy, it's essential that you look for ways to save money where you can. Spending less money on Black Friday this year gives you more to invest into your retirement and other financial goals.
You Become Aware of Consumerism
We get so caught up in spending money that we forget to stop and think about what we're doing. You have to take a step back occasionally to reflect on your consumerism to ensure that you're not spending money for the sake of doing so.
You want to ensure that your spending aligns with your values. It's easy to forget your values and priorities when finding out about a deal. If you skip Black Friday this year, you'll be able to examine your values to determine if your spending lately has been worth it. 
You Impact Your Financial Planning
If you spend money that you don't have or weren't planning on using, then you could hurt your financial plans for the future. If you want to purchase a home in the near future or save up for that dream vacation, the money you spend this Black Friday would take away from that. The short-term deals aren't worth the long-term impact on your finances. 
Make Your Money Work for You
You Avoid the Hidden Fees
Even though a deal can seem too good to pass up, you may get hit with hidden fees. These can range from shipping costs to an extended warranty that you purchase. Some items could lead to accessory purchases and other related expenses.
For example, purchasing a video game console would lead to you buying games and then possibly spending more money on purchases within the game. Some items will be large and require storage space that you have to spend money on. Either way, you could avoid various hidden fees by skipping Black Friday. 
You Won't Cave to Impulse Purchases
If you skip Black Friday, you'll avoid the temptation to make impulse purchases. Retailers realize that shoppers are looking for deals, so they offer products at unprecedented discounts to entice you. You may plan only to make one purchase during Black Friday, but then you end up leaving with a cart full of stuff. The best way to avoid impulse purchases is to skip Black Friday altogether. 
You're Not Purchasing a Lower-Quality Item
Black Friday deals are often about quantity instead of quality. Retailers often work with manufacturers to produce different versions of popular products for special Black Friday sales. [x] This allows the retailers to offer a lower price, which leads to more sales. Unfortunately, you purchase a lower-quality item, which you may have to replace much sooner. 
While you may feel like you're saving money, it will cost you more when you have to replace this item in the long run. You may also find yourself disappointed with the lower quality, which could lead to you trying to purchase a higher-quality version sooner. 
More From GOBankingRates
Make Your Money Work for You