4 Sam's Club Brand Items That Aren't Worth the Money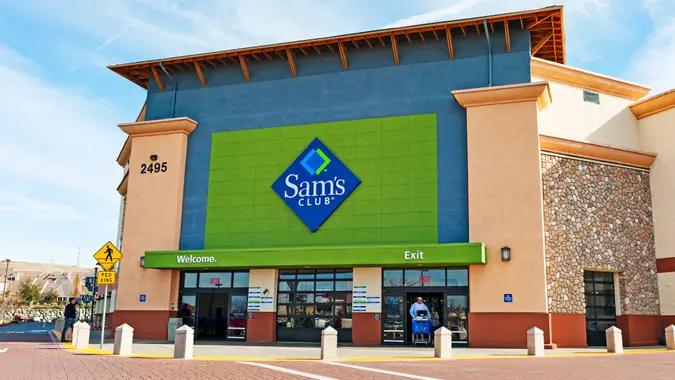 jmoor17 / Getty Images
With inflation reaching historically high levels this year (and expected to stretch into 2023), Americans are flocking to warehouse clubs for savings. Along with Costco, Sam's Club stands out as one of the most popular in its ilk, and the proof is in the numbers. According to the company's website, for the fiscal year ending Jan. 31, 2022, Sam's Club's total revenue was $73.6 billion. 
See: 9 Costco Brand Items That Aren't Worth the Money
Find Out: 3 Easy Tips To Turn Your Credit Woes Into Wows
Though consumers can find significant savings at Sam's Club — especially when shopping the club's signature Member's Mark products — not all are worth the money. Let's have a look at four items that you're better off skipping when doing your shopping at Sam's Club. 
Member's Mark Premium Dark Chocolate Peanut Butter Delights
"There's nothing inherently wrong with this treat, but at around $14 for 6 ounces, it's a pricey buy that you really need to love to make it worth it," said Julie Ramhold, consumer analyst with DealNews.com. "If you're not picky about your peanut butter candies, there are better values out there, and even if you like premium chocolates, you can find something else that's well worth an elevated cost instead of these."
Make Your Money Work for You
Take Our Poll: How Has Inflation Impacted Your Holiday Shopping Plans?
Member's Mark Red Wines Assorted 12-Pack
"Unless you love every single wine in this dozen, spending roughly $93 on 12 bottles of four types of wine isn't a wise buy," Ramhold said. "You're much better off shopping for a single bottle of your favorite wine, even at Sam's Club, in order to keep from ending up with a ton of wine you may not enjoy drinking."
Member's Mark 5-Piece Enamel Cast Iron Set
"You'll spend about $100 on this set, which may seem like a good deal — especially since you can choose from five colors — but you can find better quality elsewhere," Ramhold said. "You don't have to spring for Le Creuset, but Lodge is a good cast iron brand with enameled options, and while the 5-piece set may seem like a good way to get an extensive collection, you're better off shopping for individual pieces so you get exactly what you need, rather than potentially ending up with pieces you never use."
Member's Mark Acacia Salt and Pepper Mill Set
"These come in black or natural wood, and at $22 isn't a bad deal, but the reviews on this product are not encouraging," Ramhold said. "They're reportedly hard to open, don't come with the salt and pepper included, and may or may not include instructions to help you set them up. Skip these mills, and opt for a set with better ratings."
More From GOBankingRates
Make Your Money Work for You
Make Your Money Work for You