Sam's Club or Walmart: Which 'Plus' Membership Gives You the Most Bang for Your Buck?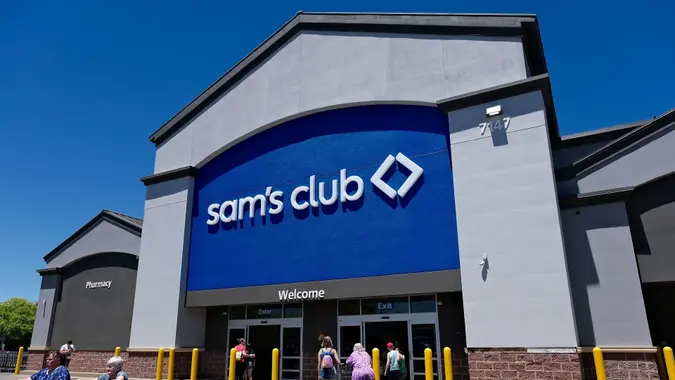 slobo / iStock.com
Plus memberships are nothing new. The Sam's Club Plus membership debuted in 1999, while Walmart+ was launched much more recently, in September 2020.
However, you'll pay a little bit more for the higher-tier membership from Sam's these days. On Oct. 17, 2022, Sam's Club increased the fee for its Plus membership from $100 to $110, which was the first time the price had been raised since the membership's debut over two decades ago.
The membership fee for Walmart+ has remained the same since its launch: $12.95 per month or $98 per year. However, the retailer did increase its free trial period from 15 days to 30 days at some point.
Besides the difference in cost, find out which 'Plus' membership gives you the most bang for your buck — Sam's Club or Walmart?
Benefits of Sam's Club Plus Membership
A Sam's Club Plus Membership has all of the benefits of a Sam's Club Membership and these additional benefits:
Two membership cards: One for the primary account holder and one for another member of your household, referred to as a complimentary cardholder.
16 club-level members added to your account at a reduced rate of $45 each.
Free shipping on most online items for primary and complimentary cardholders. 
Free curbside pickup.
Additional optical and pharmacy discounts, including 20% off a complete pair of prescription eyeglasses or sunglasses.
Plus Rewards: 2% back on qualifying purchases.
Early shopping hours.
Benefits of Walmart+ Membership
Unlike Sam's, Walmart offers just one level of membership, the Walmart+ Membership. Here are its benefits:
30-day free trial.
Free shipping with no order minimum.
Free Paramount+ subscription.
Return items from home with no printing labels or repacking of items; Walmart comes to your home and picks items up.
Fuel savings at over 14,000 locations, including Exxon, Mobil, Sam's Club, Walmart and Murphy stations.
Earn Walmart rewards that never expire. 
Exclusive early access to Walmart promotions events, including Black Friday.
Free same-day grocery delivery.
Mobile Scan & Go access to streamline in-store shopping.
Various limited-time offers, such as, "Buy 6 months of Babbel, Get 6 months Free."
Make Your Money Work for You
The Case for Sam's Club Plus Membership
Samantha Hawrylack, personal finance expert and co-founder of How To FIRE, said she is both a Sam's Plus Member and a Walmart+ member. However, she has a clear favorite. 
Benefits Can Really Add Up
"I can say that for me, Sam's has been the better deal," she said. "In my opinion, it's far better to have a Sam's Club Plus membership. My Sam 's Club Plus membership paid for itself within three months between pharmacy, grocery pickups, one-time event tickets and shipping.
Prices and Discounts Are Worth It
"With the Plus option, Sam's Club also gives you a discount directly off your upcoming purchase (no reimbursement checks)," she said, "and most items online are available with free shipping and no markups in comparison to Costco or Walmart, and [Sam's Club] prices frequently outperform other retailers by a wide percentage."
It's Usually Less Expensive 
More from Hawrylack: "But of course, in terms of business model, Sam's Club was specifically built with a base model that has always aimed to offer value on comparable items and sell them for 5% less than Walmart. When calculating cost per unit or cost per ounce, Sam's Club is usually less expensive; it's literally more worth it for bulk purchases and businesses/organizations."
Sam's Club Has Cash Back
"Sam's Club Plus offers an across-the-board 2% cash back on all qualified purchases," said David Bakke, personal finance expert at DollarSanity. "While Walmart+ offers plenty of discounts and other perks, it does not feature cash back."
Where Walmart+ Stands Out
Bakke gave a couple of examples that might make Walmart+ the better membership to have. 
Make Your Money Work for You
Walmart+ Is a Better Buy
"Walmart+ is a better buy but narrowly," Bakke said. "It costs $98 annually while Sam's Club Plus costs $110 each year. This is worth noting for comparison shopping purposes."
Walmart+ Is Reciprocal To Sam's But Not The Other Way Around
"Walmart essentially owns Sam's Club; therefore, with a Walmart+ membership, you'll enjoy certain perks, benefits and discounts at Sam's Club," Bakke pointed out. "But with a Sam's Club Plus membership, you won't get anything at Walmart."
Sam's Club vs. Walmart: Which 'Plus' Membership Is Right for You?
"If you are roped into paying a $100 yearly membership fee to [Sam's Club] Plus and don't take advantage of many of the benefits that make it worthwhile — or worse, if you start spending more than you should because you believe it will save you more money in the long run — skipping the membership and going with Walmart may be a better option," advised Hawrylack. "As to which retailer will save you more money, it actually depends on you, your family and your purchase habits."
More From GOBankingRates