Shop Like a Financial Expert With 6 Tips on Common Purchases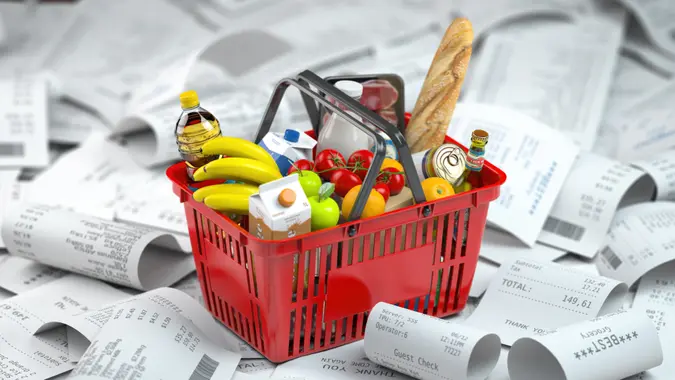 Bet_Noire / Getty Images/iStockphoto
It's always a good time to save money, but with inflation still lingering, mass layoffs in the works and a potential recession on the horizon, now is an especially great time to get deals. Here's a look at how finance and shopping experts save on common purchases.
See: The Best Day of the Week To Go Grocery Shopping
Find: 3 Ways Smart People Save Money When Filing Their Taxes
Tips For Saving on Groceries
"You can save a lot on groceries by tapping into various savings apps," Andrea Woroch, a money savings expert, told GOBankingRates. "For instance, always download the grocery store app to find in-store coupons that you digitally clip for savings at checkout. The Albertsons For U Rewards app will even give you a deal for $5 off $25 when you first sign up and use the app. I also suggest using a cash-back app like Fetch to earn points for your grocery receipts which can be redeemed towards free gift cards to stores that sell groceries like Amazon, Target, Walmart and Sam's Club to offset future food purchases. Check the special deals section to see which brands will get you more points to rack up free gift cards faster."
Reuse Gift Wrapping Paper
Sometimes it's not the gift that costs that much; it's the paper used to wrap it. Trae Bodge, a shopping expert, told Reader's Digest that "there is a lot you can do with wrapping paper, ribbons or gift bags that you've purchased at a dollar store." Bodge also recommended the tried-and-true trick of saving reusable gift wrap for repurposing.
Make Your Money Work for You
When Sheets Go On Sale, Stock Up
Knowing when sheets go on sale is half the battle. Bodge told Reader's Digest that a wise consumer shops for sheets on Presidents' Day weekend and Memorial Day weekend. "It's also smart to check websites for fan favorites that don't disappoint. This set of Mellanni bed sheets, which is made of super-soft brushed microfiber, costs under $35 and has more than 200,000 glowing five-star reviews on Amazon."
Presidents' Day is coming up and, during the holiday, more than a few retailers will be running sales on bedding, including Helix, Amazon, Anthropologie and Target.
Cars: Buy New or Buy Used?
Cars are one of the costliest items one can buy, and finance experts do not take these purchases lightly. WalletHub analyst Jill Gonzalez told Reader's Digest that money experts don't splurge on new vehicles. Instead, they tend to go for used cars.
Dining Out: Coupons and Specials for a Great Date
Dining out has become an even greater splurge since inflation set in, but money experts know how to scope out savings in this area.
Make Your Money Work for You
"Check the mail for coupons and specials," said Seth Connell, a financial coach. "Frequently, newer establishments will send out mailers with special offers and deals to try and drum up business. If you're willing to be somewhat adventurous, you can try out some new places and see if there are any deals available.
Connell also recommended using apps that boast local deals such as Groupon and LivingSocial.
Take Our Poll: What Are Your Financial Priorities in 2023?
More: 10 Tips and Tricks for Saving Money
The Price of Gas
The cost of gas has been up and down this past year, but this is one area that consumers can save on no matter how steep the price at the pump.
"Use apps like GasBuddy to find the cheapest gas in your area," Julie Ramhold, consumer analyst with DealNews.com, told GOBankingRates. "If you don't have any luck with that — or don't want to visit the cheaper stations — consider using apps like Checkout51 which allow you to earn cash back on gas purchases at certain chains. If you're a warehouse club member, you can also fill up at Costco or Sam's Club, as those usually have the best prices per gallon."
Make Your Money Work for You
More From GOBankingRates
Make Your Money Work for You