Shop These Small Businesses During Independent Retailer Month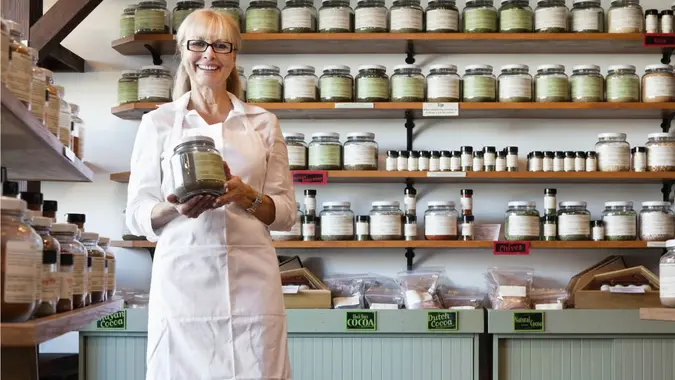 July is Independent Retailer Month, which celebrates the power of small and local businesses. Every $100 spent at local independent stores generates $45 of secondary local spending, compared to $14 for a big-box chain, according to The Institute for Local Self-Reliance. Not to mention, independent businesses bring a tremendous amount of jobs to a community. The Small Business Administration reports that, since 1990, big businesses have eliminated 4 million jobs, while small businesses have added 8 million jobs.
2021 Small Business Spotlight: Check Out Our Small Business Stories, Plus the Nominated Businesses Near You
Find Out: Shopping Mistakes You're Making and How To Stop
Here's a list of some of the small retailers you can support to help spur local economic growth. 
If you're looking to add to your record collection, this Rockford, Illinois retailer is the place to be. You can shop new music, old box sets and other music-inspired gifts in store or online. The shop also offers art pieces from local artists and vintage audio equipment. 
Based in Columbus, Ohio, Homage sells vintage-inspired clothing honoring moments in sports, music and pop culture. As an added bonus, proceeds from their Homage Works collection go to help nonprofit organizations prosper. 
Make Your Money Work for You
If you're looking for a gift for the new-agey person in your life, or just something adorable for yourself, check out Home/Work. Voted Santa Cruz, California's best decorating store, Home/Work offers stylish pieces that take fair labor, affordability, and sustainability into consideration.
What better way to lighten up your home than with a candle with a 40-60 hour burn time? illuminate B. Candles makes luxury soy candles, room sprays, sage and wax melts. Scents range from citrus to clean sheets. Try the best-selling "Blacker the Berry.." to experience what makes these aromas so special.
This shop specializes in thoughtfully designed jewelry made in New York City. In addition to necklaces, bracelets and rings, Maison Miru specializes in "jewelry building blocks" where you can makes a piece that's all your own, like a customized ear stack.
Learn More: 15 Times You Should Splurge, Settle or Skip When ShoppingCheck Out: 50 Purchases Buyers Almost Always Regret
If you're a dog owner, this is a shop to know. Pet Portables offers emergency kits with items you might need to take care of your dog on the go. This includes everything from gauze pads to insect sting wipes. The kits come in a variety of sizes to fit your needs.
Make Your Money Work for You
Taylor Jay specializes in making style comfortable. They offer an impressively wide range of sizing with features that flatter every body without being constraining. The Oakland, California-centered company partners with an ethically-sourced local factory to take an approach to making clothes that puts the environment first. Each of their pieces is made from certified eco-friendly textiles. You can sign up for their email list to get exclusive deals.
Welcome to a store full of relics from the past, knick knacks and many other items that are sure to bring inspiration. With two locations in Los Angeles, The Time Travel Mart describes itself as "a convenience store for time travelers." It's also the headquarters for Barnacle & Barnacle Publishers who specialize in books written by students. All proceeds from the store go to keep writing programs free for students through the creative education nonprofit 826LA.
Treat kids to something new to play with and support a small business at the same time. TREEHOUSE offers unique toys and craft supplies from all over the world. The store has two locations in Athens, Georgia and Atlanta, Georgia, along with an online store you can shop from anywhere.
What started in a studio apartment in Portland, Oregon has grown into a popular online and brick and mortar retailer with multiple stores. WILDFANG prides themselves on creating fashion that thinks beyond gender norms and creates pieces with rich functionality (think: pockets. Lots of pockets). Since opening in 2012, WILDFANG has given $500,000 to causes like ACLU, Planned Parenthood and New Avenues for Youth.
Make Your Money Work for You
Get Cash Back: 24 Ways To Make Money Off Your ShoppingShh: 19 Money-Saving Secrets Target Doesn't Want You To Know
You can always find local businesses near you by searching online, and by using Instagram to search your city and what you're looking for. Additionally, your local Chamber of Commerce website will usually have a list of small businesses in the area so you can center your next shopping trip around your community. 
More From GOBankingRates