8 Shopping Secrets Costco Managers Don't Want You To Know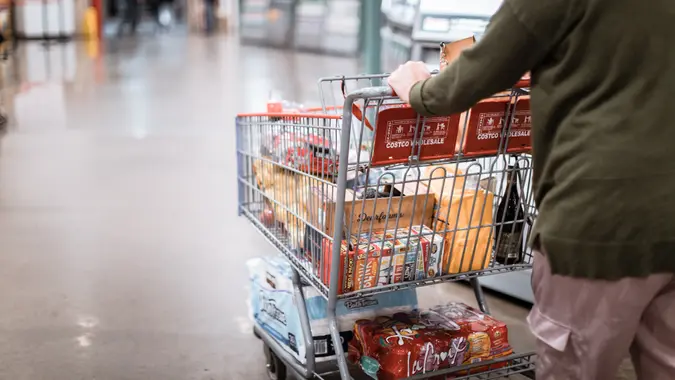 ARTYOORAN / Shutterstock.com
Shopping at Costco is an experience unlike any other. From the minute you walk into the membership-only superstore to the bagless checkout, you may feel slightly overwhelmed and strangely exhilarated. 
See: Do You Have Too Much Money in Your Checking Account?
Tips: 3 Ways Smart People Save Money When Filing Their Taxes
More: 10 Best New Items Coming to Dollar Tree in 2023
What many shoppers do not know is that there are well-kept secrets about the warehouse's inner workings including hidden meanings behind pricing and why it appears slightly different each time you go. Whether you are a Costco regular or a special occasions-only visitor, you will not want to miss these eight shopping secrets Costco managers don't want you to know.
Pay Attention to Price Tags
According to multiple sources (including Best Life), when Costco puts items on a deep discount, they will usually end in .97. The Krazy Coupon Lady notes that products with prices ending in .00 are local markdowns and may not be the same across the country.
Another hack? Check to see if there is an asterisk (*) in the top right-hand corner of the price tag. These products are likely to be out of stock soon as the asterisk indicates that the store doesn't plan to reorder or restock.
Make Your Money Work for You
There Is a Method to the Madness
It may seem like complete chaos the first time you enter the membership-only mega store. Stacks and stacks of boxes and products as far as the eye can see. It may seem slightly disorganized, but there is a method to the madness. 
Items are grouped somewhat randomly in order to get shoppers to look around the whole store and potentially do some impulse buying, according to Best Life.
Live Richer Podcast: You Might Be Losing Your Credit Card Reward Points: Here's What You Should Do
You Don't Need a Membership To Get the Goods
If you cringe at the idea of a $60 membership, there are ways to shop for Costco goods without paying the price. You can opt for a Costco Cash Card. The Costco Cash Card, which a member will have to buy for you, gets you in the door and allows you to shop all of the products without buying a membership. 
You can also shop directly from Costco.com or use a grocery delivery service like Instacart. The only problem with online purchases is that you might pay a premium and delivery fees. 
Make Your Money Work for You
What the Bell Means
Ever hear a bell ringing at Costco? If you do, it means you need to hustle to grab one of the warehouse's world-famous rotisserie chickens. The bell lets shoppers know that the chickens are fresh and stocked. 
They are known to sell out fast, so there isn't time to deliberate whether you in fact need a $4.99 whole chicken. Millions of shoppers insist that between price and flavor, it can't be beat.
Did Someone Say 'Free Samples'?
Not only is the retailer known for its abundance of samples throughout the store, but it is also widely accepted that they are unlimited. That's right, you can go from station to station and then back again filling your stomach with gourmet appetizers, salty snacks and specialty drinks. 
Price Match at Other Stores
It's no secret that we all have our store preferences. Some of us are Target-obsessed, while others prefer Walmart. Many swear up and down by Costco while others only shop at Sam's Club. 
Regardless of where you like to do your shopping, you can always use Costco's low-priced goods to price match with its competitors. Big-box retailers like Target will price match Costco's in-store or online prices (no membership needed!).
Make Your Money Work for You
Get Paid To Shop
One of the best hacks to shopping at Costco is that some apps will actually give you money to shop there. Not only is it a smart idea to download Costco's app, but it is also smart to look into rebate apps like Ibotta for additional savings. The app gives you cash back for online and in-store purchases.
Shop the Perimeters
Want to find the deepest discounts in the store? Best Life says to shop the edges of the store and stay away from the center. The perimeter evidently is the best place to find good deals on the products you need and want. 
More From GOBankingRates
Make Your Money Work for You