Should You Buy Groceries Daily, Weekly or Monthly?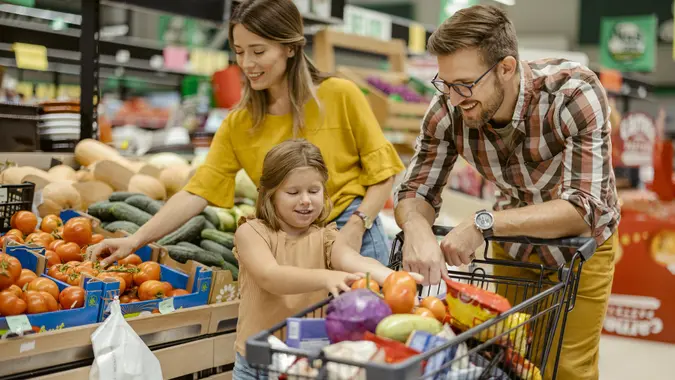 PixelsEffect / iStock.com
Like many people, you've probably been spending more money than you'd like on groceries lately. Inflation certainly has something to do with this, but maybe you're also wondering if the frequency of your shopping trips is playing a role.
As of February 2023, a 19 to 50-year-old male spends an average of $86.20 per week on groceries, following a moderate-cost plan, according to the U.S. Department of Agriculture. This number drops slightly to $72.60 for women in the same age group, in the same spending category.
GOBankingRates spoke with several financial experts to get their take on how often you should be grocery shopping. Here's what they had to say.
Shop as Infrequently as Possible
In a podcast episode that aired on March 2022, Sarah Schweisthal, a personal finance educator at YNAB and the personality behind the company's popular TikTok account, discussed realizing that her family of four was spending around $1,200 per month on groceries. This inspired her to embark on a mission to spend as little as possible on food.
Make Your Money Work for You
"I've found that the less frequently I make trips to the grocery store, the less food I waste and the more money I save," she said. "I try to avoid going to the grocery store for one or two things, because it always ends up being more than that."
Instead, she waits until she's used most items in her kitchen and has a long shopping list.
"Creativity can go a long way in helping you stay on budget with your groceries and reduce food waste," she said.
Take Our Poll: Would You Put All of Your Savings in an Apple Savings Account?
Aim for Weekly
"In general, an ideal time frame to go grocery shopping is when you're not hungry," said Diana Yáñez, CFP practitioner and a Registered Life Planner at Fresh Starts Registry. "All jokes aside, this is actually the best advice I give to my clients, as when we go to the market hungry, we tend to overspend and get items that are not on our grocery list."
Make Your Money Work for You
She recommended eating a great meal before heading to the grocery store, as well as shopping when you're not in a rush, since this can help you avoid impulse shopping.
"I always recommend to my clients to check out the weekly sales, and they can meal plan around those items," she said. "Not only will you save money for the meals that week, but you can plan ahead, and stock up and save."
She emphasized the importance of planning ahead, as this can help you save money.
"I suggest picking one day of the week to shop," she said. "This should be a day for you that is least-stressful, and has the most time to use your grocery list and get the items you need without feeling overwhelmed and rushed."
It Might Depend on the Size of Your Household
When it comes to the frequency of your supermarket trips, Julie Ramhold, a consumer analyst with DealNews.com, said the best solution might not be the same for two different households.
Make Your Money Work for You
"A smaller household may find it better to shop weekly sales and to buy smaller amounts, to not only stay on budget but prevent food waste," she said. "But if it's a larger household, it may pay to do bulk shopping less often, like on a monthly basis."
She said this can be especially beneficial if you're planning to purchase a lot of shelf-stable foods or if you have space in your pantry or freezer to store excess quantities of food.
"In either case, shopping the sales is going to be the best move," she said.
For a smaller household, she said shopping on a weekly basis makes you more likely to purchase only what your household can actually consume before the food goes bad.
"Shopping in bulk for larger households actually can eliminate — or at least lessen the need — to make stopgap shopping trips in between your main ones, with the exception of maybe some perishable items you can't keep on hand long term," she said. "As long as you know what you'll need for the next month, you can shop efficiently at things like warehouse clubs and make smaller trips to pick up things like milk and eggs in between your main rounds of shopping."
Make Your Money Work for You
No One Should Shop Daily
As for shopping on a daily basis, Ramhold doesn't recommend it for anyone.
"Picking up some incidentals here and there on a daily or near-daily basis is fine, but for the majority, your shopping should be done on a weekly basis or more to prevent overspending," she said.
She said daily shopping encourages people to spend more, because they're only focusing on one day at a time.
"It's one more thing you have to slot into your schedule as well," she said "[It] can be easy to write off when you're exhausted, which makes you more likely to fall back on things like takeout, which isn't a good value either."
Clearly, if you're currently grocery shopping on a daily basis, it's time to stop this practice. While the consensus is split between the benefits of weekly and monthly shopping, use your best judgement to decide what's best for your household.
More From GOBankingRates
Make Your Money Work for You
Make Your Money Work for You