The Single Best Thing To Buy at Dollar Tree This May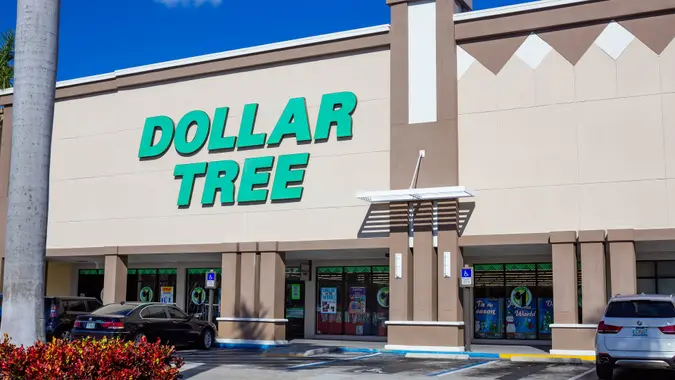 Marina113 / iStock.com
Dollar Tree has long been a go-to destination for incredible deals and affordable treasures — from everyday necessities to party supplies, the discount retailer has it all. Whether you're looking to spruce up your home, stock up on summer essentials or find a unique gift, Dollar Tree offers an abundance of options at unbeatable prices. 
But what's the best deal? GOBankingRates consulted experts to find the item you should buy this May, as well as a selection of runners-up that come close in terms of quality, usefulness or sheer novelty. So, get ready to explore the aisles of Dollar Tree and discover some incredible finds that are sure to add a touch of excitement to your shopping experience.
Best Item: GimMe Organic Premium Roasted Seaweed Snacks
According to Julie Ramhold, consumer analyst with DealNews.com, there's a snack at Dollar Tree this May that stands out as the single best item to buy. This sought-after snack is a popular brand of roasted seaweed sheets, conveniently packaged in snackable size.
Priced at $1.25 per package, these delectable seaweed sheets come in sea salt and teriyaki flavors, although it appears that they might be exclusively available online. However, there is still a chance of finding them in-store, so a quick check is worthwhile if you're eager to give this treat a try. Alternatively, if you opt to order online, you will need to purchase them in quantities of 12 packages, totaling $15. Many times, you can have the items shipped to the store for free, making it a convenient and cost-effective option.
Make Your Money Work for You
Snacks are where it's at this May at Dollar Tree, so if seaweed isn't what you crave, here are a few others that might tickle your taste buds: 
Angie's Boom Chicka Pop Sweet & Salty Kettle Corn. This addictive treat has gained cult status as a delightful snack that combines the best of both worlds: sweetness and saltiness. Once you pop this popcorn, you truly cannot stop.
Nutter Butter Bites. These little cuties are beloved for their irresistible combination of creamy peanut butter filling and crisp cookie, providing a satisfyingly delicious treat for peanut butter enthusiasts.
Muncheros Hot & Spicy Peanuts. These are a must-try for those seeking a fiery kick, as they offer a tantalizing blend of heat and flavor that keeps snackers coming back for more.
Check Out: 10 Best Dollar Tree Items To Buy Online in Bulk
Runner-Up No. 1: Bee Trinket Box
According to Ramhold, the Bee Trinket Box is an adorable little treasure that comes in black or white dolomite and features a charming gold bee decoration on its lid. Priced at $1.25 each, these trinket boxes appear to be exclusively available online, requiring a minimum order of 24 units. This means that to make a purchase, you would need to spend a total of $30, which might not be practical unless you have a specific use for the extra boxes.
Make Your Money Work for You
However, these delightful boxes can serve as wonderful favors or gifts for occasions like weddings. Their compact size makes them ideal for storing rings, earrings and smaller pendant necklaces, making them the perfect thing to slip small gifts into. Stock up now and use them year-round!
Runner-Up No. 2: Black LED Lantern
The Black LED Lantern is a versatile lighting option priced at $5 apiece, available for purchase online and possibly in select stores. Although they're a May buy, these lanterns will be incredibly useful throughout the year. They're perfect for creating an inviting ambiance during long summer evenings or providing much-needed light indoors when the days grow darker earlier in the fall.
It's important to note that these lanterns are designed for indoor use only. If used outdoors, they should be temporary and promptly brought indoors to avoid potential damage from the elements. Also, each lantern requires three AAA batteries and if you order online, a minimum order of 12 lanterns is required, costing about $60, shares Ramhold. 
More From GOBankingRates
Make Your Money Work for You
Make Your Money Work for You