5 Times Your Costco Membership Can Be a Complete Waste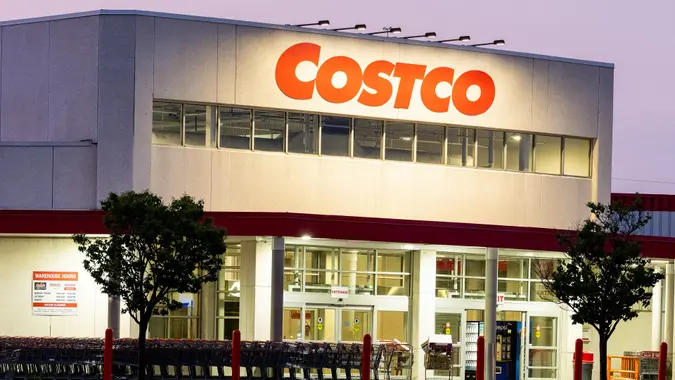 Steven_Kriemadis / iStock.com
There are many reasons why getting a membership and shopping at Costco can be worth it. For instance, if you have a need for a 54-bag box of chips, a nine-piece outdoor dining set or 2.5 gallons of oil, then Costco is the way to go to save.
But there are also times when paying for a membership can be a total waste of money.
A Costco Gold Star Membership costs $60 annually, includes a free household card and is valid at all Costco locations worldwide. Meanwhile, Costco's Executive Membership costs $120, also includes a free household card and has several benefits, including an annual 2% reward on qualified Costco purchases and extra benefits on select Costco Travel products.
While these fees won't break the bank, they can be a total waste in certain situations, and you could use these funds for more pressing matters, such as repaying debt or building an emergency fund. In turn, if you find yourself in such situations, you might want to reconsider taking a membership, or if you have one, canceling it.
Here are some of these:
When You Are Buying Items That Are Not Frequent Purchases
These items will vary individually — for instance, you may spot a phenomenal price on pet shampoo or on an annual plant fertilizer.
"But unless you're in the dog grooming or landscaping business, you'll probably be using money that could be saved or better spent — such as in paying down credit card debt," said Austin Kilgore, analyst at Achieve Center for Consumer Insights. "Know what you use frequently and stick with those purchases."
Make Your Money Work for You
When You (Or Your Family) Can't Eat the Volumes That Food or Other Items Are Packaged In
If you don't have friends or family members to split purchases with, membership might be a waste. Fruits and vegetables only last so long and even meat in the freezer only goes so far.
"Unless you have a large family, it can be hard to eat the quantity you need to buy at a warehouse club store before it goes bad," said Kilgore. "Again, figure out the realistic quantities of what you go through and weigh the savings against the annual membership cost."
When the Distance to the Costco Prohibits You From Going Often Enough
According to Kilgore, if you are only going once every few weeks or once a month, and the amount you purchase generates savings that amount to less than the annual membership cost, it's not worthwhile.
"Remember that you can often find great prices at farmers' markets and farm stands if buying larger quantities," said Kilgore. "Plus, regular grocery stores can sometimes provide bulk pricing upon request for requested items."
When Storage Is Very Limited
While many items at warehouse club stores are individual, most are in quantity. So if you live in a small studio apartment, for instance, no matter how many paper towels you use, it's going to be almost impossible to store the quantity they come in at Costco, said Kilgore.
When You Don't Own (Or Have Ready Access To) a Car
You really need a car to transport most purchases from a warehouse club store. That said, online purchases are possible for many nonperishable items — but check carefully on any shipping charges, said Kilgore.
Make Your Money Work for You
Samantha Landau, consumer expert at TopCashback.com, added another reason why a membership might not be worth it if you don't have a car.
"One of the perks of having a Costco membership is the discount on gasoline, which alone could make your membership worth it," said Landau. "However, if you don't have a car or live far away, you won't be able to take advantage of those deals."
More From GOBankingRates