Sam's Club vs. Costco: How To Choose the Best Membership Option for You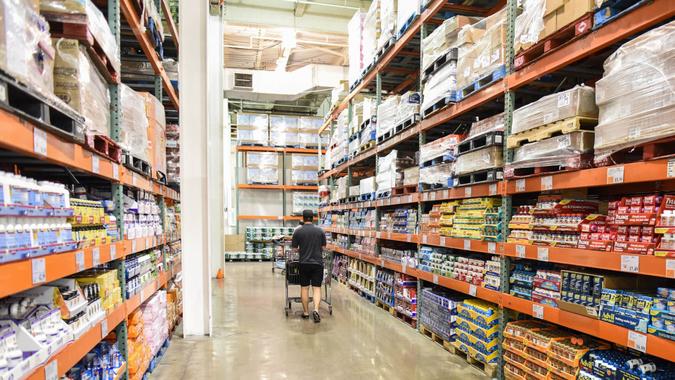 a katz / Shutterstock.com
With the rising cost of groceries and consumer products, Americans undoubtedly are looking to save money while shopping. Clipping coupons and shopping sales help, but buying in bulk also can help you to cut your bill for food and other household essentials. The warehouse stores, including Costco and Sam's Club, allow you to buy in quantity, and that ultimately saves money and shopping time since you're stocked up.
But when it comes down to Sam's Club vs. Costco, which should you select?
The answer isn't easy. Both warehouses offer savings on everything from giant jars of mayonnaise to mattresses, but which to join could come down to factors including membership fee and proximity to a club. Read on for more.
About Sam's Club
A division of Walmart Inc., Sam's Club got its start in 1983 when founder Sam Walton decided to open a store to offer that offered the goods and services needed by small businesses. Today, Sam's Club is designed to serve both business and individual members.
Make Your Money Work for You
Walton opened the first Sam's Club in Midwest City, Oklahoma, and from there, the warehouse store has grown to almost 600 locations across the United States and Puerto Rico. Sam's Club has expanded internationally as well, to countries such as Brazil, China and Mexico. Stores average around 136,000 square feet.
Sam's Club's total revenue was $64 billion for the fiscal year ending Jan. 31, 2021.
Sam's Club Membership Fees
A basic Sam's Club membership costs $45 per year, and new members who sign up online by Jan. 31, 2022, will receive a $45 Sam's Club gift card as a thank you. The Plus membership is $100 annually and gives members perks such as cash rewards on qualifying purchases, free shipping and early shopping hours. Through Jan. 31, new Plus members will receive $50 off their first $100 in-club purchase.
Sam's Club's Member's Mark
At Sam's Club, Member's Mark is the store label. Introduced in 2017, Member's Mark grew from 21 private manufacturers consolidated into one. At the time of the brand's rollout, Sam's Club said it had tapped the knowledge of experts worldwide "to procure best-in-class ingredients and processing methods" for its products.
Make Your Money Work for You
About Costco
What turned out to be the first Costco opened in 1978 in an old airplane hangar in San Diego and was called the Price Club. It started catering to small businesses but branched out to serve households, too. The first Costco warehouse under the new business model opened in 1983, and the two brands merged in 1993.
Today, the company has 558 locations in the U.S. and Puerto Rico and 141 more in Canada and Mexico. The highest concentration of Costco stores falls along the Pacific coastline, with 176 in California, Oregon and Washington. New York, by contrast, has just 19. Costco has stores in nine additional countries, as well. Stores average 146,000 square feet.
Costco's total revenue for the fiscal year ending Aug. 29, 2021, was $192 billion.
Costco Membership Fees
Members pay $60 per year for Costco's Gold Star basic plan. The $120 Executive Membership offers cash back rewards among its benefits.
Costco's Kirkland Signature
Costco's private label is Kirkland Signature, and the products typically rank high in quality in consumer surveys. Some of the biggest-name manufacturers actually produce Kirkland products. While Costco doesn't publicize the names of the makers, Kiplinger reports, for example, that Duracell is behind the Kirkland batteries.
Make Your Money Work for You
Differences Between Sam's Club Vs Costco
Costco and Sam's Club both have very similar business style, however each one has a uniqueness to it that makes them different from the other.
Membership Comparison
Both clubs will give members a free second card for a household member and offer a money-back guarantee. Cancel at any time of the year for a full refund of the membership fee.
Are Membership Trials Available?

Sam's Club offers a free 90-day basic membership to allow you to take the warehouse for a test drive. It includes all the benefits of a paid membership, including shopping at SamsClub.com. You are not obligated to sign up for an annual membership at the end of 90 days. Costco doesn't offer any free memberships or trial passes.
Cost Comparison
Cost of products undoubtedly will contribute to your Costco vs. Sam's Club decision, so here's a comparison of some popular products as shown on the warehouse's websites. Note that these are the website prices and lower prices could be available in store.
Toilet paper:

Costco's Kirkland Signature Ultra Soft Bath Tissue: 30 rolls,  380 sheets, 1,425 total square feet, sells for $19.99;
Sam's Club's Member's Mark Ultra Premium Soft and Strong Bath Tissue: 5 rolls; 235 sheets; 1,254 square feet, priced at $18.98

Frozen pizza:

Costco's four-pack of Kirkland Signature Cheese Pizza with Breadcrumb Crust: $10.99
Sam's Club's three-pack of DiGiorno Original Rising Crust Four Cheese Pizza: $11.98

Laundry detergent: Both stores sell the Tide Ultra Concentrated Liquid Laundry Detergent, 158 loads.

Costco: $29.99. A promotion running until Nov. 21, 2021 includes a $5 manufacturer's savings discount, making this currently $24.99.
Sam's Club: $24.94
Similarities Between Sam's Club Vs Costco
Sam's Club and Costco sell goods in similar departments. They include groceries, clothing, alcohol, cleaning products, furniture, mattresses, electronics, jewelry, office products, sporting goods, gift cards, toys and seasonal/holiday items.
In addition, both stores have ancillary services that can provide big savings. They have tire centers, gas stations (at some locations) pharmacies and travel centers. Costco's travel offerings are more extensive, including cruises.
The Bottom Line
For some shoppers in the Sam's Club vs. Costco debate, the choice will be made for them, based on proximity to a warehouse. They aren't evenly split across the U.S. But in areas where both clubs exist, customers could try both.
If both clubs are accessible, you could start with two memberships and see which you prefer. Both Sam's Club and Costco will refund your membership fee at any point of the year, so you could join each club at no risk.
Information is accurate as of Nov. 2, 2021.